Co-presented by Keiro and Japanese American Cultural & Community Center
Saturday, September 18, 2021
2:00 – 3:00 p.m. PDT
Online Video Premiere
Keiro and Japanese American Cultural & Community Center (JACCC) are proud to present their fourth annual Keiro no Hi Festival, virtually, on Saturday, September 18, 2021. Keiro no Hi, or Respect for the Aged Day, is a Japanese holiday that honors and celebrates older adults.
This FREE event will not be in-person but will be delivered as an interactive virtual event you can enjoy from the comfort of your home. Keiro no Hi honors the older adults in Our Community and will consist of:
Online video premiere with performances, workshops, and special guest speakers
Keiro no Hi Fine Arts Showcase
Complimentary gift packages with registration (to be mailed) OR complimentary bento and gift bag pick up with registration (pick up locations to be announced)
---
Jump to:
---
Fine Arts Showcase – Celebration
At this year's Keiro no Hi Festival, we will once again host a Keiro no Hi Fine Arts Showcase! We invited everyone in Our Community, age 60 and above, to create and express their talent through different forms of art. Submitted artwork will be displayed during the festival virtually.
The theme for this year's Arts Showcase is:
Oiwai – Celebration
Whether it is describing what you like to celebrate, who you celebrate with, or an art piece showing the spirit of celebration, express your creativity and imagination!
For any questions, email [email protected].
---
Presenter and Entertainer Bios
Read the full list of presenter and entertainer bios here.
---
Event Sponsors
Presenting Sponsor
Aratani Foundation

Fine Arts Showcase Sponsor
The Doizaki Family
Kawaguchi-Kihara Memorial Foundation

Omedetou Sponsors
AARP
Gene & Vickie Kanamori
Jack Kurihara & Carol Inge
Lynn Miyamoto & Kevin Kroeker
Keiro no Hi Sponsor
Home Care Assistance/Millennia
Kimiko Fujita & Kihei Otani
Nikkei Senior Gardens
Sponsors are listed as of August 20, 2021
---
Event Donors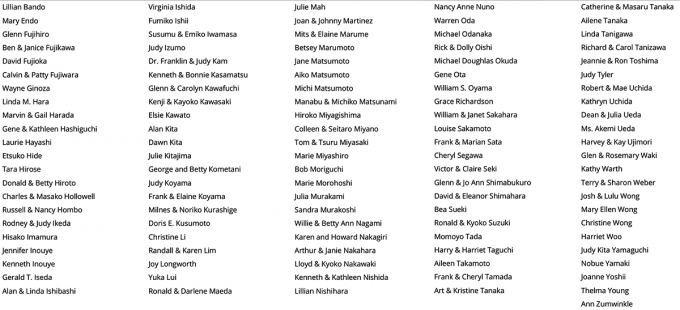 Donors are listed as of August 26, 2021.
---