In honor of Friendship Day, Keiro will share a series of articles highlighting the many bonds Our Community members have with each other. From friendships formed in the community to those going back to childhood, these relationships have stood the test of time and distance.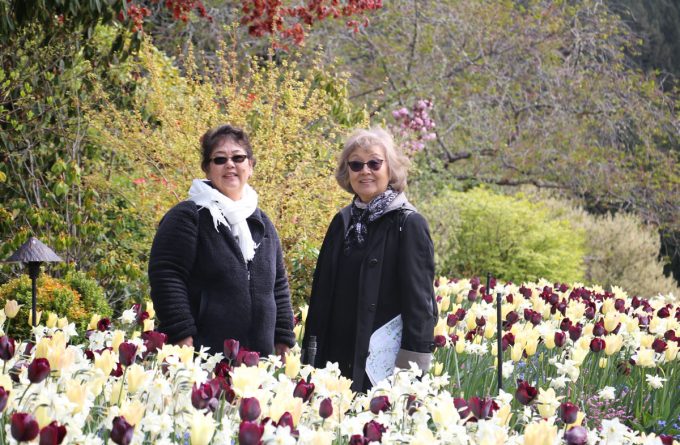 Reflections on 50 Years of Friendship
Nancy Hombo (67) and Lonin Lew (67), members of East San Gabriel Valley Japanese Community Center, have been friends for five decades supporting each other through times of college, family, and, of course, fun. The pair discussed their friendship over a Zoom interview, answering questions with plenty of smiles and laughter.
A Lucky Break
Nancy and Lonin met in 1971 while working next door to one another, right after graduating high school. On a break, a mutual friend who worked with Lonin at Amy's Pastry took her to visit Nancy at the neighboring Five & Dime store. The two became friends from that point on, keeping in touch through their college years and beyond.
Traveling Through Life
The two friends share a passion for traveling, and have taken their families on several trips together over the years. Lonin mentioned that their families get along well since their children grew up with these experiences. "We don't have to worry about little things, and they kind of know our little quirks and stuff because we've traveled so much together," Lonin shared. "If my girls start to argue, then Thomas, Nancy's son, will be the mediator ̶he just knows his role!"
In addition to their long-distance trips to the East Coast, Canada, and Alaska, Lonin and Nancy enjoy eating at new restaurants and going on wine-tasting double dates. "Well, the husbands do more wine tasting… we kind of eat more," Lonin said. Nancy laughed along, adding, "she and I are doing the olive oil kind of tasting, and the men are doing wine tasting, so it works out well!" Nancy also praised Lonin for discovering new eateries, noting, "she's really good at finding all the good spots; she knows where to go."
Coordinated Efforts
Before the pandemic, Nancy and Lonin volunteered together at the East San Gabriel Valley Japanese Community Center. On Tuesdays, they helped Chef Ryo Sato prepare lunches for the Senior Wellness Program, partially supported by the Keiro Grants Program providing weekly programming for older adults. On Wednesdays, Lonin would be in charg e of the kitchen, leading a team of volunteers to prepare lunch for about 80 senior members in their Leisure Club. In this way, they would see each other every week.
Since Safer at Home began, Nancy and Lonin have worked together in new ways. The two recalled their experience of making masks and preparing for COVID-19, explaining their efforts to share supplies. Lonin joked, "we were kind of like calling each other up: Do you have elastic?" The two began laughing once more, as Nancy chimed in, "Help, I need elastic now!" ̶"If you go to the store, can you look for me ̶Germ X or hand sanitizers or Clorox?"
They exchange supplies on Wednesdays, at the ESGVJCC's free senior meal pickup and delivery where Nancy volunteers. "That's where I give her all the stuff that she asked me to buy," Nancy said. "And she's a real good cook and baker, so every week she bakes us something, and we look forward to that. I get hungry and I go, 'where's that Lonin?'"
A Well-Supported Friendship
Nancy and Lonin mentioned many reasons why their friendship has remained strong over the years. Even during busier times when they were raising children, the pair always brought their families together during the holidays. In addition to their family ties, Nancy stated that they are able to depend on each other for support in any situation. "You know, funerals, even our fundraisers and things," she said. "If I need help I'll call on her, if she needs help, if her kids need help, we'll help them, so there's always somebody that you can rely on."
The two friends also have mutual respect and admiration for each other. Lonin shared that she admires Nancy's ability to prepare for any situation, which makes their trip planning much easier. Nancy praised Lonin's baking skills and ability to talk to anyone, and said she confides in Lonin, seeing her in many ways as "the sister I never had."
In reflecting on the length of their friendship, Lonin expressed, "it is true that to have a friendship that lasts 50 years, not a lot of people can say they have that ̶and when we were single and all through college, and all that it is something to treasure."
---
This Friendship Day, we hope to celebrate friendships that keep our life connected with others and enhance the quality of our daily lives. No matter the length of friendship, being connected and having a support system keeps everyone healthy, and helps both in good and difficult times.
Keiro Challenge
What qualities do you admire the most about your friends? Have you taken the time to let them know? Reach out to your friends, and share your story with us! Let us know how you have maintained your new and old friendships at [email protected].
Read about Liz Doomey, Michiko Tokunaga Kus, and Darlene Randle's friendship
Read about Shigeko Yamauchi and Yoko Maeda's Friendship
Read about Jack Fujimoto and Hank Iwamoto's Friendship
Read about Amy Hashimoto and Momo Wada's Friendship
Read about Lonin Lew and Nancy Hombo's Friendship