We recently reached out to some of our past Keiro superstars to see how they have been coping with COVID-19. (Published 11/9/2020)
Akemi Miyake, 101 – New Milestones and Accomplishments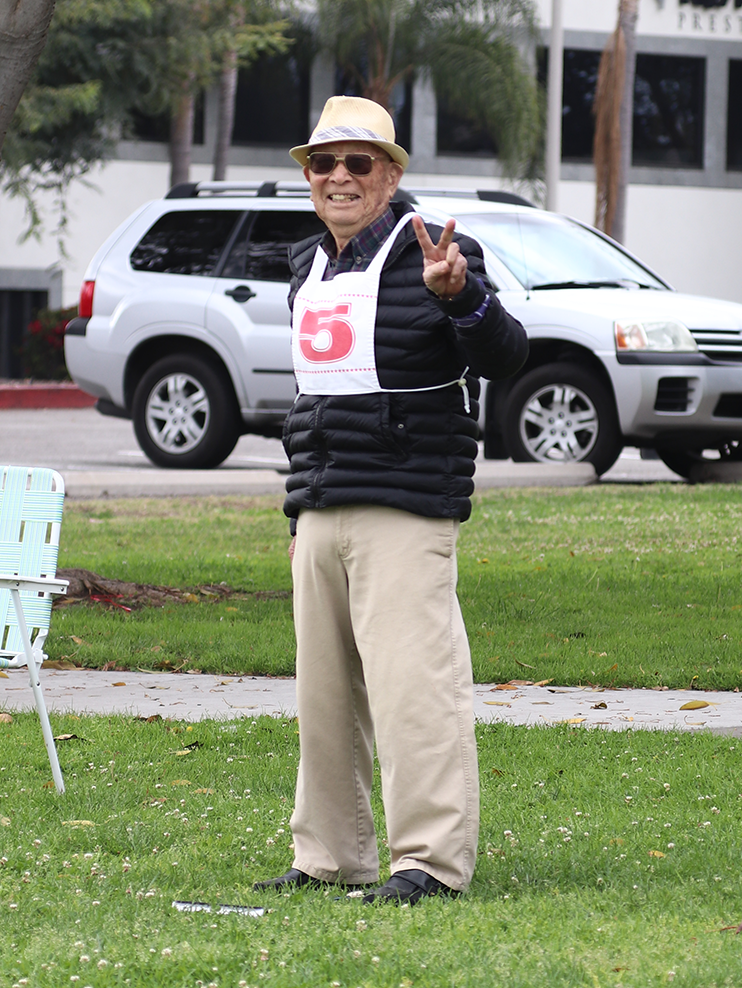 Despite the pandemic, Miyake-san accomplished another milestone he was eyeing – renewing his driver's license. Before COVID-19, he would drive an average of 800 miles per month, be active in the community, and play gateball with his friends.
He took his exam at the DMV in July, and his new license now expires when he is 105! "I'm so grateful," he shared. When asked if he had a fear of going out, he responded, "I lived to be 100 already, so rather than fear, I was more focused on taking my test."
Although he does not use any of the latest technology, he still keeps himself engaged through phone calls with others and rooting for the Angels and Dodgers on TV. He looks forward to the day when he can resume playing gateball but for now, he continues his daily routine, eats aloe, and exercises by walking more frequently to keep his immune system strong.
Read Miyake-san's story here: https://www.keiro.org/features/keiro-superstar-file-no-1-akemi-miyake-aloe-and-gratitude
Toshi "Beverly" Iba, 95 – Reconnecting with Friends Across the Sea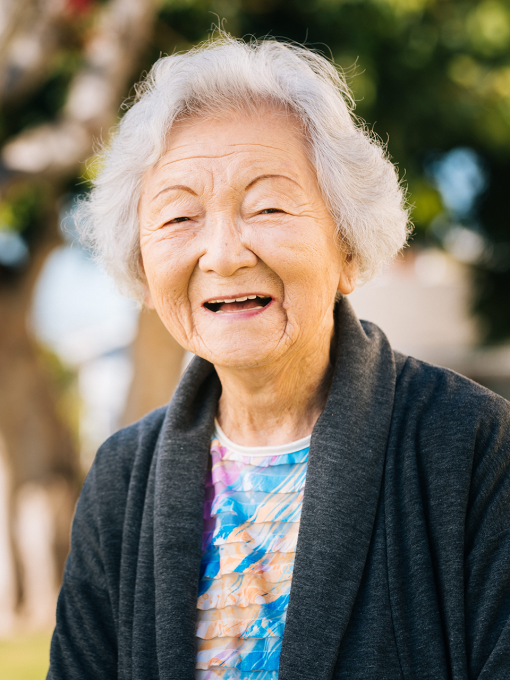 Beverly shared how she continues to stay at home with the assistance from her neighbors, children, and friends, who deliver her food and other necessities. Her friend also helps set up Zoom calls every other week at her home so she can join Go For Broke National Education Center's gatherings.
She shared how she keeps up with her daily routine – eating breakfast, reading the paper, and walking in the mornings for exercise. She also enjoys gardening, doing puzzles, and reading books.
Although Beverly does not use the internet or email, the phone is a key piece of technology that keeps her connected with others, as she makes frequent calls to her friends at Continuing Education for Nikkei Widowed. She recently had a surprise call from her longtime friend across the ocean. "I got a call from my friend from Japan," she shared. "[My friend] is hard of hearing, but her daughter called because she wanted to hear my voice. She still couldn't hear me through the phone, but I heard her crying on the other side, happy to reconnect with me. I never thought I would get such a call, so it was nice."
Read Beverly's story here: https://www.keiro.org/features/keiro-superstar-beverly-iba
Hiromi Nishimura, 104 – Staying Normal in the New Normal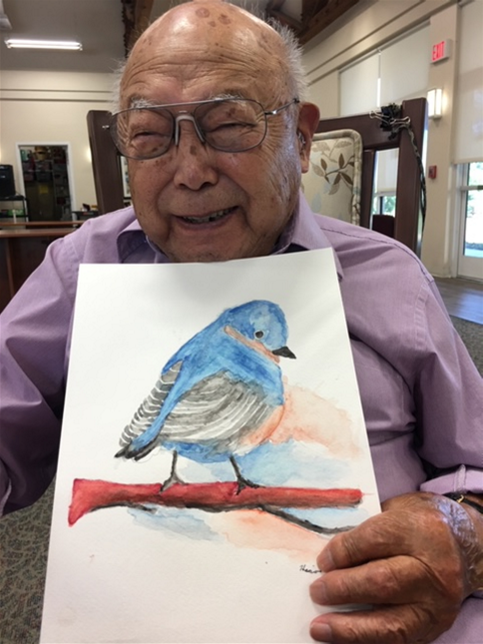 As a resident of Nikkei Senior Gardens, Hiromi has been adjusting to the new normal. While he feels like residents "don't get to know each other" as well with new policies such as six feet distancing staggered mealtimes, he does feels safe. "We are pretty healthy at Nikkei Senior Gardens." It also took him some time to get used to wearing a face mask. "I tend to forget to put them on, especially after I take my medication. So I am always reminded."
Aside from getting used to these new policies, his lifestyle remains the same. He regularly goes out to tend his garden, which has tomatoes and shiso growing, and does sudoku exercises to keep his brain alert. Recently, the community's gym reopened and he goes on the bicycle machine every day.
When asked what keeps him healthy at this time, he replied "eating and laughing." "I just live on," said Hiromi. Staff members shared how other residents continue to be inspired by his spirit and enjoy his presence, his smile, and laugh.
Hiromi looks forward to resuming in-person gatherings and outings when things are safer.
Read Hiromi's story here: https://www.keiro.org/features/keiro-superstar-hiromi-nishimura
Satoko Yamamura, 91 – More Time for Favorite Activities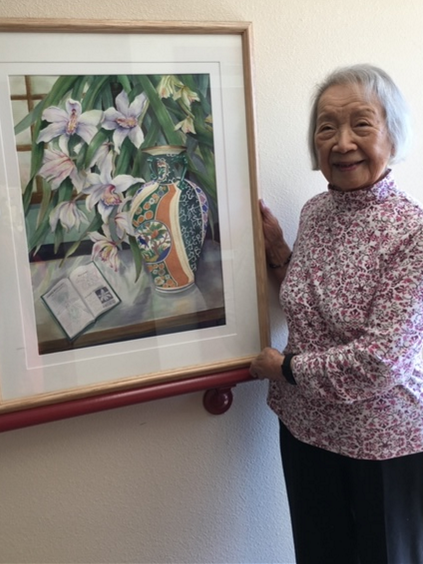 For Satoko, COVID-19 has meant she now has more time to watch her favorite romantic Korean dramas at night and spend time on her paintings.
Satoko has been creating small paintings and sharing them with fellow Nikkei Senior Gardens residents on their birthdays. She also submitted her artwork to this year's Keiro no Hi Festival arts showcase as well.
Despite the new policies that have been implemented due to the pandemic, she keeps a positive outlook and continues to be creative to keep herself active. "We just have to be flexible in accepting the situation. I think that's important." She still does her best to exercise daily and actively participates in the various safe, remote activities hosted by the Nikkei Senior Gardens staff. Once the pandemic is over, she looks forward to resume playing golf and looking for new flowers out in nature that she can paint.
Read Satoko's story here: https://www.keiro.org/features/keiro-superstar-satoko-yamamura
Mamoru Kanda, 92 – Continuing to Listen to his Body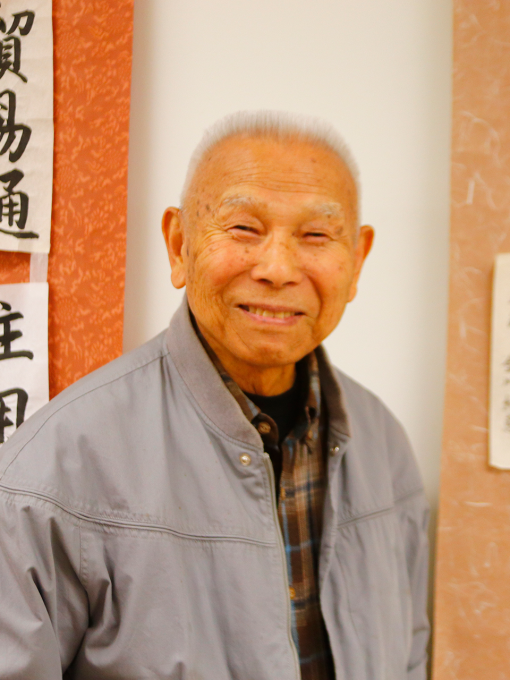 During these times of staying at home, Mamoru continues to listen to his body and living a medication-free life. However, he said things have been slower at Seinan Senior Citizen's Center, as it has been closed since March. As president of the center, he still visits once a week to check the mail and work on occasional newsletters going to over 150 members.
Although Mamoru does not have a computer at home, he continues to stay engaged and informed using his iPad. He is able to connect with his friends and family through email, texts, and phone calls, and checks on the latest news, especially about the pandemic, through surfing on the internet.
One new thing he started picking up was watching movies. "We have a Japanese movie club, and so I get recommendations on movies, and that keeps me occupied." He shared that since the start of the pandemic, he has watched over 600 movies and dramas! His favorite is the Japanese drama Dr. X.
Read Mamoru's story here: https://www.keiro.org/features/keiro-superstar-mamoru-kanda