The COVID-19 pandemic has been an adjustment, as everyone has shifted their lifestyles drastically this past year, since the Safer at Home order was issued on March 19, 2020. We have adjusted to this "new normal" and many of these changes will remain with us even after the pandemic subsides.
COVID-19 primarily spreads from person-to-person contact. Practicing good safety and hygiene protocols are still important, even after receiving the vaccine. These practices include washing your hands often, avoid touching your face with unclean hands, and disinfecting frequently touched surfaces. Your personal risk depends on your age, your health, virus presence in your community, and the safety measures you use (Aubrey et al., 2020).
Every outing, gathering, and activity will carry some level of risk, as being indoors and around more people can raise your risk. In general, the closer you are to an infected person and the more time you spend in close contact with them increases your risk of becoming infected.
Latest news
Starting 1/19/22, the USA Government will provide up to four free testing home kit for each household. They also share information on reimbursement for previous purchases of kits. Sign up here.
LA County now offers Free Home Test Kit (to be sent to a lab) for anyone who may have symptoms or were exposed to COVID-19 for those living in the county. More details here.
FDA recently announced emergency use approval for the first viral treatment for COVID-19 called Paxlovid. For more details, read here.
Mask mandate is back in state of California for all indoor public spaces including workplaces. This is in effect until Jan 15, 2022.
LA County announced they will require showing proof of vaccination in certain indoor settings such as bars, and night clubs. They will require employees and customers to have at least the first shot by October 7, and second by November 4(announced 9/15/21).
New Mask requirements, vaccination proofs and guidelines announced. see below for latest
Public Health Orders Updates
As of June 15, 2021, the governor of California terminated the Stay Home Order and issued a new health order. Many of the business restrictions and physical distancing measures are lifted. However, the new order does require residents to follow guidance around face coverings issued by the California Department of Public Health. As things continue to change rapidly, stay up to date on your area's public health policies and health officer orders.
Vaccination Mandates and Proofs
Certain vaccination mandates, and requirement of proof of vaccination have been issued in August 2021. Here are some of the requirements by the State of California (CDPH, 2021c):
If you are attending an indoor event larger than 1,000 people, you must show proof of vaccination or proof of negative test to be able to attend the event. Self attestation is not valid in these events. Everyone must be masked.
If you are attending an outdoor event larger than 10,000 people, proof of vaccination is recommended at this time. Self attestation method is not recommended.
Proof of vaccination or a negative test result (72 hours prior to entry) is required to enter health care settings (ex: hospitals, skilled nursing homes, etc.)
Proof of vaccination can be either the physical card, or electronic copies of it on your phone (CDPH, 2021b).
Read here for details on what would be considered proof of vaccination.
For more information, read here.
Additionally, below counties/cities have further requirements related to vaccine proofs:
Los Angeles County
LA county requires proof of vaccination or negative test result (72 hours prior entry) for indoor bars, breweries, wineries, night clubs, and lounges.
Los Angeles City
Recently, LA city passed an order in which vaccination proof or negative test result (72 hours prior entry) ordinance that will require individuals to enter indoor public spaces including, but not limited to, restaurants, bars, gyms, sports arenas, nail salons, and all indoor City facilities. Order will start November 4.
Masks
California's new mask guidance took effect on June 15, 2021, which then was updated on July 28, 2021. This mask guidance aligns with the Center for Disease Control and Prevention's (CDC) recommendations and also provides additional information about settings where masks are required or recommended (CDPH, 2021a). CDC updated their mask recommendation for those fully vaccinated on July 27,2021. They recommend for fully vaccinated people to wear a mask in public indoor settings in areas of substantial or high transmission. The mask mandate came back on December 15 and will stay in effect until January 15, 2022.
For the state of California, masks are not required for fully vaccinated individuals, except in the following settings where masks are required for everyone, regardless of vaccination status (CDPH, 2021a):
In all indoor public spaces (until Jan 15, 2022)
Workplaces (until Jan 15, 2022)
On public transportation and in transportation hubs

Public transportation includes airplanes, trains, taxis, ride-shares, ferries, and buses.

Transportation hubs include airports, bus terminals, train stations, or other areas that provides transportation

Indoors in K-12 schools and other youth settings
Healthcare settings
State and local correctional facilities and detention centers
Homeless shelters, emergency shelters, and cooling centers
Masks are also required for unvaccinated individuals in indoor public settings and businesses. These settings include retail stores, restaurants, theaters, meetings, and government offices serving the public (CDPH, 2021a).
Starting September 20, (announced on August 18), the State of California will also require proof of vaccination or a negative COVID-19 test 72 hours before the event will be required for indoor events with 1,000 or more attending (CDPH, 2021b).
Los Angeles County – Here are the most recent requirements related to masking:
All public indoor settings (in stores, restaurants, etc.) a mask must be worn regardless of vaccination status.
For large indoor (500 people or more) events, or large outdoor (5,000 people or more) events, masks must be put on at all times except for when eating or drinking.
Orange County – Requiring masks as per above conditions set by the state for now.
Ventura County – Currently requiring masks for all indoor public settings. Read Here
Cloth, disposable or N95, KN95 and other masks that meet a certain standard certified by National Institute for Occupational Safety and Health, are all valid masks to use. Masks could also be used by using two layers (one cloth, one disposable) as well.
With recent rise in Omicron variant which is highly infectious, state of California stresses the importance of good fit and good filtration to be prioritized when selecting masks (California Department of Public Health, 2022). Some organizations have required upgraded masks. Other experts are also starting to recommend upgrading masks to higher grade or utilizing double masks (one to be surgical, and to have a cloth on top of that) to have extra protection during this time (Lin II, R., 2021).
The important point is to have masks tightly around your nose and mouth and adjust ear loops to reduce any gaps.
Make sure that the masks are official and not counterfeit. Additionally, make sure the disposable masks are disposed after a day of use, or when it's wet or dirty.
For details, visit the CDC website here: https://www.cdc.gov/coronavirus/2019-ncov/prevent-getting-sick/types-of-masks.html
LA county and LA city, in their heath orders, recommend the following: "In indoor public and private settings where there is close contact with other people who may not be fully vaccinated, individuals should consider wearing a higher level of protection, such as wearing two masks ("double masking" or a wearing a respirator (e.g., KN95 or N95). This is particularly important if an individual is not fully vaccinated and is in an indoor or crowded outdoor setting" (LA County Department of Public Health, 2021).
Lastly, the COVID-19 pandemic is still ongoing. Unvaccinated individuals are more likely to get infected and transmit the virus. Although masks may not be required in certain settings, you can still wear a mask if it makes you feel safe and comfortable.
Assess Before Going Out
As of July 2021, the CDC announced that who are fully vaccinated are able to gather with other fully vaccinated people (i.e. two weeks after receiving the final dose of the vaccine) or those with low risk of severe COVID-19 disease without masks of physical distancing in most settings. However, remember that the vaccine does not prevent you from getting COVID-19, instead it can help protect you from serious illness from COVID-19. In the event that you do decide to go out, here are some things to keep in mind to help you determine the amount of risk the outing carries and how comfortable you are going out(Aubrey et al., 2020):
1. Setting
Is the outing in an indoor or outdoor setting? Outdoor activities carry less risk than indoor ones.
Example: Dining in a restaurant indoor vs. a backyard barbeque.
2. Proximity
Will you be in close contact with someone outside of your household? Are others you will be meeting with vaccinated or at risk of severe COVID-19 disease? Staying physically distant lowers your risk of infection compared to close contact with others.
Example: Attending an exercise class in a packed room vs. grocery shopping while keeping distance from other shoppers.
3. Duration
How long will you be around other people? The more time you spend in contact with people, the greater your risk. Note that staying physically distant can help lower this risk.
Example: Watching a movie at the movie theater vs. mailing a package at the post office.
Public Activities
Although lifestyle is slowly returning back to normal, keeping risk factors in mind is a good practice to continue at this time. Fully vaccinated individuals still need to wear masks and maintain physical distance out in public where it is required by federal, state, or local rules and regulations (CDC, 2021).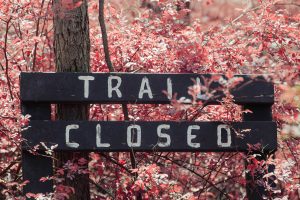 Continuing Etiquettes to Remain Safe
Continue these etiquette practices especially in public spaces. (New Etiquette Rules, 2020)
Greetings
Reduce physical contact with others not in your household. Instead of hugs and handshakes, waving to each other or giving other types of greetings are all acceptable ways to greet others.
It is okay to feel uncertain or even awkward while meeting up with others. A wave does not replace a hug, but it will limit your contact with others, and increase your safety.
Masks
Mask will continue to be essential to increase your safety for yourself and others in public spaces. Even though we cannot see one another's smiles, consider gestures to express yourself such as a thumbs up.
Saying "No"
Your personal comfort and safety are very important during this time.
Do not feel obligated to say yes to invitations to events or outings. If you feel uncomfortable going out, meeting with people, or scheduling appointments, it is okay to say no.
Read more about how it's ok to say no.
Socializing and Staying Connected
Using online platforms (Zoom, FaceTime, etc.) or sending handwritten cards can still be great ways to gather and connect with others at this time. Consider the following however if you are thinking about connecting with others in person: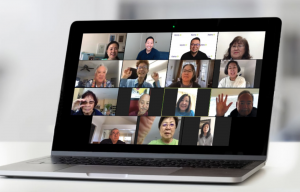 If gathering with people outside your household, consider still having it outside. Open spaces decrease your risk of infection and allow for more physical distancing.
Remember, interacting with a greater number of people increases the risk of the gathering.
Visiting Grandchildren
Similar to other activities, the risks of visiting with grandchildren vary. Children can spread COVID-19 easily and may not display any symptoms. (Aleccia, 2020).
Keep in mind that children under 12 currently cannot get vaccinated.
The CDC's new guidelines allow for in-person gatherings with other fully vaccinated people and those at low risk for severe disease with COVID-19. Discuss with your family what everyone is comfortable doing.
If possible, meet outdoors, which will help lower the risk of the visit.
Resources on Keeping Older Adults Connected Through Technology:
Free iPad Curriculum – 4 lessons covering basics
Traveling
Traveling increases your chance of both coming in contact with infected individuals and spreading the virus. Especially for unvaccinated people, the risk remains high (Public Health Recommendations for Fully Vaccinated People).
If you are considering traveling, ask the following questions:

Are you traveling with at-risk individuals?

Does the state or local government where you are traveling to or from require a quarantine period after arrival?

Types of travel

Air Travel: traveling by air requires you to wait in lines at the airport, share communal spaces with others, and use frequently-touched surfaces.
Viruses and germs do not spread easily on flights due to the air filtration system. However, physical distancing may not be guaranteed or possible.
Bus or Train Travel: physical distancing may not be possible in this form of travel, depending on seating arrangements. The longer you spend near others, the greater your risk of infection.
Car Travel: you may be traveling with people in your household and expect a low-risk experience. However, stopping for gas, food, and bathroom breaks brings you in contact with both other people and shared surfaces.

If you are thinking about traveling internationally, keep in mind that there continues to be ongoing transmission of COVID-19 in the majority of countries around the world.

As of May 28, 2021, fully vaccinated people can resume domestic travel and refrain from testing before or after travel or self-quarantine after travel (CDC, 2021).

If you are thinking about traveling within the United States, visit the CDC's travel planner, linked here, to find the different guidelines and local rules for traveling to a specific location.
Other Articles Written By Keiro on COVID-19
Ultimately, it remains your decision to go out and what activities you take part in. Even though we might be returning to normal activities, the way we interact and socialize has changed immensely. Do not be afraid to say no or avoid handshakes. Keep washing your hands frequently, and wear a mask where appropriate. Choose to gather in outdoor spaces, with fewer people instead of smaller spaces with more people.
Sources
Aleccia, J. (2020). 'We Miss Them All So Much': Grandparents Ache as the COVID Exile Grinds on. Retrieved from https://khn.org/news/we-miss-them-all-so-much-grandparents-ache-as-the-covid-exile-grinds-on/
Aubrey, A., Wamsley, L., & Wroth, C. (2020). From Camping to Dining Out: Here's How Experts Rate the Risks of 14 Summer Activities. Retrieved from https://www.npr.org/sections/health-shots/2020/05/23/861325631/from-camping-to-dining-out-heres-how-experts-rate-the-risks-of-14-summer-activit
California Department of Public Health. (2022). Get the Most out of Masking. Retrieved from https://www.cdph.ca.gov/Programs/CID/DCDC/Pages/COVID-19/Get-the-Most-out-of-Masking.aspx
California Department of Public Health. (2021a). Guidance for the Use of Face Coverings. Retrieved from: https://www.cdph.ca.gov/Programs/CID/DCDC/Pages/COVID-19/guidance-for-face-coverings.aspx
California Department of Public Health. (2021b). Vaccine Record Guidelines & Standards. Retrieved from: https://www.cdph.ca.gov/Programs/CID/DCDC/Pages/COVID-19/Vaccine-Record-Guidelines-Standards.aspx
California Department of Public Health. (2021c). Beyond the Blueprint Questions & Answers: Industry & Sectors Guidance. Retrieved from: https://www.cdph.ca.gov/Programs/CID/DCDC/Pages/COVID-19/Beyond-Blueprint-QA.aspx
California Department of Public Health. (2020). Limited Stay At Home Order. Retrieved from https://www.cdph.ca.gov/Programs/CID/DCDC/Pages/COVID-19/limited-stay-at-home-order.aspx
CDC, (2021). Interim Public Health Guidelines for Fully Vaccinated People. Retrieved from https://www.cdc.gov/coronavirus/2019-ncov/vaccines/fully-vaccinated-guidance.html
CDC, (2021). Types of Masks. Retrieved from https://www.cdc.gov/coronavirus/2019-ncov/prevent-getting-sick/types-of-masks.html
How to Protect Yourself and Others. (2020). Retrieved from https://www.cdc.gov/coronavirus/2019-ncov/prevent-getting-sick/prevention.html
LA County Department of Public Health (2021). Order of the Health Officer. Retrieved from http://publichealth.lacounty.gov/media/Coronavirus/docs/HOO/HOO_SaferReturnWorkCommunity.pdf
Lin II, R. and Money, L. (2021). Omicron surge means it's time to upgrade your mask. Here's how. Retrieved from https://www.latimes.com/california/story/2021-12-28/omicron-surge-means-its-time-to-upgrade-your-mask-heres-how
Martin, E. (2016). The Ins and Outs of Online Banking. Retrieved from https://www.aarp.org/money/investing/info-2016/online-banking-101.html
Parker-Pope, T. (2020). When Can I See My Grandkids? Retrieved from https://www.nytimes.com/2020/05/20/well/family/coronavirus-grandchildren-grandparents-when-can-i-see-my-grandkids.html
Parker-Pope, T. (2021). Should I Mask? Can I Travel? What About Hugs? How Delta Is Changing Advice for the Vaccinated. Retrieved from https://www.nytimes.com/2021/08/03/well/live/covid-delta-variant-vaccine-symptoms.html
Public Health Recommendations for Fully Vaccinated People. (2021). Retrieved from https://www.cdc.gov/coronavirus/2019-ncov/vaccines/fully-vaccinated-guidance.html#anchor_1617376530945