The COVID-19 pandemic has changed all of our lives. Since March 19, 2020, here in Southern California, our lives have been about staying at home and practicing physical distancing. We should continue to stay informed and up to date with COVID-19 news and changes. With information flooding across multiple media platforms, it can be difficult to navigate through the constant updates and be best prepared on how to keep yourself and your loved ones safe.
As of 3.12.2021 – will be updated periodically (initial publish date: 03.05.2020)
日本語版はこちらからご参照ください。
To read more about Life and lifestyle during COVID-19, click here.
Other related and new articles:
What is COVID-19?
COVID-19 spreads easily and rapidly in these ways:
Person-to-person (primary form of transmission)
The virus can spread through close contact with an infected person though exposure to droplets from coughs or exhales (Q&A on Coronaviruses, 2020).
Infected surfaces
The virus can also spread after touching an object or surface that has infected droplets on it. Touching an object or surface and then touching the eyes, nose, or mouth can spread COVID-19 (Q&A on Coronaviruses, 2020).
Symptoms of COVID-19 have ranged from mild to severe and can be similar to the symptoms of the common cold and flu. As of July 9, 2020, the Centers for Disease Control and Prevention has reported the symptoms for the virus include:
Symptoms
Fever
Cough
Shortness of breath or difficulty breathing
Chills
Repeated shaking with chills
Sore throat
Muscle pain
Headache
New loss of taste or smell
Fatigue
Congestion or runny nose
Muscle or body aches
Nausea or vomiting
Diarrhea
These known symptoms have shown to appear between 2-14 days after initial exposure. If you think you are experiencing symptoms of the virus, please contact your health care provider over the phone for medical advice before going to their office (Coronavirus Disease 2019, 2020).
Additionally, the Centers for Disease Control and Prevention is encouraging individuals to be aware of emergency warning signs including:
Emergency Warning Signs
Difficulty breathing or shortness of breath
Persistent pain or pressure in the chest
New confusion or inability to arouse
Bluish lips or face
If you are experiencing any emergency warning signs, please seek medical help immediately.
It is also important to keep in mind about different symptoms compared to others. Read more here: https://www.keiro.org/features/cold-flu-covid
Other COVID-19 Related Articles:
Testing for the Virus
There are several public health laboratories that offer COVID-19 testing (Testing in U.S., 2020). If you suspect you have the virus and/or are displaying symptoms (fever, cough, and shortness of breath), call your primary care physician first. They can help determine if you need to be tested and can help direct you to the correct testing location (Testing, 2020). If your doctor is not providing testing, you can call your local urgent care. However, it is not advised to go to the emergency room just for a test. In addition, the residents in Los Angeles County can call 211, the Los Angeles County information line, to find providers with tests (Becker & Ibarra, 2020).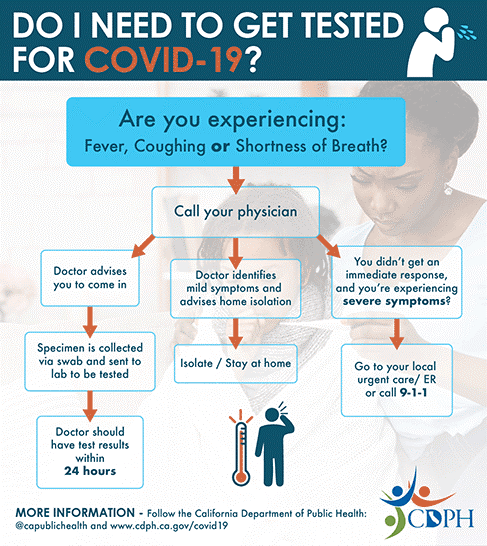 Free COVID-19 testing is available to LA County residents. LA County and LA City have drive-up testing available. To register for an appointment, click here. LA County residents can also register with a state testing site such as OptumServe or Verily.
There are over 50 testing sites available in Orange County. They offer an easy-to-follow flowchart to guide you if you ever have symptoms.
There are four types of testing available for Orange County: Drive Thru Testing, OC COVID-19 Testing Network for those with Symptoms, OC COVID-19 Testing Super Sites, and State of California OptumServe. All of these accept those who cannot get a test through their health care provider or uninsured.
Testing capabilities in Ventura County have been expanded for essential workers and residents who have symptoms of the virus. The test is free, and you do not need to have health insurance or a doctor's referral. Those with symptoms or have had known exposure to someone with COVID-19, call OptumServe at 888.634.1123 or visit https://lhi.care/covidtesting. Residents can also call the County of Ventura Testing Hotline at 805.652.7660
Residents will answer questions to determine the need for the test. If a test is needed, an appointment will be given at one of the State testing sites or County Urgent Care locations. If you do not have symptoms or close contact with someone diagnosed with COVID-19 and would like to be tested, contact OptumServe.
Costs
Medicare – Medicare Part B covers COVID-19 testing. This test is used to see if you have the virus. The test is covered when your doctor or other health care provider orders one (Coronavirus Test, 2020). Medicare Part A covers inpatient hospital care when all of the following are true (Inpatient Hospital Care, n.d.). You are admitted to the hospital as an inpatient after an official doctor's order, which says you need inpatient hospital care to treat your illness or injury. The hospital accepts Medicare. In certain cases, the Utilization Review Committee of the hospital approves your stay while you're in the hospital.
Uninsured (Frazee, 2020) – The testing is free for those without insurance.
Treatment (Updated)
The Food and Drug Administration (FDA) has granted approval and emergency approval for the two treatments below, after concluding that the potential benefits of these treatments outweigh the known and potential risks of using these drugs, specifically for severely ill patients.
Veklury (Remdesivir)
On October 22, 2020, the FDA granted approval for the use of the antiviral drug Veklury, also called remdesivir, for the treatment of COVID-19. Previously in May, this drug was granted emergency approval for patients with severe cases of COVID-19 that required supplemental oxygen or mechanical ventilation. In August, this use was expanded the use to all hospitalized patients. Currently, this treatment has been granted approval following several clinical trials of the drug testing its effectiveness. The drug is approved for use in patients over the age of 12 and weighing over 88 pounds. This drug is only authorized to be used in hospitals or health care settings that offer similar care.
Convalescent Plasma
On August 23, 2020 FDA granted emergency approval for the use of convalescent plasma. Convalescent refers to anyone recovering from a disease. Plasma is the part of the blood that contains antibodies, or proteins made in response to infections (FDA, 2020). Thus, plasma from patients who have had COVID-19 may contain antibodies that can fight against the disease. The emergency use authorization allows for convalescent plasma to be used in COVID-19 patients who have been hospitalized (FDA, 2020). This treatment is still being investigated but has been granted emergency approval because the potential benefits of using plasma outweigh the potential risks of using it.
COVID Vaccine
On December 11, 2020, the U.S. Food and Drug Administration (FDA) has approved Emergency Use Authorization (EUA) for the Pfizer-BioNTech COVID-19 vaccine for people 16 years or older. Additionally, on December 18, 2020, the FDA approved EUA for the Moderna COVID-19 vaccine for people 18 years or older. The EUA allows faster access to medical products during a health emergency when no other approved options are available (Treatment, 2020). California formed a Scientific Safety Review Workgroup to assess the safety in the vaccine and has confirmed that it is safe and effective (Food and Drug Administration, 2020). Since the vaccine was recently approved, there is a limited supply available. The state will decide how it will distribute the vaccine. To learn more about the priority of distribution, visit the state's website here.
On Wednesday, January 13, 2021, California Governor Gavin Newsom announced that residents ages 65 and older are now eligible to receive the COVID-19 vaccine. More clarification on how to receive the vaccine will become available in the coming weeks. Vaccine distribution will take time. Continue to wear masks, stay physically distant and stay home as much as possible.
On February 27, 2021, the FDA issued emergency use authorization (EUA) for a third COVID-19 vaccine (Food & Drug Administration, 2021). The Janssen COVID-19 vaccine is authorized to be used in individuals 18 years or older. This third vaccine is different than the other two currently being distributed, where the vaccine uses a piece of the DNA used to make the SARS-CoV-2 virus. The virus used in the vaccine cannot replicate in the human body to cause illness. Once a person receives this vaccine, the body's immune system s triggered to produce an immune response about the virus that causes COVID-19. Additionally, the Janssen vaccine is administered as a single dose. This vaccine has shown to be 66% protective against moderate to severe COVID-19 illness and 85% effective in protecting against severe illness with COVID-19. On April 13, 2021, FDA and CDC announced a temporary pause of the use of the Janssen vaccine.
To know if you are eligible to receive a vaccine or not (or sign up for updates), visit here.
For more information on the COVID-19 vaccine, please read Keiro's article here. (More info on Janssen vaccine will be provided as we obtain new information about vaccine distribution)
Beach City Health District created an easy to understand chart for Los Angeles County's vaccine priority here.
Vaccine Resources by County
Vaccine distribution and priority lists vary by county. For more information on the COVID-19 vaccine in your county, view the links below. These resources provide more information on who is eligible to receive the vaccine, how to schedule an appointment, and how to sign up for vaccine notifications.
Staying Safe During This Pandemic

The most effective way to protect yourself and others against the virus is to be prepared and practice good self-management techniques such as:
Washing your hands often with soap and water for at least 20 seconds

Wash your hands after going to the bathroom, before eating, and while coughing, and sneezing
If soap and water are not readily available, use an alcohol-based hand sanitizer with at least 60% alcohol

Avoiding close contact with people who are sick
Avoiding touching your eyes, nose, and mouth
Staying home if you are experiencing any symptoms
Covering your cough or sneeze with a tissue, then throwing the tissue in the trash. If you do not have access to a tissue, cough or sneeze into your elbow
Cleaning and disinfecting frequently touched objects and surfaces (i.e. phones, doorknobs, etc.)
Wear a face mask when out in public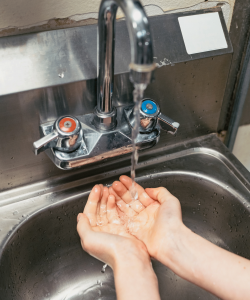 Government Resources and Health Orders
Refer to our fact sheet on, Lifestyle During COVID-19 for updates on Health Orders. Here are other websites that may be helpful:
Myths and Scams (updated)
View our articles on COVID-19 myths and scams here: