"Everyone was just experimenting, and then we were like 'Oh! We can see each other!' It was kind of like magic."
And so began the first Zoom class of Zen Aerobics from Zenshuji Soto Mission, according to Program Coordinator Amy Honjiyo. She and Setsuko Nakahara, organizer of the Tai Chi/Qigong class at Los Angeles Hompa Hongwanji Buddhist Temple, both Keiro Grant recipients, have moved their programs from in-person to online due to the COVID-19 pandemic – and they both agree, it has been a journey of adaptation for everyone involved.
Virtually Challenging – But Not Virtually Impossible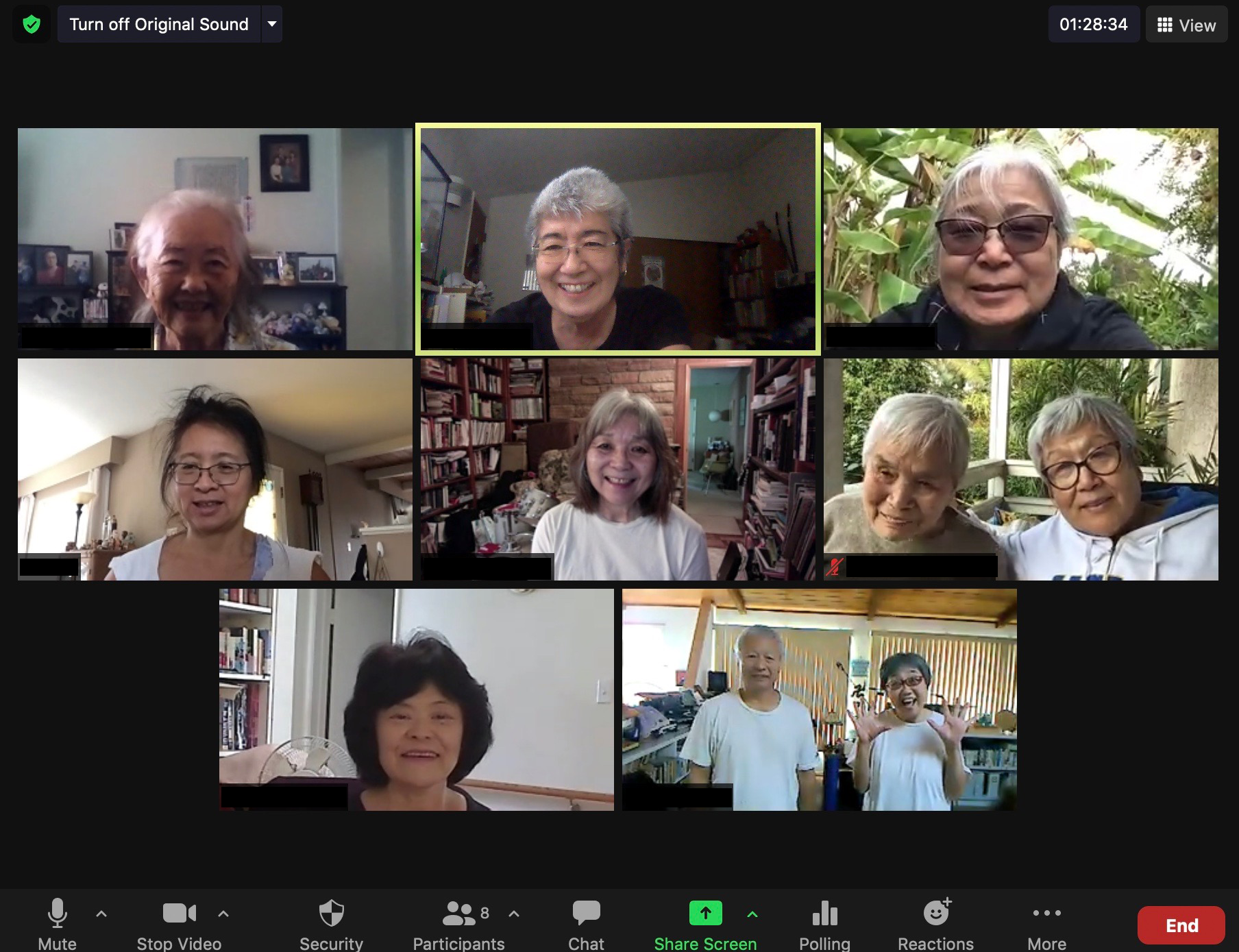 Amy and Setsuko shared that the virtual transition has been a constant learning process, as they (and many program participants) started off as beginner Zoom users. "It's not always easy," Amy said. "Especially if you don't have all the connections and the equipment, you have to ease into it." Anticipating some of these technical difficulties, Setsuko sent Keiro's Zoom resources to help participants before their first session—still, Zoom troubleshooting became a regular occurrence that Amy and Setsuko had to navigate early on. "When the class is starting, I'm getting phone calls saying, 'I can't get in' or 'what is the password,' so I kind of assist. When people have trouble they call us, even while the class is continuing," shared Setsuko.
Changing With The Times
Despite these challenges, both programs have been working hard to improve the quality of their classes. In some ways, their organizers say the shift to Zoom has even helped create more accessibility for their participants along with an increase in participation. Setsuko explained, "People don't have to worry about traveling the distance to class—they can do it a little easier from home, so that's been great."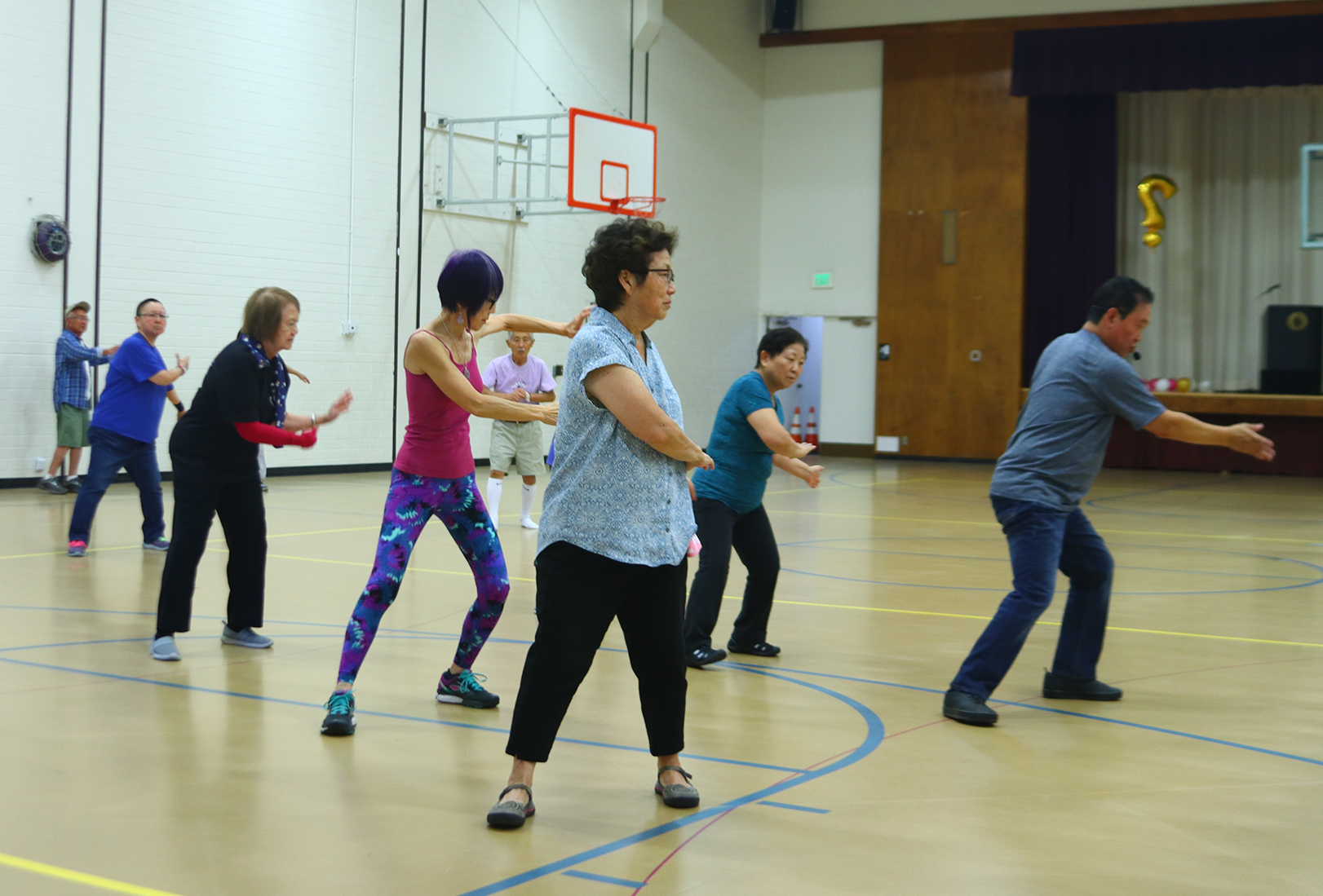 Setsuko also shared how the class instructor, Grand Master Jason Tsou, is restructuring their Tai Chi/Qigong class to accommodate both the virtual format and the older participants. With pandemic-related concerns in mind, Grand Master Tsou started out with teaching about pressure points and exercises to strengthen one's immune system. He reorganized the lessons to break down more complex movement sequences and to include accessible "equipment" to help students practice at home, like using a wall to aid them in certain exercises.
Amy explained how Zen Aerobics instructor Ted Uekuma has modified his instruction for online participants as well. He incorporates exercises for heavy computer or television use, and has kept beloved traditions going, like the annual Zen Aerobics Obon Dancing. The class also looks forward to the new "brain exercise" segment, where participants exchange words in Japanese, English, and Spanish as a language-learning activity.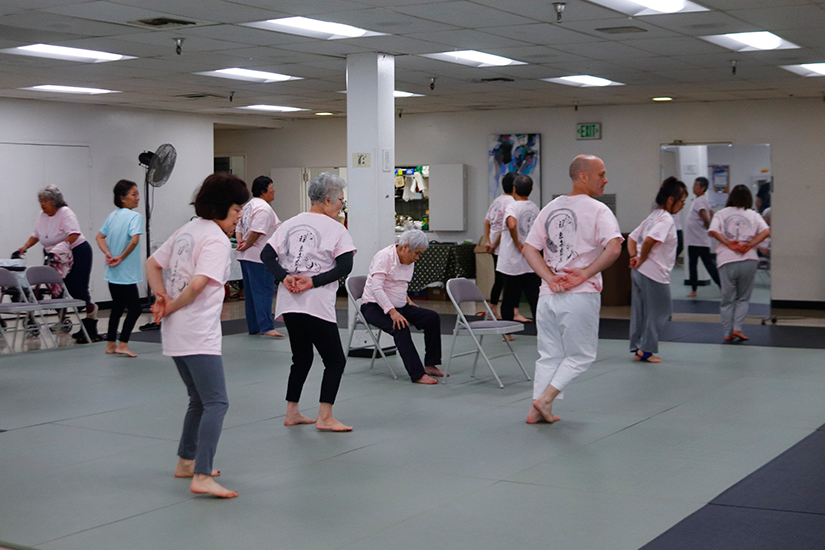 We'll Meet Again
Amy and Setsuko spoke enthusiastically about these innovative changes; however, they both acknowledged that the in-person connection still feels like a missing piece. Certain aspects of class aren't as easily replicated through Zoom, like sharing snacks, going out after class, and using mirrors for feedback to gauge how they're doing. Looking forward to the time when in-person activities can resume, Setsuko commented, "When we do get back together, I think everybody will be much more grateful. We'll appreciate each other a lot more, in general."
Both agreed though, for now, this virtual gathering helps the members stay connected. Amy looks forward to adding more elements like virtual filters and polls on Zoom to enhance interaction among participants. Amy shared, "Every week I take screenshots, because there is something that someone is doing that's humorous." Setsuko added that even after going back to in-person sessions, this opportunity allowed them to potentially create alternatives and new options for conducting classes. "We may still use a combination or hybrid approach. We now have the option of using the virtual connections for future webinars."
---
Read more about Zen Aerobics at Zenshuji Soto Mission
Read more about Tai Chi/Qigong at Los Angeles Hompa Hongwanji Buddhist Temple
Published: 11/17/2020