Helen Fukuhara, a second-year participant in the Keiro no Hi Fine Arts Showcase, has found joy in being surrounded by music and art throughout her life. Helen has been blind since birth, but this hasn't stopped her from becoming an accomplished musician and artist with a passion for spreading her creativity to others. Helen has been making art at the Braille Institute for 25 years, and helps others uncover their artistic sides through volunteering as an instructor and sharing her art with her community.
Born Into a Creative Life
Her father, Henry, was a florist by trade and a painter at heart, which was a big inspiration to bring out her creative side at a young age. Helen would attend Henry's lectures on watercolor painting that he taught after retirement, including several art workshops held at Manzanar. She would help serve refreshments and while listening to his lessons at the same time. "I believe he had a lot of influence," she mused. She followed this passion through music at first, majoring in music and singing in three choirs while in New York. She said she didn't dream she was going to be an artist — until she found the Braille Institute in Los Angeles.
Connecting with Art in Los Angeles
When Helen moved to Los Angeles in 1987, she heard about the Braille Institute's art classes and signed up for a course, to the delight of both her father and herself. "My father and I didn't talk about art that much until I started taking classes at Braille, because for him it was mostly a visual thing," she said. "When I had the chance to do art at Braille, my father perked up. I mean, he was excited."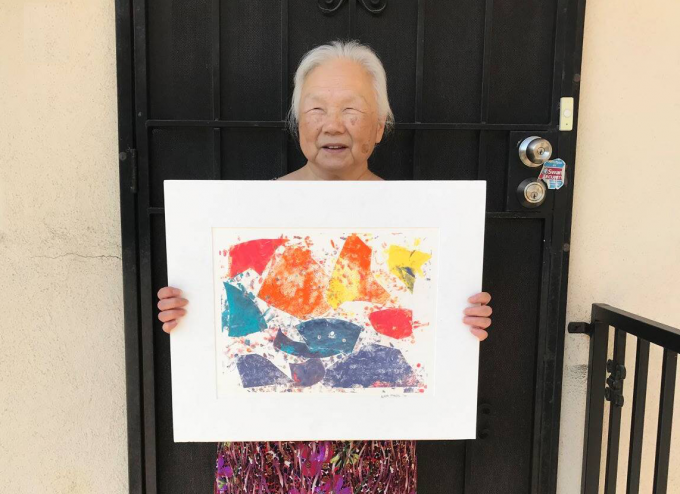 At the Braille Institute, students make mosaics, sculptures, paintings, and more through their accessible teaching methods. Since Helen's first class, she has taken all kinds of subjects that the Institute offers — mostly art, but also courses in poetry, art history, and exercise. She eventually became a volunteer for their classes and in their library. She explained, "In the art classes, I'll help the new students or show them things to feel to use in their art. I find instructing fun. I try to encourage students."
Enjoying a Broad Range at the Braille Institute
"I've enjoyed everything," Helen said, describing the classes she has taken at Braille. "I guess I like to do odd things. Like, things that a totally blind person has never seen. I wanted to do a rainbow, so the teacher cut the strips, and I put braille tags on the strips and I made a rainbow. I also made a little frog pond, with silk for the water, and burlap around it so it would feel like the earth. Things like that."
To Helen, art is a source of challenge, stimulation, and fun. "Oh, I could do art every day, if I had materials and time," she said. Since the beginning of the COVID-19 pandemic, Helen's classes have been only virtual. Since she needs someone else to identify and sort colors for a piece like a mosaic or a tapestry, she hasn't been able to create as much art while at home. However, Helen has been able to take virtual classes through the Braille Institute in poetry, art history, and exercise. She commented, "I've learned that art is broad. I'm taking poetry now. I mean, that's a literary art. It's still art."
Third Time's a Charm in the Keiro no Hi Fine Arts Showcase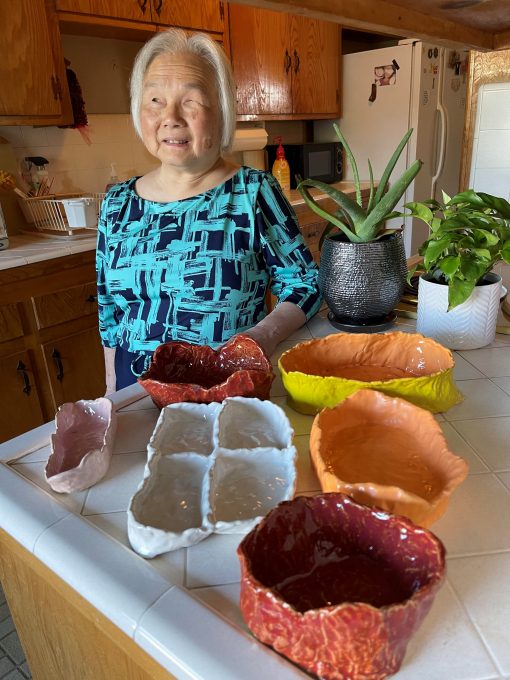 Helen has participated in the Keiro no Hi Fine Arts Showcase for the past two years and says she's excited to come back for a third time. She often creates art for others to experience, donating pieces to the Braille Institute, giving them away to friends and family, and sharing her work through shows like the Keiro no Hi Fine Arts Showcase.
Helen shared, "To be a part of any art showcase is exciting!" In past years of the Keiro no Hi Fine Arts Showcase, she has submitted a monoprint from cardstock and ink in 2020 and variety of handcrafted ceramic dishes in 2021. She oftentimes likes to leave things untitled so that it can be completely up to the viewer for interpretation. She explained, "Instead of people looking for the answer to 'Why is it titled that?', they see new things. I like to hear their reaction, and I find it amusing what they see."
For others interested in getting into art or wanting to try a new hobby, Helen's advice is to start small: "If you are getting into art, go to a show. Look at people's crafts, and ask them questions — to kind of get a feel. I think everyone has some art in them, some place."
Click here to learn more about participating in the 2022 Keiro no Hi Fine Arts Showcase.