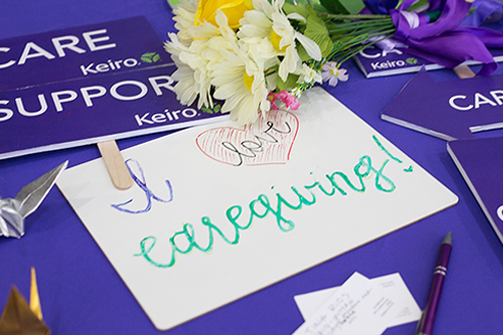 2023 Caregiver Conference
Saturday, March 18, 2023
10:00 a.m. – 2:00 p.m.
Wintersburg Presbyterian Church
2000 N Fairview Street, Santa Ana, CA 92706
For over 20 years, Keiro has offered Caregiver Conferences to support thousands of Japanese American older adults and their caregivers. After three years of virtual conferences, the 2023 Caregiver Conference will return back in person!
The theme for this year's Caregiver Conference is: Discovering Your Inner Caregiver.
---
Event Details
Keiro is proud to announce the 2023 Caregiver Conference to be held on Saturday, March 18, 2023. Keiro looks forward to welcoming back older adults and caregivers to the community to learn from subject matter experts and resources. The theme for this year's Caregiver Conference is: Discovering Your Inner Caregiver. The Caregiver Conference will cover three key traits for successful caregiving: communication, compassion, and creativity.
This year's Caregiver Conference will be hosted at Wintersburg Presbyterian Church. Registration is required, and the event will feature presentations, valuable resources, a hosted bento lunch, and more! As a way to ensure safety of Our Community's older adults to mitigate risk, capacity will be limited, and on a first-come, first-served basis.
---
Registration
Registration is now open!
All registrations will close on Friday, February 24, 2023 at 5:00 p.m. PST or until capacity is reached.
Early Bird Registration
Early bird registration is closed.
Attendees who registered in the month of January will receive extra tickets for the opportunity drawing on the day of the Caregiver Conference. The grand prize will be an iPad and a Keiro consultation to provide suggestions on caregiving apps and other ways it can be used to support caregivers! You must be present for the whole Conference in order to participate in the opportunity drawing.
---
Schedule
9:30 a.m. – Registration
10:00 a.m. – Keynote Speaker
11:00 a.m. – Breakout Session #1
12:00 p.m. – Breakout Session #2
1:00 p.m. – Lunch and Resource Fair
2:00 p.m. – End of Conference
---
Session Details
Keynote Presentation
The Top Things I Wish I Knew Before Caregiving
Providing care for a loved one can be an overwhelming experience filled with uncertainty. New roles and responsibilities can be difficult to take on, while also trying to ensure your loved one is getting the care they need. Each caregiving situation is unique, but caregivers are not alone. There are resources and support networks available to caregivers. This keynote session will break down key things caregivers should know to enhance their confidence while caring for a loved one.
Breakout Sessions
Breakout Session A: Caregiving in Action
Caregiving can be a demanding job. Sometimes caregivers need to come up with creative ideas to engage with loved ones and solve tough problems. As we present practical and hands-on tips to care for your loved one, we will also share creative ways to approach this care through demonstrations, techniques, and tools for caregiving.
Breakout Session B: How to Communicate as a Caregiver
In addition to communicating with the care recipient, caregivers also communicate with a care team who help provide support or care for the care recipient. Effective communication with your care team is essential to discuss care needs and provide updates regarding your loved one. This session will provide conversation starters to help you coordinate care and present scenarios that include working as a team with others to provide the best care possible for a loved one.
Breakout Session C: Practicing Compassion & Patience
While every caregiving situation is different, compassion is an essential part of caring for a loved one. Showing compassion allows caregivers to be in tune to their loved one's feelings and provide appropriate care. Through this session, attendees will discover new perspectives and ways of thinking that can positively affect their approach to providing care with essential characteristics of patience and compassion.
---
Event Sponsors
Presenting Sponsor
The Dennis & Joani Sugino Family
Caregiver Care Package Sponsor
Jack Kurihara & Carol Inge
Resource Fair Sponsors
The Aratani Foundation
Dr. Claire Koga & Dr. Stephen Beck
Session Sponsors
Beverly Ito
Doug & Chris Aihara
TheKey
Booklet Sponsor
Gene & Vickie Kanamori
Sponsors updated as of February 2, 2023.
Click here to download the 2023 Caregiver Conference sponsorship packet
For sponsorship questions, please contact Michelle Hirano at [email protected]
---
Past Caregiver Conferences
---
The Caregiver Conference is FREE to the community and is made possible by Keiro along with support from The Aratani Foundation, our community partners, sponsors, donors, and volunteers.
For questions or concerns please contact [email protected].