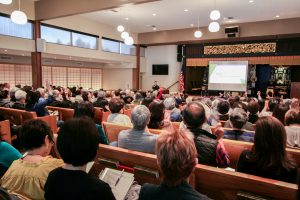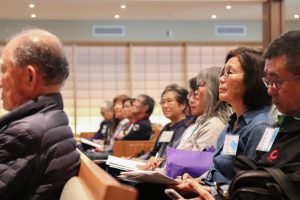 Over 300 people gathered on Saturday, May 12th for Keiro's Annual Caregiver Conference co-hosted by Orange County Buddhist Church. Both first-time and returning attendees enjoyed a full-day event consisting of a keynote speaker, resource fair, health screenings, as well as five different breakout sessions. The event provided useful and practical knowledge for participants to better care for their loved ones, as well as the opportunity to connect with and learn from other caregivers.
In her welcoming remarks, Keiro President & CEO Leona Hiraoka stressed the importance of this conference. "We as caregivers play a central role to an older adult's ability to age well and age with grace. And caregivers need resources, too – knowledge on how to care for yourselves, and knowledge on so many issues related to aging." Following this, Orange County Buddhist Church President Rick Oishi welcomed the attendees "as the co-host for today's conference, we hope that you will learn new things, review old things, have your questions answered, see old friends and make new friends as we share the caregiver experience."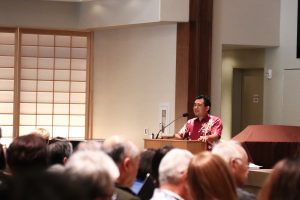 Dr. Yuichi Edwin Yanami, lead physician of Keiro and Providence's palliative care program, Iyashi Care, presented the keynote address. Caregivers intently listened to the new and innovative program that provides an extra layer of care to those suffering from advancing illness and/or debilitating symptoms as well as their families. Attendees were also able to speak one-on-one with Dr. Yanami and the Iyashi Care social workers during the resource fair.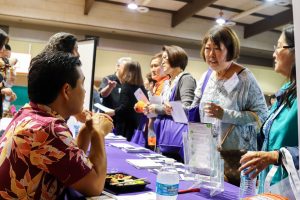 A group of siblings taking care of their mother with early signs of dementia attended the Caregiver Conference for the first time. The siblings mentioned how the conference equipped them well for the future. "The next step is when she [their mother] gets incapacitated. Right now she is still able, but […] we are going to figure it out before [she gets worse], to be proactive; we are here to learn more, so we aren't slammed against the wall with it." Keiro remains committed to supporting the changing needs of older adults and caregivers in the Japanese American and Japanese community through impactful, innovative programs and partnership.
Other Photos from the event available here.
Japanese Press Release: 日本語はこちら
---
About Keiro
Keiro is a mission-driven organization engaged in improving the quality of life for older adults and their caregivers in the Japanese American and Japanese community of Los Angeles, Orange and Ventura counties. Keiro delivers a wide range of resources to address the challenges and barriers that aging presents: isolation, limited financial resources, complex health conditions, and cognitive and memory disabilities. Keiro also partners with companies and organizations that can expand its services and ability to reach seniors and caregivers, and participates in research and innovation work where Keiro can contribute to advancing progress in resolving the challenges of aging. Keiro is headquartered in Los Angeles. For more information, visit Keiro.org