President & CEO and Board Members Named to Lead Broad Community Engagement, Support of Thousands of Older Adults throughout Southern California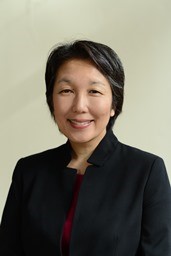 Los Angeles, CA – With a focus on transforming its service to the community to meet the needs of older adults, Keiro Board of Directors announced today the appointment of Leona Hiraoka as the organization's new president and chief executive officer (CEO).  Additionally, Keiro named five community leaders and established professionals to its Board of Directors: Kimiko Fujita, Claire Koga, M.D., Jack Kurihara, Lisa Sugimoto, Ed.D., and Dennis Sugino.
Keiro's mission remains the same: to enhance the quality of senior life in Our Community. The organization is expanding its reach from a focus on long-term health care facilities to broadly engaging and supporting thousands of Japanese American and Japanese older adults throughout Los Angeles, Orange, and Ventura counties. Keiro provides services to older adults and caregivers, along with programs for residents of Keiro's former facilities.
In July last year, Keiro launched a nationwide search for a new president and CEO and began efforts to transform the Board of Directors, identifying additional individuals with experience and skills necessary to successfully implement its new programs.
"Moving forward requires a cultural shift and changes across the organization, and the Board understands our role in that transformation," said Board Chairman Gary Kawaguchi. "As we conducted the search for a new president & CEO, the Board simultaneously reevaluated requirements for board composition to ensure effective overall leadership for Keiro. We continue to seek input from the community and experts in the field of aging, which helps us refine and prioritize how Keiro can best serve Japanese American and Japanese older adults in Our Community."
Ms. Hiraoka, who is relocating from the East Coast to lead Keiro, is a senior executive and enterprise-level strategist with extensive experience in media, communications, marketing, program innovation and organizational development. Her portfolio includes successes in strategic planning, brand management and nonprofit/business alliances.  She is the CEO and founding partner for Integrated Media, a marketing and communications firm, and is Vice President, Communications, for Points of Light in Washington, DC, an international nonprofit dedicated to advancing volunteer service and corporate social responsibility. Ms. Hiraoka has been integral to the organization's work across global markets mobilizing volunteers to take action and make a difference in their communities. Ms. Hiraoka previously served on the executive staff of the National Education Association and was former associate managing editor at The New Republic.
Originally from Southern California, Ms. Hiraoka remains active with several prominent organizations, including the U.S. – Japan Council, serving on the Board of Directors and chairing the Communications Committee. She is Vice President of the Washington, DC chapter of Japanese American Citizens League (JACL) and served on the editorial board for JACL's national publication, Pacific Citizen. She is also a member of the Asian American Journalists Association.
"We are so pleased to welcome Leona back to Los Angeles to lead Keiro in this next important phase for the organization," said Mr. Kawaguchi. "She has an amazing wealth of knowledge and experience, combined with a deep personal commitment to supporting the needs of Our Community's older adults. All of us at Keiro are excited to begin our work together."
With Ms. Hiraoka's appointment, interim president & CEO Gene S. Kanamori will become the organization's vice president. He will continue to play a critical role in the planning and implementation of Keiro's three program areas: Services to Older Adults, Support of Caregivers, and Programs for Residents of Keiro's Former Facilities.
Keiro also welcomes five new members to the Board of Directors, which is responsible for overseeing the organization's activities, focusing on its mission, strategy and goals. With the addition of its newest board members, Keiro benefits from a wide-range of expertise to support the organization and the community.
Joining Keiro's Board of Directors are Kimiko Fujita, Claire Koga, Jack Kurihara, Lisa Sugimoto, and Dennis Sugino. All have been actively involved with community groups and non-profit organizations.
Kimiko Fujita is president of the Orange County Japanese American Association (OCJAA). She was the Vice President of Senior Foundation Charitable Corporation and organized fundraising activities to support KEIRO. An accomplished Yamaha music instructor and performer, Ms. Fujita is the owner of the Yamaha Music Centers in Irvine, Aliso Viejo and Torrance.
Dr. Claire Koga has a background in geriatrics and practices family medicine at Kaiser Permanente. She received her medical degree from Keck School of Medicine of USC, is board certified in family medicine, and has been in practice for more than 20 years.
Jack Kurihara has more than 35 years of experience with health systems and hospital corporations. He is currently Director of Strategic Development at UCLA Health System, where he oversees strategic development and external physician outreach staff.  Mr. Kurihara is involved with the Venice Japanese Community Center and previously served as its president.
Lisa Sugimoto, Ed.D. previously served as vice president of student and learning services and interim president of Pasadena City College. At the request of the newly appointed president, she continued at the college as the vice president of advancement. She is currently a Senior Associate with PPL, an educational consulting firm, and is also an Alumni Fellow in the Educational Leadership Program at UCLA. Dr. Sugimoto has served as a board member for the Association of California Community College Administrators and served as its past president.
Dennis Sugino recently retired with over 30 years of institutional investment experience. Mr. Sugino volunteers with several organizations in addition to Keiro. He is an independent board member and chairs the Audit and Cybersecurity Committee of The Investment Fund for Foundations which manages over $9 billion in assets for endowments and foundations.
"Keiro is very fortunate to have such dedicated individuals who volunteer their time and extensive talents serving on the Board of Directors," said Mr. Kanamori. "Having a board composed of volunteers who share a passion for and a commitment to Keiro's mission will help guide the organization forward in a very meaningful way."
Founded in 1961, Keiro is a not-for-profit organization dedicated to enhancing the quality of senior life in Our Community. Keiro provides resources, tools, and culturally sensitive programs to support Japanese American and Japanese older adults and their families. We also support caregivers with problem-solving approaches to manage some of their toughest challenges.  For more information visit: www.keiro.org.