On June 12, 2019, Keiro and Orange County Japanese American Association co-hosted a panel discussion in Japanese at Anaheim Free Methodist Church about volunteerism. The program attracted more than 50 attendees, eager to learn about the benefits of volunteering and listen to testimonials from three panelists in their 80s who continue to use their unique skillsets as volunteers.
The event opened with welcoming remarks from Kimiko Fujita, Keiro board member and OCJAA president. She shared that for many years, she had longed to hold an event like this. "I hope that through volunteering, we can create, build, and support our community together," she said.
The event sought to inspire attendees to start giving back to the community by volunteering for a cause they are passionate about.
Physical, Social, and Mental Benefits of Volunteering
Laura Lee, program associate at Keiro, discussed the physical, social, and mental health benefits of volunteering. "Volunteering can lower blood pressure, reduce risk of dementia and increase resilience toward stress," she explained, as participants intently took notes. During the latter half of her presentation, she led an exercise for participants to think about their interests and what kind of volunteer opportunities they could begin looking for. She concluded by sharing some community organizations to look into, before introducing three OCJAA volunteers who shared their own volunteer experiences.
Three Volunteer Panelists in their 80s
Soyu Koizumi, a tea ceremony teacher from the Urasenke Tankokai Orange County Association, shared her experience of learning tea ceremony in her younger years, which eventually led to volunteering. "I received so much kindness from many people who came before me. Those people are not here anymore, but I really felt that I needed to give back for all that I've received through the path of tea." It is this feeling of gratitude that pushes her to volunteer. Although her class has limited access to the proper tools and equipment, she hopes her students can find joy in the small things in life through tea ceremony.
Masahiro Takahashi, a calligraphy teacher at OCJAA, started calligraphy at a young age, but led a busy life — living in more than 20 locations throughout the world over his career. At the age of 65, he was placed in a department where his mission was to expand Buddhist teachings to the United States. That is when he decided to pick up calligraphy again. "One thing I benefited from with volunteering was that I was able to meet so many people," Masahiro said. "Otherwise, I would have just stayed at home by myself." He stressed the importance of having an event or activity to do every day.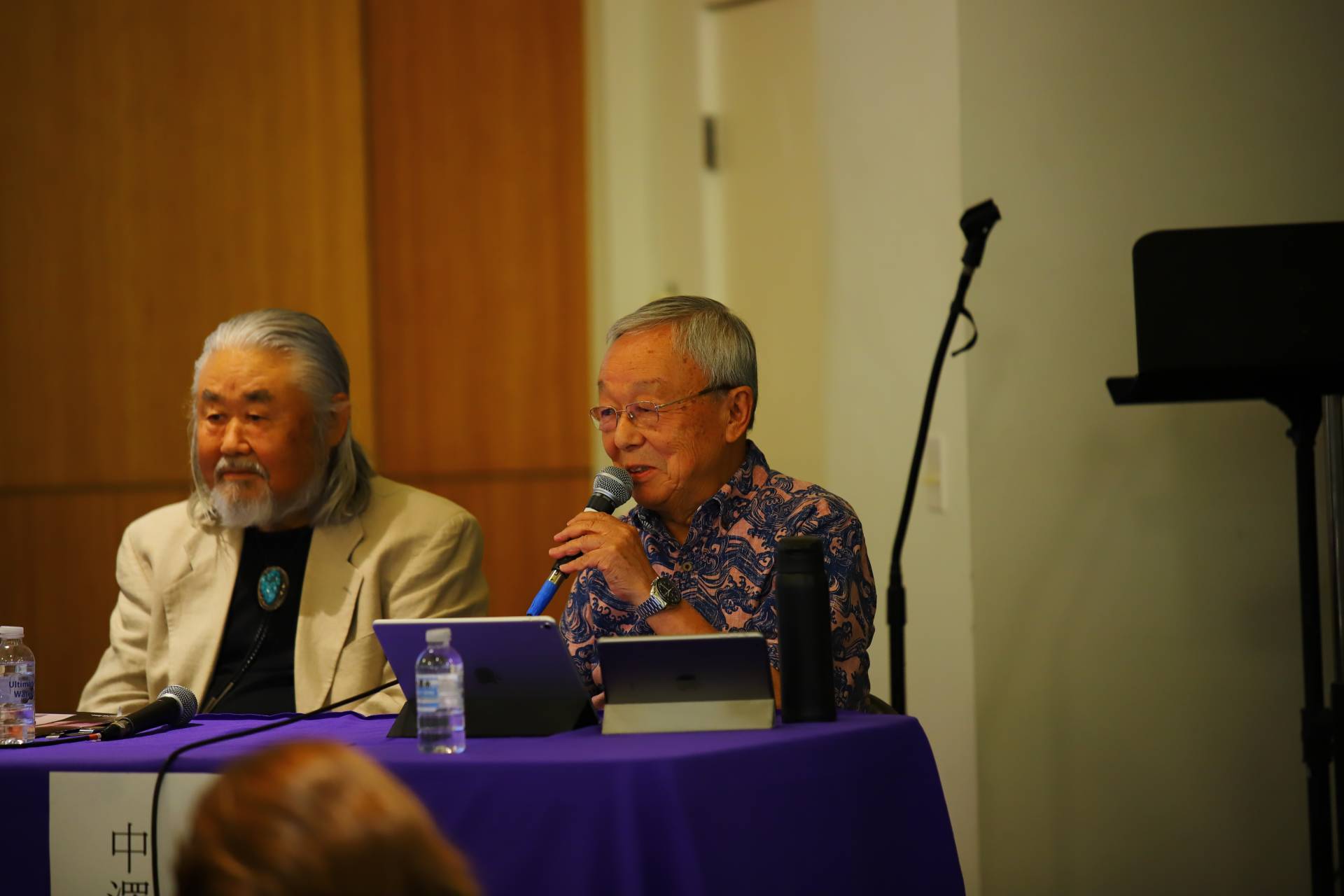 Keito Nakazawa, an iPad instructor at OCJAA, has been teaching iPad classes for more than seven years. His passion for technology stems from his career as an engineer, which required him to use Apple products since the 70s. Once he retired, he wanted to find a way to share his knowledge of computer technology with the general public. His method of teaching is to enjoy time with the students in his class and really cater to their level of understanding. "I never think of it as 'teaching' but rather as sharing the knowledge," Keito said.
No Skill Necessary to Start Volunteering
During the Q&A session, one participant expressed his hesitation to volunteer, stating he did not hold any skills to teach others. He asked the panelists what specific event or thought had pushed them to do so.
Keito answered his question, positing that he also does not hold any special skills. He said he is no expert, but the computer has been a tool he used throughout his career and wanted to share his accumulated knowledge with others. "I don't think you need specific skills [to volunteer]," Keito said. "Please use the knowledge gained from your past experiences. I'm sure you can find something."
Hearing this, another participant added to the conversation. "I have been volunteering at OCJAA for many years. I really don't have many skills either, but there are many volunteering opportunities at OCJAA. Even for someone like me, there's something I can help with. If you can do something as simple as help carry a heavy refrigerator, there are volunteer opportunities available for you."
Things to Keep you Busy Helps Maintaining Health
A long-time hula and Japanese traditional dance teacher asked the panelists how they keep their motivation both to volunteer and stay healthy as they age.
The panelists agreed that having something to do and looking forward to something are important to maintaining one's health. Soyu said that at age 87, she has her daily routine of things to do that keeps her busy. Masahiro added, "Today, too, I didn't prepare myself much to present here, but the fact that I had today's event to come to was motivation for me a week or two weeks ago. The accumulation of all these events and things I can do is what maintains my health today."
Importance of Volunteering Reiterated
At the end of the panel, one attendee requested to take the mic. "I just wanted to express my appreciation to my iPad teacher, Nakazawa-san. I had no technological knowledge, but through his class, he has opened up my world so much. I never knew there were so many things that I can do. I'm so happy and just wanted to express my gratitude here," she said passionately.
Another guest shared that he was inspired to continue volunteering because of the event. This panel helped him remember a 60-year-old woman he met years ago, who was bedridden and paralyzed and could not care for herself, but who still found a way to give back. She volunteered to call and talk to orphans and children in foster care for two hours, five days a week. She acted as a grandmother figure for these children, and that gave her purpose in life, or ikigai. "I remembered this and truly feel that you do not need specific skills to start volunteering, but that the most important thing is your passion and motivation," he said.
Akemi Miyake, OCJAA board emeritus who is turning 100 years old this summer, concluded the event with powerful remarks. He emphatically encouraged the participants to move forward with volunteering, to support and give back to the community. "I was able to live to today because of volunteering, and I hope to continue this for as long as I can."