The Power of Art – Reducing isolation through calligraphy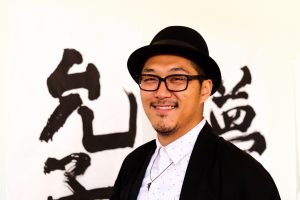 Born and raised in Tokyo, Japan, Kuniharu Yoshida grew up with a love for sports but was constantly surrounded by art. With a grandfather and great aunts touted as calligraphy masters in Japan, he took up calligraphy at the young age of five. He liked playing outside, so sitting still and writing with a brush wasn't particularly exciting for him at first.
"But I never liked quitting, and that kept me going," recalls Kuni.
After learning all the fundamentals in middle school, he found joy in his art and a motivation to continue practicing and improving. His teacher, Yoshiko Kawakita, taught him not only calligraphy, but also about enjoying the art and being open-minded.
During college, Kuni fell in love with hip-hop, which eventually led him to move from Tokyo to Los Angeles. While his passion for dancing brought him to LA, he wanted to continue using calligraphy as well to express himself.
Today, Kuniharu Yoshida is a Japanese calligrapher and hip-hop dancer who teaches Japanese and calligraphy at Japanese American Cultural & Community Center.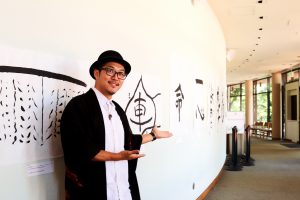 As a volunteer for Nisei Week, he met many Japanese-speaking older adults living in Little Tokyo, but realized these folks had very weak ties to the community. He said, "Many [older adults] told me they only go to the supermarket. And that's it." He wanted to give back to those who welcomed him so warmly by creating an opportunity for older adults to reconnect with their community.
This past summer, Kuniharu worked on a project to teach the art of calligraphy, just as he had in the past. This time however, he conducted a series of calligraphy classes for specifically for older adults. There, he did not instruct them on writing neatly, but instead taught the students how to express themselves through calligraphy as art. In their culminating project, each older adult individually performed on the stage of the Aratani Theater to reflect and express themselves through the brush. This artwork will be displayed at the Keiro no Hi Festival. (Watch the video at the bottom of the page to see how the artwork was created)
At the conclusion of the culminating projects, Kuniharu noted, "It's amazing how powerful this artwork is. Each person has their own life story that they share. And the art was not done by professionals, but by our community members." Kuni's own art is also influenced by his life story and he often speaks of the importance of using those around him as an inspiration.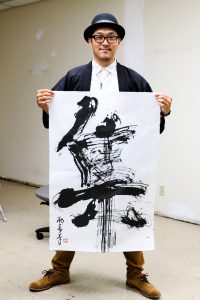 When asked about the purpose of teaching a class specific to older adults, Kuniharu explained, "I want the older adults to feel like they are part of the community. I want everyone to create their own art, share it, and connect with others. Art has a lot of power, and I want that to be a trigger for them to change their minds about their relation to the community."
Mobility may get limited as we age but as Kuniharu noted, "That doesn't mean they shouldn't be out in the community." He hopes that this exhibition will inspire older adults to become more engaged with their communities.
In addition to the exhibition, Kuniharu is offering a workshop where all attendees can try calligraphy.
"I hope people can express themselves through the brush," he said. He looks forward to meeting many older adults and their families.
"Whether you know calligraphy or not, whether you can read the characters or not, there are so many art pieces that evoke feeling and emotion. I hope to see you at Keiro no Hi!"
At the Keiro no Hi Festival co-presented by Keiro and Japanese American Cultural & Community Center (JACCC), Kuniharu Yoshida will perform an artistic calligraphy demonstration in addition to leading a calligraphy booth where anyone can participate. JACCC will also be displaying an exhibition of artwork completed by his students, whom he worked with this summer.
For more information on Keiro no Hi Festival, click here: https://keiro.org/what-we-do/events/no-hi-festival
To learn more about Kuni, please visit his website: https://groovyboogie92.wixsite.com/mysite
The artwork in the making: Calligraphy of Heart Video