Written By: Claire Imada, Program Associate
Looking back at my first day at Keiro, I was scared and worried, but excited for what was to come. I came into this organization with a passion for the nonprofit field, but I did not realize what I would gain along the way.
As a program associate, I wanted to learn more about my community. Given my previous involvement with community organizations such as Nisei Week and Gardena Buddhist Church, I felt like I had a good understanding of the community that I like to call home. However, when Keiro decided to create a social media campaign called Keiro Chats, I definitely found many surprises.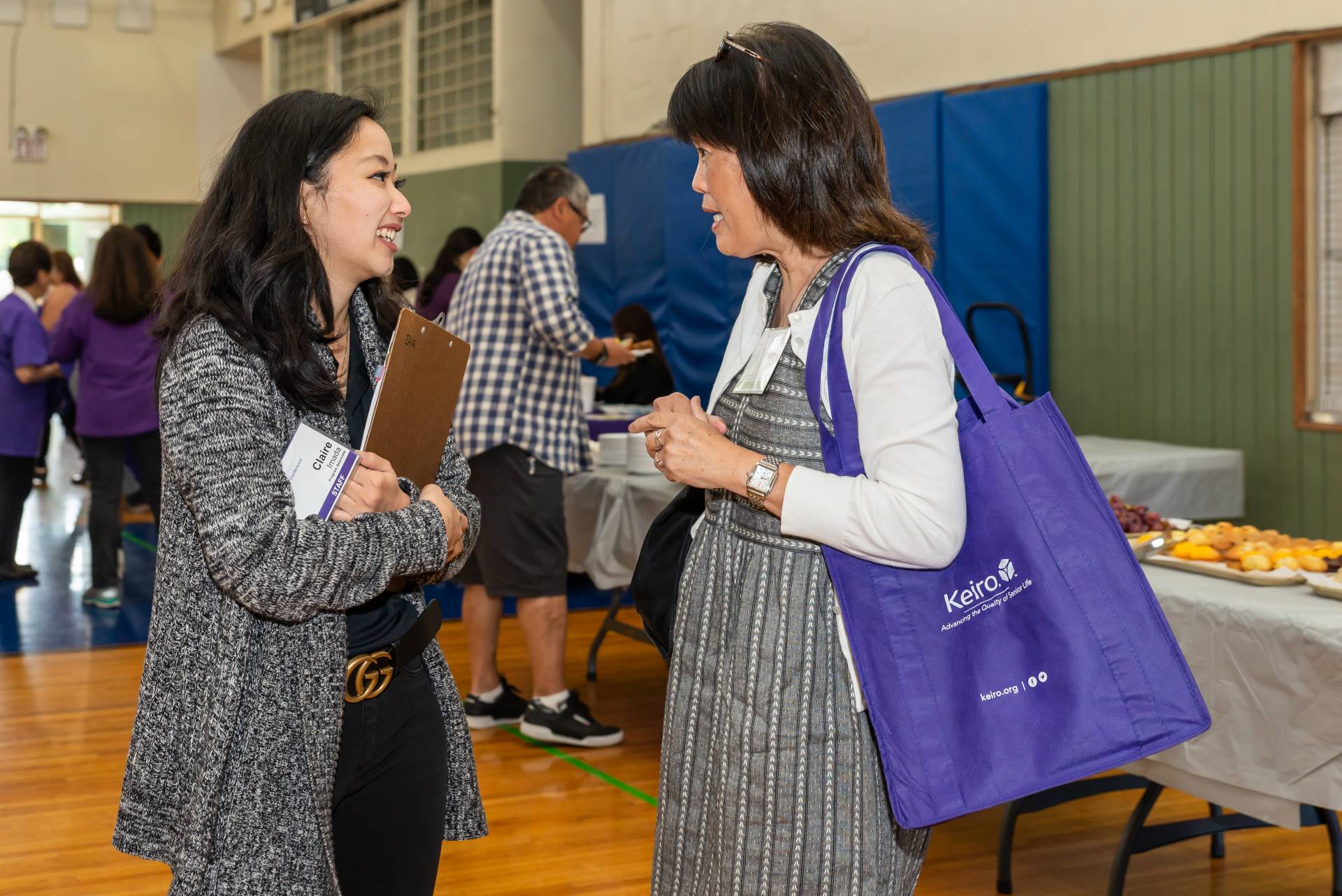 Keiro Chats started off as a way to learn about various members of our community, to know who they were and what they do. We asked some of our community partners to nominate members in their group to participate in our campaign, where we asked both basic and more profound questions like, "What makes you happy every day?" and "What are three things that sustain your quality of life?". Little did I know that some of these nominees had never been interviewed before. It was just as exciting for them to share their stories as it was for me to learn more about the community that I thought I knew like the back of my hand.
I especially enjoyed interviewing Ralph from Continuing Education for the Nikkei Widowed, who invited us into his home for the interview. Inside the room we were in, I noticed there were quilts on display in frames, ukuleles, and music playing in the background. I learned that Ralph is a very busy man. I have never met someone who can make their own ukuleles in their garage, or quilt with one good eye. Ralph also cooks for the Faith United Methodist Senior Ministry group. From what I can tell, he is an extremely humble but excellent cook. As he was getting ready to do his video interview, I was surprised to hear "Alexa, turn off the music."
This was his first time doing an interview, as well as his first time getting wired for sound. As I was putting the microphone on him, he started to get excited. Ralph, like many others, didn't think their video interview would be good but, it turns out, they were all great in sharing stories about the amazing lives they have lived.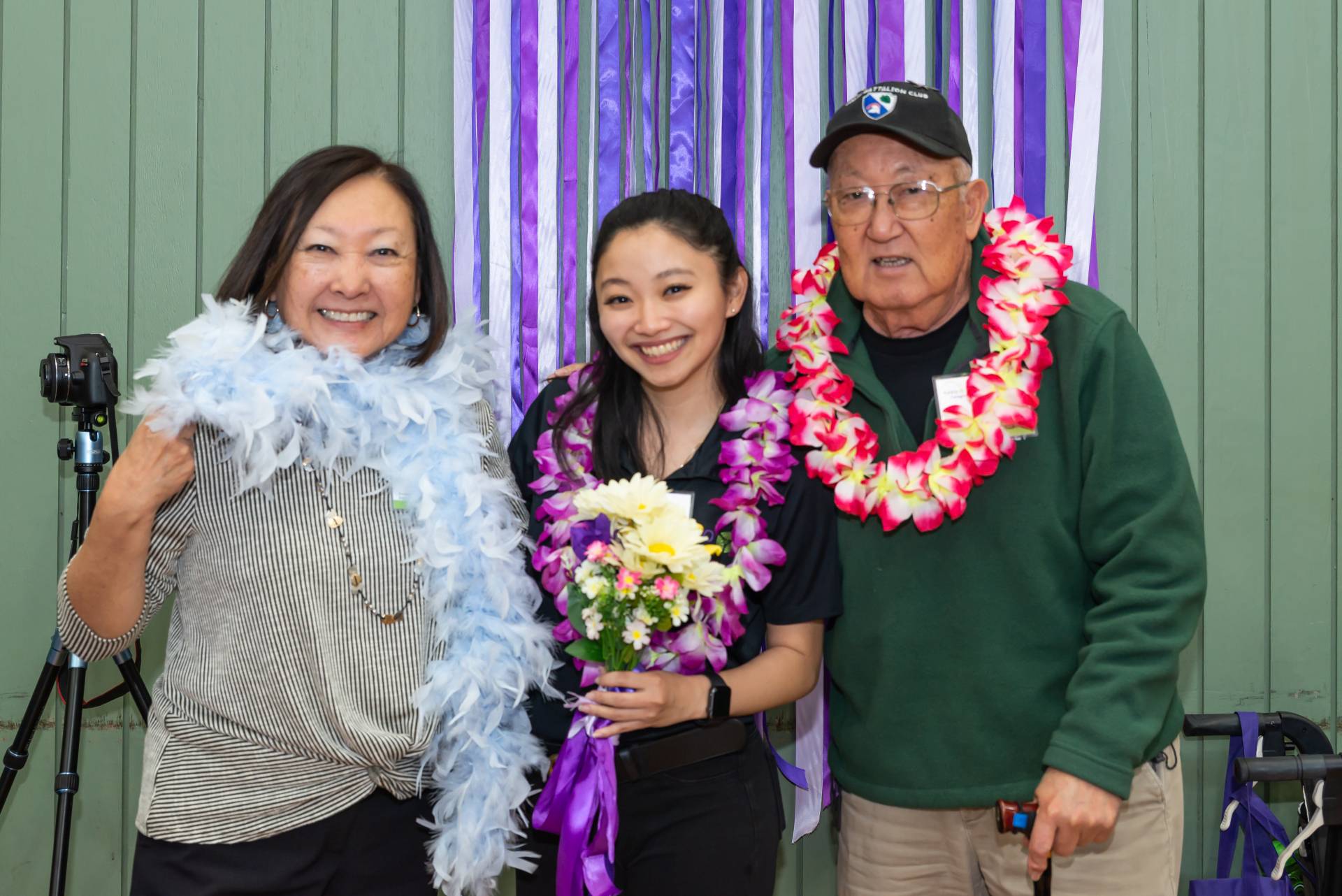 We interviewed nine community members in a span of a month. Keito from Orange County is an iPad expert and in his free time likes to do math entrance exams for fun. Yoshiko from Long Beach is a self-taught Japanese speaker and helps her friends understand their medical issues. Marvin from Pasadena is a photography teacher who has traveled the world. Kazuko from Crenshaw is always on the go, helping her friends clean their houses, and is a big believer in P.P.K (Pin-Pin-Korori, a Japanese term meaning "live a healthy life and die painlessly"). Eileen from Cerritos is a marathon finisher, who exercises way more than I do. Paul from Monterey Park has helped the underdog beat the powerhouse, and taught me a lot about buying a house. Roy from the Japanese American National Museum is a loving docent who enjoys working in the community. Jeanette from Japanese American National Museum is a caregiver for her 101-year-old mother and is one busy woman. Ken from San Fernando Valley loves hanging out with his grandchildren and likes getting together with friends. All of these amazing community members had a story to tell, and something unique about them. Learning about it in the most organic way – a conversation – really opened my eyes to how aging is different for everyone.
There are so many conversations I have had with older adults throughout my time at Keiro, and I cannot wait to keep meeting new people and learning new things from the community. Being extroverted, I love to talk to everyone, make friends wherever I go, and help people who need resources. I hope to be that person for this community, so thank you to Keiro for giving me that opportunity to do what I do best.