Previously, Keiro shared how various religious leaders have adapted to the COVID-19 pandemic and how they see faith having a role during these unprecedented times. In this article, we explore the diverse perspectives of senior members within these religious communities. Spanning multiple religions, locations, and views on spirituality, these five older adults shared some of the ways in which they have engaged with their faith to find guidance and community during COVID-19 times.
Kay: Receiving the Gift of Time
Kay Song described her pre-pandemic involvement with Wintersburg Presbyterian Church as "pretty active," with three bible study classes and Sunday service as part of her weekly schedule. Since March, these gatherings have gone online, and she has been able to continue attending through Zoom—however, the changes don't end there. Kay expressed that her relationship with her faith has grown even stronger through these months, sharing, "One of the things that I'm grateful for because of the pandemic is that God has given me the gift of time. With that time, I chose to read the Bible and study it more, and so I feel a closeness to God more than I ever have. And the thing is it doesn't get old. I learn something new all the time, and that's a blessing." Kay looks forward to learning even more in the time to come, while staying safe at home with her daughter and two grandsons.
Midori: Continuing a Lifelong Practice
Midori Nakatani practices Buddhism at Zenshuji Soto Mission, a community she has been connected to for most of her life. Her parents were married at the temple, she learned Japanese from the monks as a child, and she was eventually married there as well. During the COVID-19 pandemic, Midori has kept these ties to her religious community strong: In addition to handling the temple's accounting, she lends her voice to its goeika group, which now uses Zoom to practice its musical chanting of the Buddha's teachings. "I can touch the Buddha's teachings through goeika, so I learn a lot," she shared. "On Sundays, we have lessons for goeika in the mornings, and from noon I have Zen Aerobics, so it's quite busy." The Zen Aerobics class is a temple activity Midori began attending virtually due to the pandemic, where she finds joy in socializing with the other participants after each session.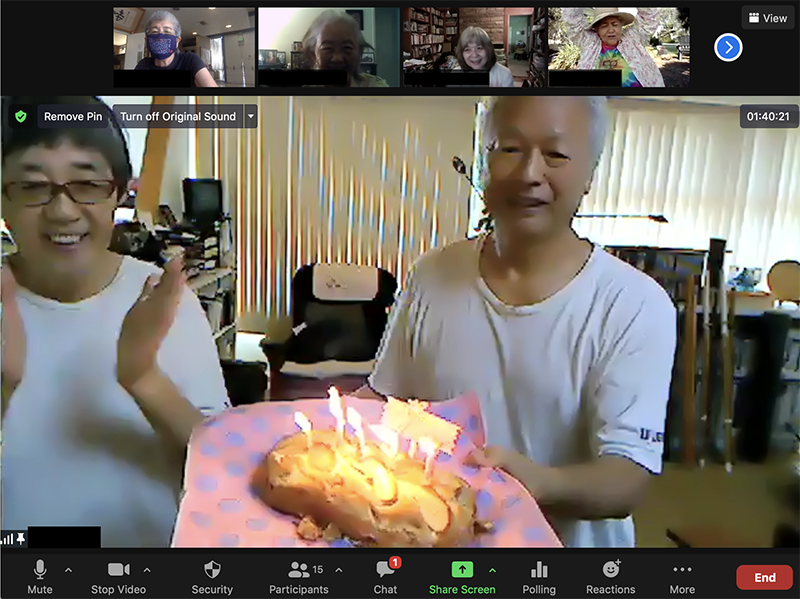 Nori and Milnes: Community Just a Call Away
For Nori and Milnes Kurashige, the resources from Venice Hongwanji Temple and Buddhist Church of America (BCA) have provided them with guidance for navigating the pandemic. A unique resource that the couple has enjoyed is a dial-up message provided by the BCA, where they can call in to hear a 5-minute recording from their Bishop. "He talks a lot about patience," Milnes commented. "You have to be patient within a pandemic, and he gives some examples like that." Nori added that these kinds of messages from the Buddhist community bring hope and comfort into their home.
The couple does their part to bring this impact to Venice Hongwanji Temple, where Nori makes regular calls to fellow temple members and Milnes serves as a komon, or advisor. Commenting on the effect the pandemic has had on their community, Nori said, "Somehow I think this pandemic has brought our temple a little closer together. You know, we seem to help each other. It's nice seeing everyone at Sunday service on Zoom."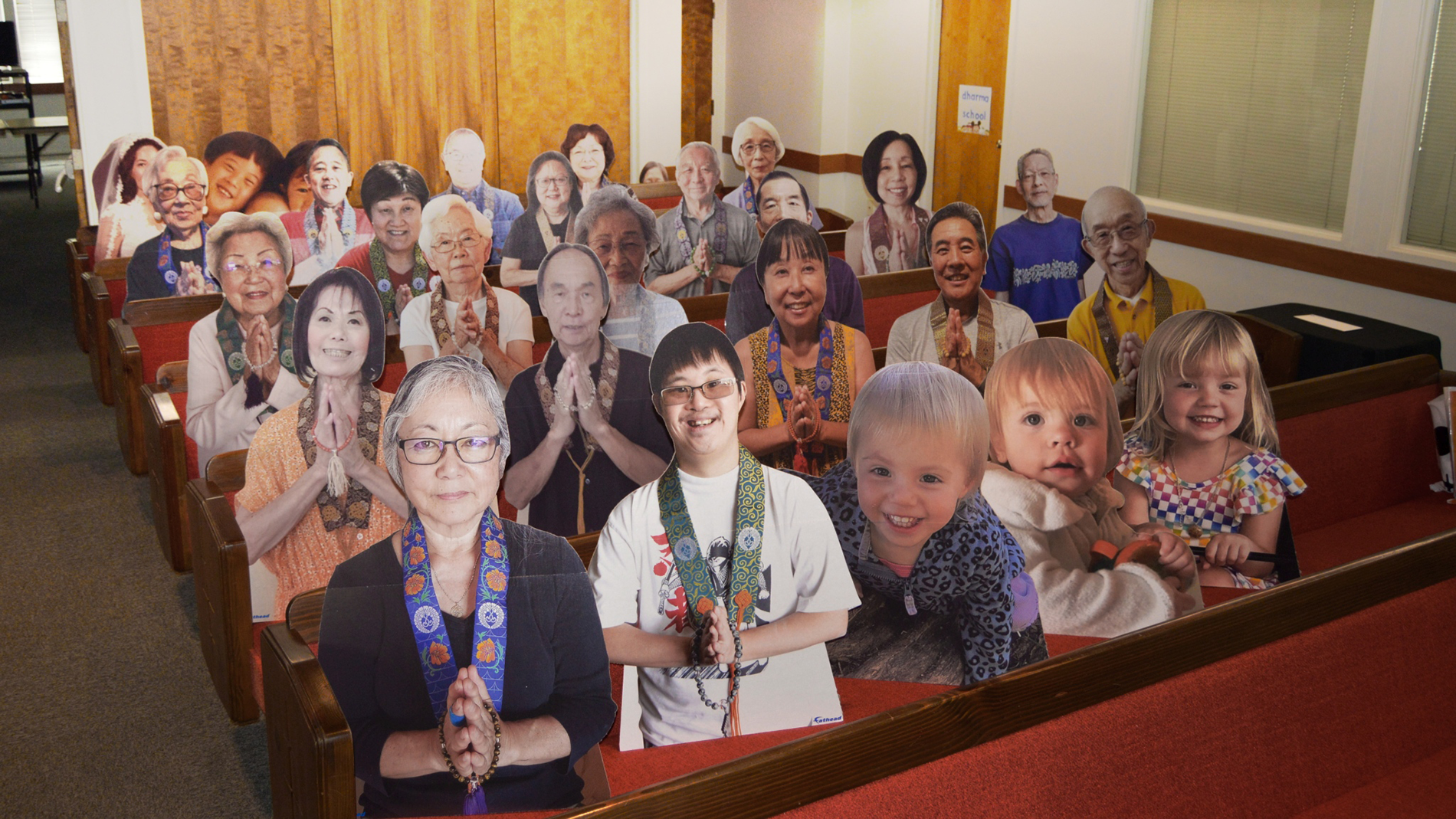 Kiyoko: Support Pods and Prayer
From her home, Kiyoko Tanizaki has been gratefully engaged with the Bible and her religious community at Wintersburg Presbyterian Church. "There are many words from the Bible that I cherish," she said, "but one of them is as follows: 'Rejoice always, pray continually, give thanks in all circumstances.'" Kiyoko has kept this passage in mind while practicing her faith, staying involved with her church through virtual Sunday services and smaller support groups of 5-6 members in the community. While she praised these groups and the mutual support they provide, Kiyoko emphasized that for her, prayer is the most important part of practicing her faith (both during and outside of COVID-19 times). "I think as a Christian, to be able to pray, wherever you are… it's a huge blessing that we can do this," she said. "I cherish that, and that's something that won't change for me."
However they may connect to their religion, Kay, Midori, Nori, Milnes, and Kiyoko continue to learn and grow amidst the conditions of the pandemic—with their communities, their loved ones, and their faith supporting them.
(Published 12/24/2020)