In a special intergenerational program in early February 2020, dozens of residents from Kei-Ai South Bay Healthcare Center and Sakura Intermediate Care Facility took part in a unique partnership between Keiro and Kizuna. The Service Learning Program focused on giving future caregivers the soft skills needed to communicate with not only older family members but also older adults in the community at-large, and to break down barriers to intergenerational interaction.
"I used to be scared of [the older volunteers] when we were working for different festival shifts. I'd be scared to kind of step on their toes or interact with them," 15 year-old participant Ashley said. "But now, I know I can find a common ground and just be polite and respectful, and use various techniques that we learned today."
The three-hour event opened with a presentation, preparing students in advance to meet the residents. Keiro staff members shared information on walker and wheel chair safety as well as ways on how to begin engaging conversations and empathize with the challenges of aging.
Students were then partnered with older adults and had conversations with one another. Topics ranged from differences in their generations to their shared love of food. Many students found themselves listening as the older adults spoke about their personal histories and lessons learned throughout the years.
For Ashley, whose grandparents live in Colorado, learning about the incarceration experience during World War II through the eyes of one of the residents was a highlight.
"There was one resident sharing with me about her time in the camps, so it was really interesting to get that piece of history that I normally don't get to hear," she said.
The afternoon also included a modified version of bingo using food. For example, instead of calling out numbers as a way to fill the bingo card, organizers used Japanese dishes like udon and sushi.
In the afternoon, students escorted the older adults back to their rooms and then reconvened to debrief on their experience. It was then that students were given a moment to self-reflect on what their engagement with older adults meant and what knowledge they took away from it.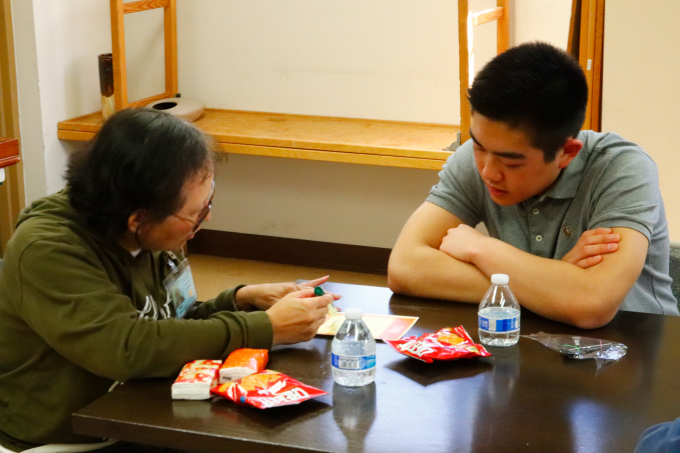 "My experience here really changed my perspective about working with seniors," said Ethan, another participant. "It was really intriguing to see how their history is different from my life, how we live today. I think that was awesome."
Those changes in thinking and positive experiences may not have been such a surprise. In a report from the Generations United and the Eisner Foundation, researchers found that intergenerational interaction contributed to more learning, social development, and better perception of older adults among youth who participated. Additionally, older adults experienced better physical and mental health from programs like these.
A Japanese-speaking participant attended along with her friend, who acted as an interpreter during the conversation. At the end of the activity, she shared with one of the participants how this was the first time in a very long time that she had engaged in such a conversation and was asked so many questions. Her friend who interpreted enjoyed it much more than she had expected and wanted to know when the next event would be.