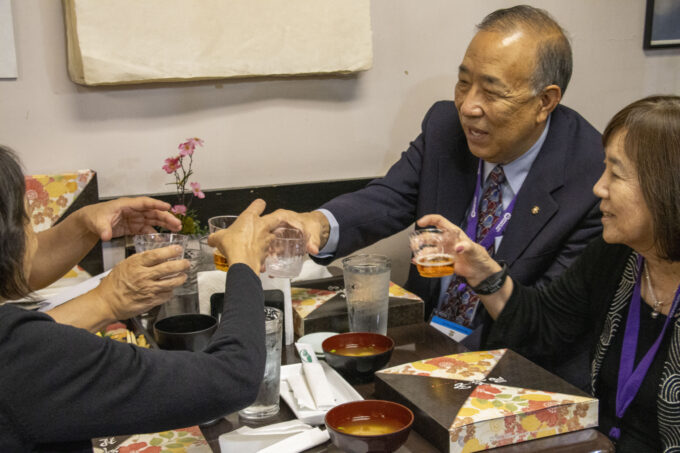 Caregiving is an underappreciated role that is not talked about enough. It is a role that does not end when the lights are turned off at the end of the day, but it is something that can be continuous throughout the night and starts right back up in the morning. As the role nears its end though, conversations surrounding end of life, maybe another challenging topic a caregiver may need to address with their loved ones before they pass.
End of life is difficult to talk about, but having this conversation can be the most important one for someone who is caregiving. The book, Let's Talk About Death (Over Dinner) by Michael Hebb, has inspired Keiro to bring this concept to Our Community at events such as Keiros's Millennial Caregiving Dinner in spring of 2022 and more recently, the Caregiving Café at the JACL National Convention in July 2023 held at Mitsuru Sushi and Grill in Little Tokyo, co-hosted with AARP.
At the convention, Kevin Onishi, chief operating officer at Keiro, guided attendees in the Caregiving Café experience.Kevin broke the ice by beginning the lunch with a toast for those who have passed away and asked attendees, "Why are you toasting to this person?" Brave souls did not hesitate as they stood up and shared about the people who have passed away — already bringing tears to those listening. With a full house, strangers were talking with each other like friends as they conversed about death.
As the restaurant cheered a loud "Kanpai!" Kevin asked the group additional questions that — if willing — they could converse about amongst their tables. One of the questions was, "What foods remind you of a departed loved one?" Tears were shed as they remembered their loved ones along with laughter of stories that they experienced with them. The luncheon was a place where everyone felt inspired to open up and share.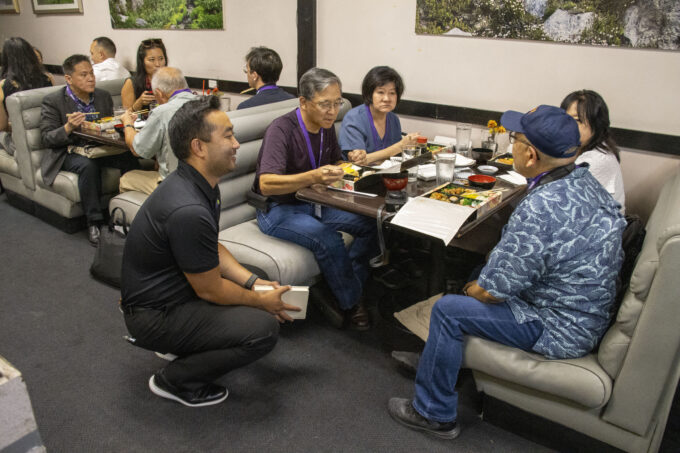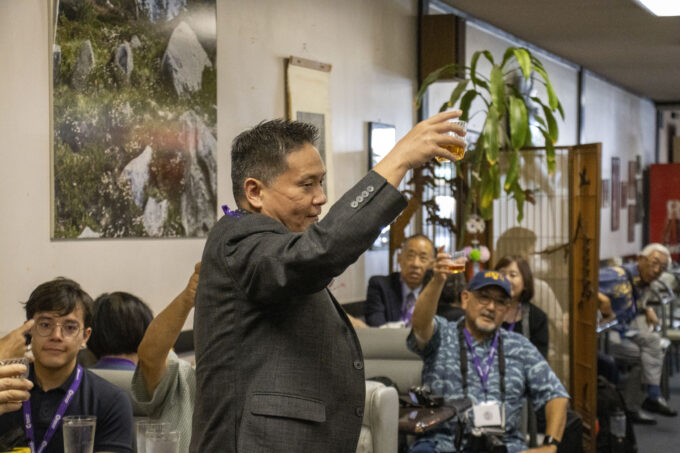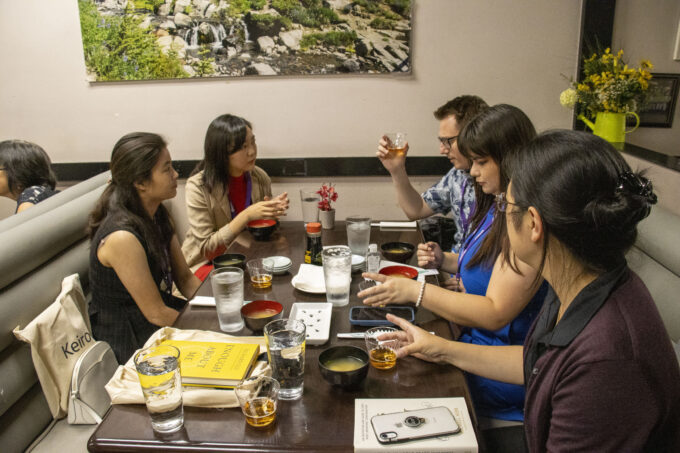 Gil Asakawa, a journalist and writer in attendance, shared that the biggest takeaway he had was "the need for openness" and the importance of having such safe space for community members.
Despite the conversations being at times somber, the joy of remembering the life that loved one had radiated from the participants. Haruka was amongst the guests that afternoon. Haruka serves as a clinical intern at a substance use and alcohol addiction unit in New York where "many of [her] clients have faced death and/or clinically died, so [she] talks about the concept of death nearly everyday." Although she is not shy about the topic regarding the end of one's life, the Caregiving Café helped her realize "that age doesn't matter when talking about death."
Dominique was one of the younger caregivers in attendance that day. She said she "felt at ease and empowered to connect with others who had similar experiences with caregiving and loss of a loved one." After the loss of her father a few years ago, Dominique shared she was able to "keep the memories alive of the loved ones that were mentioned with the new individuals [she] met during the event." She understands that by establishing more open communication in a safe space such as the Caregiving Cafe, communities can help shift the narrative of discussing this topic as we go forward.
Michael Hebb – the author of Let's Talk About Death (Over Dinner) – said in his book that, "We need to fully grieve someone to fall back in love with them. It's in the acceptance of their loss that we can regain the enchantment of their gifts to us." By having these difficult conversations with the person you are caregiving for or may in the future, it might be the first step to to know more about your loved one and to fulfill their wishes to the best of your ability.
As for the future, Kevin is "excited to continue creating spaces for these conversations across Our Community in order to support everyone's journey as they take on the responsibilities of providing care to their loved ones."