Keiro's commitment to serving older adults who are aging in senior living facilities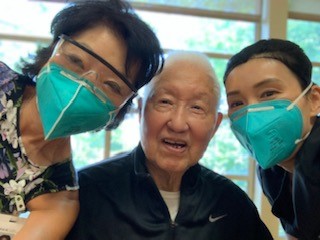 After over 50 years of providing aging services to Our Community through facility-based care, the Keiro Board of Directors made the difficult decision to shift the central pillar of Keiro's work from residential services to looking at the broader and diverse needs of the community's older adults.
While the ownership, management, and names of the former facilities changed after the sale in February 2016, Keiro continued to support the residents and staff of the former facilities throughout, and beyond, the conditional five-year period established by the Attorney General. Following in the footsteps of the founders and preserving their legacy, Keiro continues to serve in different ways to enhance the quality of senior life in Our Community, wherever older adults call home.
Today, three of the four former facilities remain operational and provide culturally-sensitive services to the residents – Sakura Gardens in Boyle Heights, Kei-Ai Los Angeles Healthcare Center in Lincoln Heights, and Kei-Ai South Bay Healthcare Center in Gardena. While no longer involved in direct operations, Keiro has funded culturally-relevant Japanese activities on over 250 occasions for the residents, as well as support for facility employees during the COVID-19 pandemic.
Current and former facility staff shared their thoughts about Keiro's support and impact over the past six years.
Support for Residents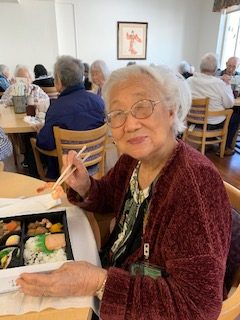 Daniel Konishi, Executive Director at Sakura Gardens and a 14-year legacy employee, shared some of the ways Keiro helps maintain the cultural relevancy in the facility.
"More than any other nonprofit organization, Keiro has done so much and played a key part in preserving the Japanese culture, traditions, and accommodations. Keiro supports many of the major celebrations such as the New Year's luncheon, Keiro no Hi, and Christmas through special meals and treats from Fugetsu-do. Keiro also assists with the coordination of special entertainment that the residents enjoy tremendously."
Yumi Yuge, former Sakura Intermediate Care Facility activities director for over 20 years, commented on some of the cultural support Keiro provided after the sale.
"Quality of life revolves around food and meaningful activities that inspire joy, learning, exercise, spirituality, and fun! Keiro provided resources and funding to enhance bilingual adult education, offer bento lunches to celebrate traditional Japanese holidays, Japanese entertainment for special events such as taiko, odori, and minyo, and culturally-sensitive snacks. This support, even after the change in ownership, helped us maintain a comforting and familiar home for the residents."
Miwako Jones, a seven-year legacy employee and current dietetic technician, registered (DTR) at Kei-Ai Los Angeles Health Care Center, shared how Keiro's support benefits their residents.
"Thanks to Keiro, we have been able to provide Japanese food that residents enjoy, such as salmon, udon, takoyaki, and gyoza. Every Monday, I visit several Japanese residents and they are happy with our Japanese food options. Having Japanese food alternatives has also been successful in encouraging their meal intake and maintaining their healthy weight. I am happy to see the residents' smiles, and I hope we can continue these traditions in the future too."
Support to Facility Staff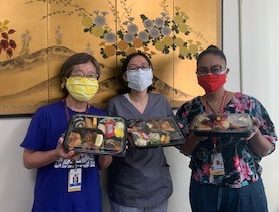 Sandy Garrido, business office manager at Kei-Ai South Bay Health Care Center, and 25-year legacy employee, shared:
"After the sale, Keiro continued to check-in with us on a very regular basis. From medical supplies to lunch for the employees, it's been nice to receive this support from Keiro to keep our staff going, so we can better serve our residents."
Daniel Konishi added, "Keiro provided weekly meals for the staff, to show appreciation for the extraordinary efforts of the Sakura Gardens and Sakura ICF employees during the pandemic. These lunches were very helpful in brightening our days, during some of the darkest moments."
Support During the Pandemic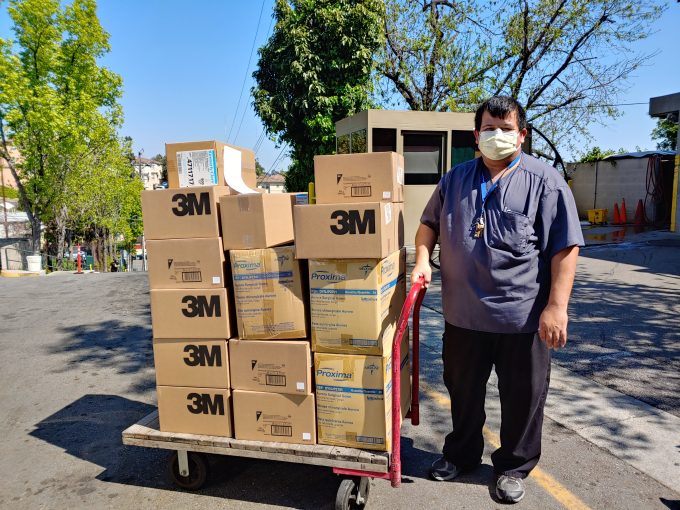 Jose Orozco is a 30-year legacy employee. Jose, along with many of his family members, contributed to Keiro's rich history of caring for the residents of Keiro Nursing Home and Kei-Ai Los Angeles Healthcare Center. While Jose acknowledges that the sale of the former facilities was difficult, he appreciates Keiro's ongoing support, especially during the pandemic, such as providing over 4500 reusable protective gowns.
"COVID-19 was a real challenge due to the shortage of personal protective equipment (PPE). With the generous support from Keiro, who donated PPE supplies such as gowns, hand sanitizers, gloves, and masks, it gave us breathing room to maintain an adequate inventory of essential supplies to protect our residents and our staff."
Yumi Yuge also commented on support for residents to stay connected to their loved ones during these difficult times.
"Keiro provided acrylic screens to make it safer for families to visit their loved ones in the library. Keiro also donated HEPA air filters to improve ventilation, allowing residents to gather in small groups to continue safely providing enriching activities."
While it has been over six years since the sale, Keiro has been working behind the scenes to support the quality of life of our former residents. Additionally, Keiro has worked with other senior living facilities serving the Japanese American community, such as Nikkei Senior Gardens and Atherton Baptist Homes, to help support cultural activities for their residents.
Keiro is committed to continue the legacy of the founders in supporting Our Community's older adults wherever they call home.