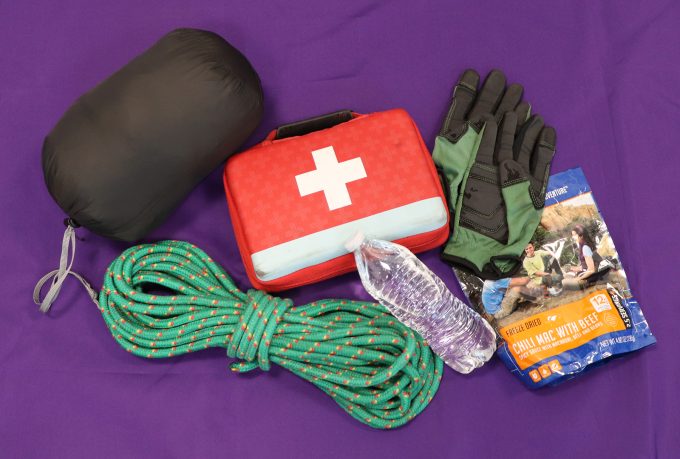 Whether it's financial, housing, or personal, security is an integral part of having a good quality of life. In regard to personal security, preparing oneself for emergencies and natural disasters can bring peace of mind to you and your loved ones. The following will help you prepare for emergencies in four specific areas: planning, gathering and maintaining supplies, staying informed, and getting involved.
Planning
Having a plan in place can help ensure that you and your loved ones are as prepared as possible for a catastrophic event.
Six Steps to Prepare for a Catastrophic Event:
Set a place to meet up

If you have to leave your home or work place during an emergency, decide where you will go and inform your loved ones where that is. How about a local park or nearby landmark?

Get connected

Figure out how you will receive real-time information and updates such as alerts on your phone, sms texts, National Oceanic and Atmospheric Administration (NOAA) radio, etc. Who do you need to communicate with when an emergency or disaster happens?

Be informed

Know local sources of emergency information and resources such as your local community center's, church's, and neighborhood's emergency plans.

Know the plan

Ask about the emergency plans at work, at your children/grandchildren's school or daycare, or if your family and dependents are in other facilities. Include your pets in your plan.

Know where your important documents are located

Scan or take pictures of them and save digital copies. Put it in one place so it would be easy to grab or include these in your supply kits.

Share your plans

Fill out a planning document and share with family and neighbors.
Supplies
Having disaster supply kits ready and on-hand is an important step in being prepared.
A general home supply kit should include:
Water
Food
Radio
Lighting or flashlights
First aid kit
Extra batteries
Whistle
Dust mask
Shelter/sleeping bag/blankets
Wrench/pliers (for utilities)
Multi-tool
Local maps
Cell phone charger/power bank
Medication
Fire extinguisher
Important documents (Copies of advanced healthcare directives, power of attorney, birth certificates, social security, marriage license, estate planning documents, etc)
Staying Informed
It's important to receive real-time information regarding the weather and know how to communicate with others and emergency responders during a catastrophic event. Federal, state, county agencies, and local governments utilize wireless emergency alerts, emergency alert systems, national weather service, and Alert LA County to send out mass emergency notifications.
Alert LA County – Register to receive real-time texts, calls, and/or emails to you directly if the county needs to send an emergency alert on local information.
Weather.gov – Provides real-time information and updates from NOAA on severe weather activity.
Smartphone Apps – Having phone applications readily installed will allow you to view local updates and receive real-time notifications (e.g. The Weather Channel, Citizen, Neighbors by Ring, etc.)
Getting Involved
Nine out of ten victims in major disasters are rescued by a neighbor (Ready LA County, n.d.), not a professional first responder. Having your care team assembled or getting the training yourself like Community Emergency Response Teams (CERT) can be an important and lifesaving choice.
If you feel capable, receiving training like first aid can help when first responders may not be able to get to you or your loved ones quickly during a catastrophic event.
Keiro's Call to Action: Let's Start Now
Catastrophic events are a reality of life. While we can't prevent them, we can prepare ourselves to be equipped with tools, skills, and a productive mindset to help us get through one should we experience it. Start your emergency preparedness planning today and get your emergency supplies ready. If you have your planning and supplies in order, help family, friends, and neighbors get their plans and supplies organized.
---
This project was supported by Grant Cooperative Agreement Number PH-002457-15 from the Centers for Disease Control and Prevention (CDC). Its contents are solely the responsibility of the authors and do not necessarily represent the official view of the CDC and the Los Angeles County Department of Public Health, Emergency Preparedness and Response Division.