Comprehensive Services that Support Members
For over 30 years, Orange County Japanese American Association has offered cultural and social services for the area's Japanese-speaking community. OCJAA is the place for everyone to gather, enjoy social activities and classes, as well as learn key information beneficial to them – all in Japanese. The organization provides comprehensive services to support, entertain, and engage older adults and caregivers, who make up the majority of the organization's 350-person membership.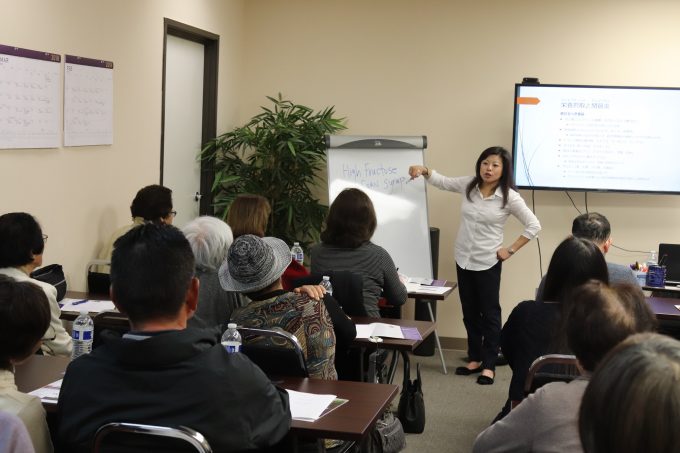 Packed Calendar, Packed Room
The calendar is always packed, with more than 10 classes meeting at least once a month. Classes range from cultural activities like Japanese calligraphy, flower arrangement and Japanese tea ceremony to exercise classes like chair yoga and social classes like crafting, mahjong, shogi (Japanese chess), and more. The organization also hosts healthy living seminars to help older adults age well. The focus is always needs-based, as most of OCJAA's programming is planned primarily based on members' requests.
As the organization has grown, the meeting space is now consistently packed with attendees. In the spring of 2018, OCJAA successfully moved to a larger room to further support the growing number of attendees for their classes, with funding partially provided by Keiro's Grants Program. The grant also supported other activities the organization hosts throughout the year.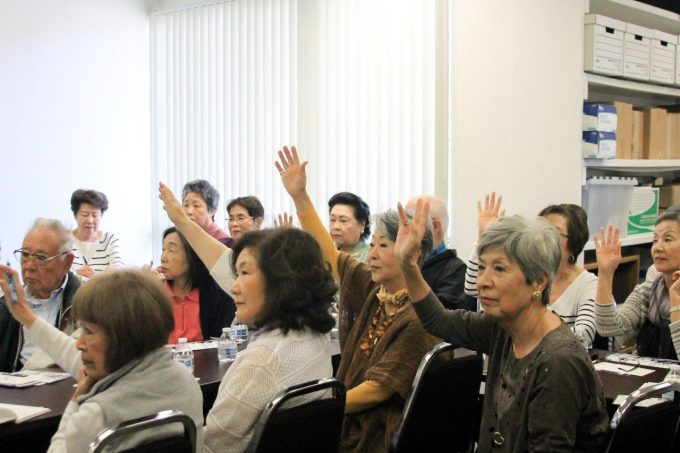 Programs Based on Member Request
OCJAA holds an annual Keiro no Hi luncheon, with more than 300 people attending to honor older adults in the organization. And based on member requests, the organization also coordinates outings to Las Vegas and Manzanar, where participants can spend time with friends and family as well as learn about Japanese American history.
OCJAA provides a place for Japanese-speaking members to have a sense of community, which in turn makes them want to contribute, says board member Sachiyo Miller. "As an example, the hand-crafting class members create corsages for the Keiro no Hi luncheon event held every year. They volunteer their time to provide these for free to the older adults attending that day."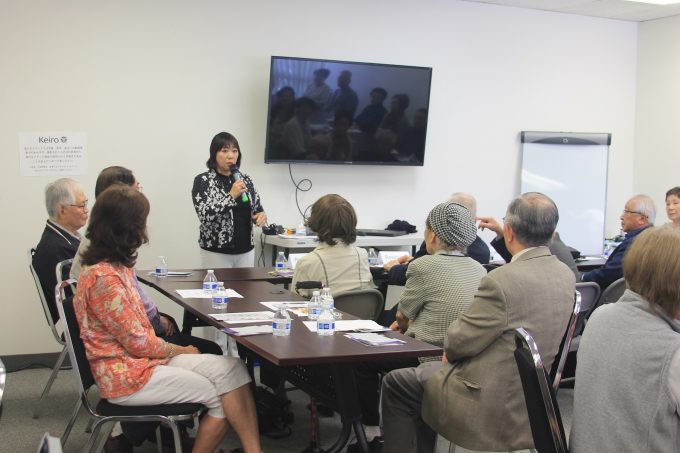 Caregiver Support Group in Japanese
In addition to supporting older adults, OJCAA also provides a caregiver support group for Japanese-speaking caregivers. The caregiver club, called Kaigo no Kai, meets twice a month and offers both moral support and a place to exchange information related to caregiving. Group members say they normally cannot open up to others, but this is a safe space to speak freely about their hardships and experiences with those going through similar situations. One caregiver, who used to be homebound, says the outing gives them opportunities to go outside of their house.
Volunteering Keeps Members from Being Isolated
The cultural classes also bring out homebound older adults who would otherwise be isolated. They look forward to attending these classes, and feel a sense of belonging to serve others in the community. One member in his 80s volunteers for the organization, teaching other older adults how to use an iPad. His wife has noted that he used to be homebound and isolated, but ever since he started teaching, she noticed a drastic change as he became more lively and active. The class participants also say that they are inspired by him, seeing him as a role model to stay active and contribute to the organization as well.
Searching for the Next Project to Meet the Needs
Sachiyo says they are constantly looking at what other needs the members have, and they have already identified their next project. "I know there are several older members who would like to come out to our classes and caregiver support groups, but do not have the means to get to our office. We hope to support the transportation in some way, so they can continue to be involved in our organization."