"She is so revered. She is the baachan who lives in America. The little kids all know her because stories are told about her sacrifice coming here and never being able to go back."
This is how Hiroko describes her mother, Masako. Masako, who was born in 1919, has lived through wartime, during which she cared for two young children and her family. From being forced at gunpoint to go to the Santa Anita Race Track assembly center to living without warm clothes at the Heart Mountain Relocation Center, Masako has had plenty of difficult experiences throughout her lifetime.
Staying Connected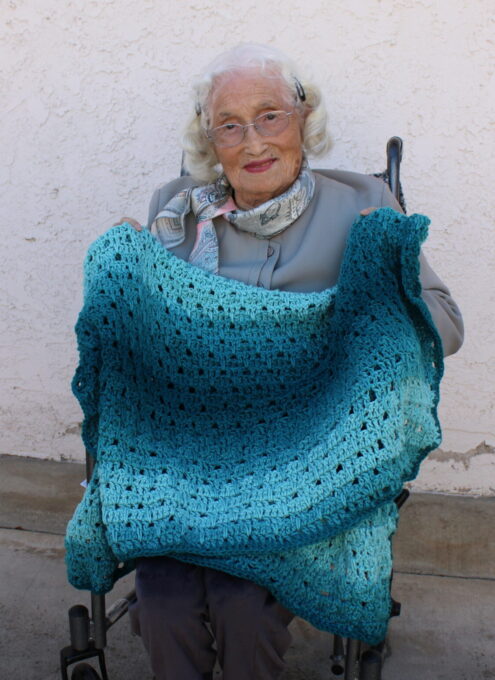 At almost 104 years old, Masako is comfortably settled down in Huntington Beach, and her daily routine consists of various activities including crocheting, writing letters, doing crossword puzzles, and reading newspapers. Hiroko's presence, however, is what completes Masako's day. Hiroko visits her mother every day and takes Masako around for all her community engagements.
Hiroko and Masako also participate in and engage with community organizations including Long Beach Japanese Community Center and Senior Fellowship at Wintersburg Presbyterian Church, where they regularly attend their senior lunch programs and various activities that they host. They are also active and have a long history with Long Beach Buddhist Church — of which Masako and her husband were founding members.
Masako describes her purpose in life as being "to live a healthy, happy life" and "to be a good example to [her] family and friends." One way in which she seeks to fulfill her purpose is to stay connected with her friends and family in Japan and in the United States.
Masako writes monthly letters to her brother, Tomichi, who lives in Japan. She writes to him in Japanese and includes pictures of family in the United States. She always looks forward to his replies as well.
Masako lives by Buddha's teachings, which are to love and serve others. She wishes to be kind and helpful to others. One of the many ways she does this is by donating items that she has crocheted.
"I have crocheted over 400 small blankets over 30 years for family, friends, hospice in Long Beach and Los Angeles in 'We Care Club of Los Angeles,'" she said. At the age of 104, Masako is not slowing down; just for this Christmas, she has already crocheted gifts for 15 people.
Letters to Remember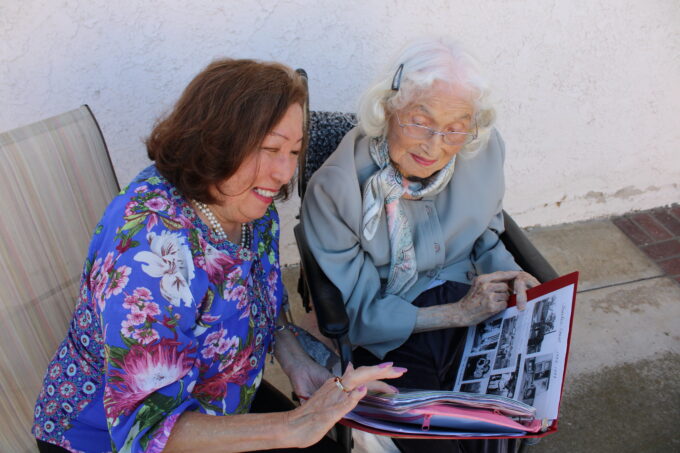 Masako has a great memory for birthdays. She remembers the birthdays of all her grandkids, cousins, and friends.
"She's lost, what — 30-40 friends. So, every year, I write my calendar and I put their birthdays and then I put the name down, but I cross it out saying that person passed away. So, she doesn't get to write that many anymore," Hiroko said. "But my mother said, 'I want to write to their daughter because I want to tell them about her,' and so she remembers what she did with these friends and writes about the cute little things — the things they ate and where they went."
When they run into the grandchildren of Masako's friends at church, they are so thankful to receive her letters.
"They treasure that letter because they didn't know that about their mom," Hiroko said. "I mean, you know, moms are so busy, they are just doing all these things, and [grandchildren] don't know the little things they did."
Following in Mother's Footsteps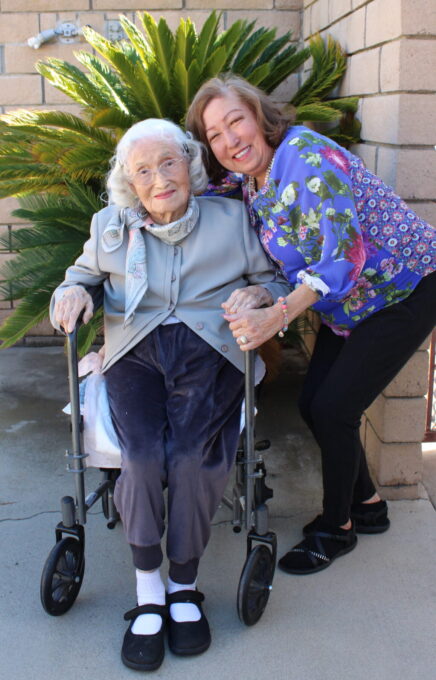 Hiroko is following in her mother's footsteps through finding purpose in being able to help others.
"I have a real heart for seniors," she said. "I'm very active with the Long Beach Wintersburg Church and Senior Fellowship. I like to do things for seniors."
Hiroko said she finds so much joy in caring for her mother.
"I find it a privilege because I know a lot of people — all my friends — no longer have their mothers or fathers. So, she's their mother," she said. "And I take her places, and she just lights up and they light up."
Hiroko also mentioned that her purpose in life is to be healthy because her family and her mother depend on it. In this way, Hiroko and Masako help each other fulfill their purpose and in turn improve each other's quality of life. Hiroko has found purpose in life by caring for her mother, and Masako has been able to stay connected with family and extend a helping hand to those who need it.