The 2019 Keiro Symposium offered attendees more than access to industry professionals, groundbreaking research, and aging resources. The event held on October 5 in downtown Long Beach also challenged the more than 300 attendees to begin to think about their own interpretation of what it means to age.
Do you Consider Yourself Old?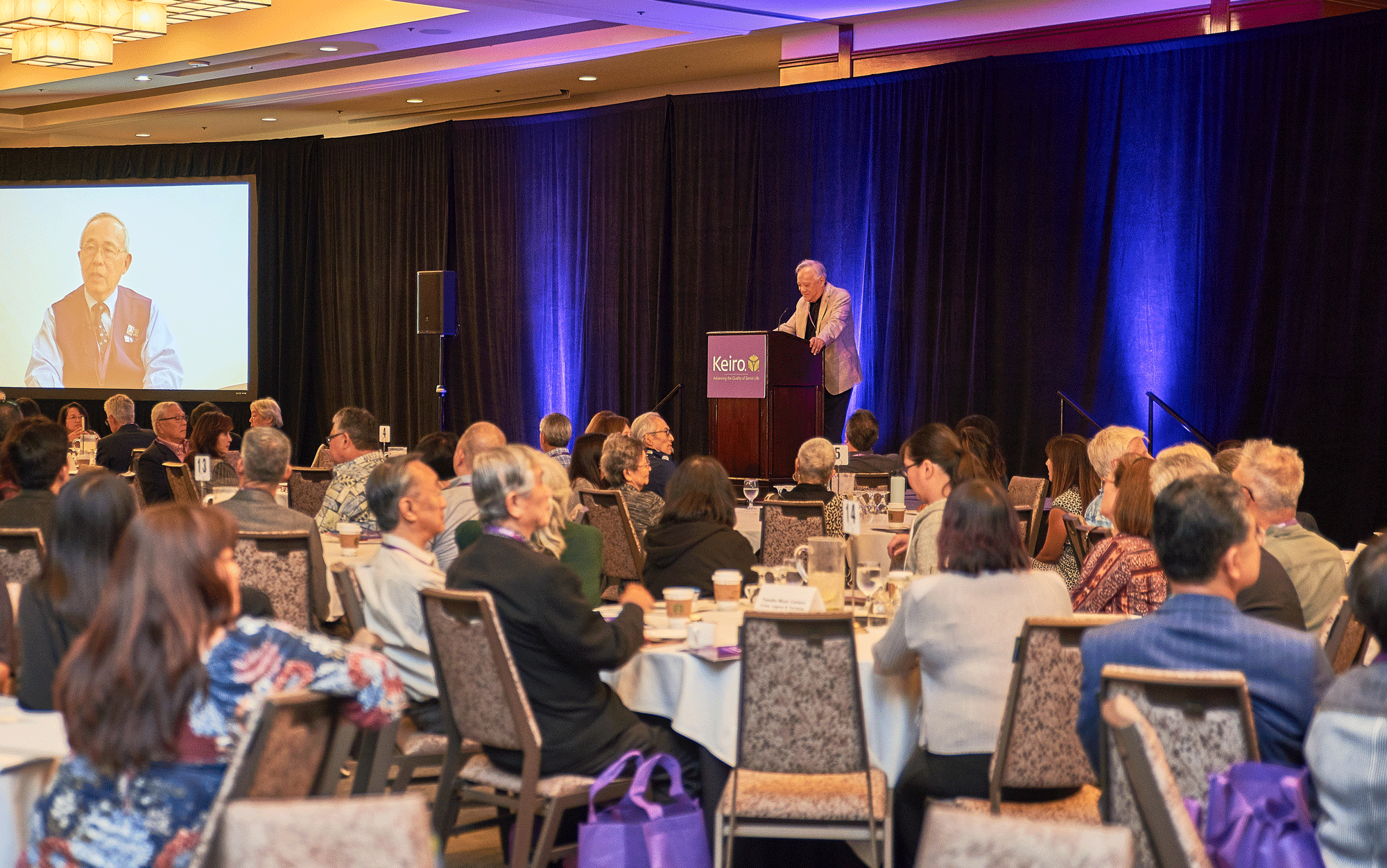 The event opened with a video of various community members answering a simple question: "Do you consider yourself old?" For some, it was far from a simple answer. Referring to this video during his opening remarks, Keiro President & CEO Gene Kanamori urged attendees to challenge their preconceived notions and open themselves up to new ideas and concepts about aging throughout the day. The question is deeply personal and unique, but the journey to finding an answer does not have to be done alone. "Ask around," he suggested.
Many at the Symposium not only asked that question of themselves but to those around them.
"Sometimes, but mostly not," said Kenneth Sato from Los Angeles, who explained that he keeps active and shared moments where he was able to keep up with people decades younger than him. While Kenneth, in his 60s, acknowledges the age gaps, he also said it's not just about the number. His friend, Norman Maehara agrees.
"You're as old as you feel," said Norman, adding that when he spends time with his three children he is reminded that he does have a young spirit. "Because of that, I don't feel old."
Both Kenneth and Norman agreed that the Symposium did give them opportunities to think about what aging could mean for them.
Aging at Home, Social Connections, and Whole-Person Care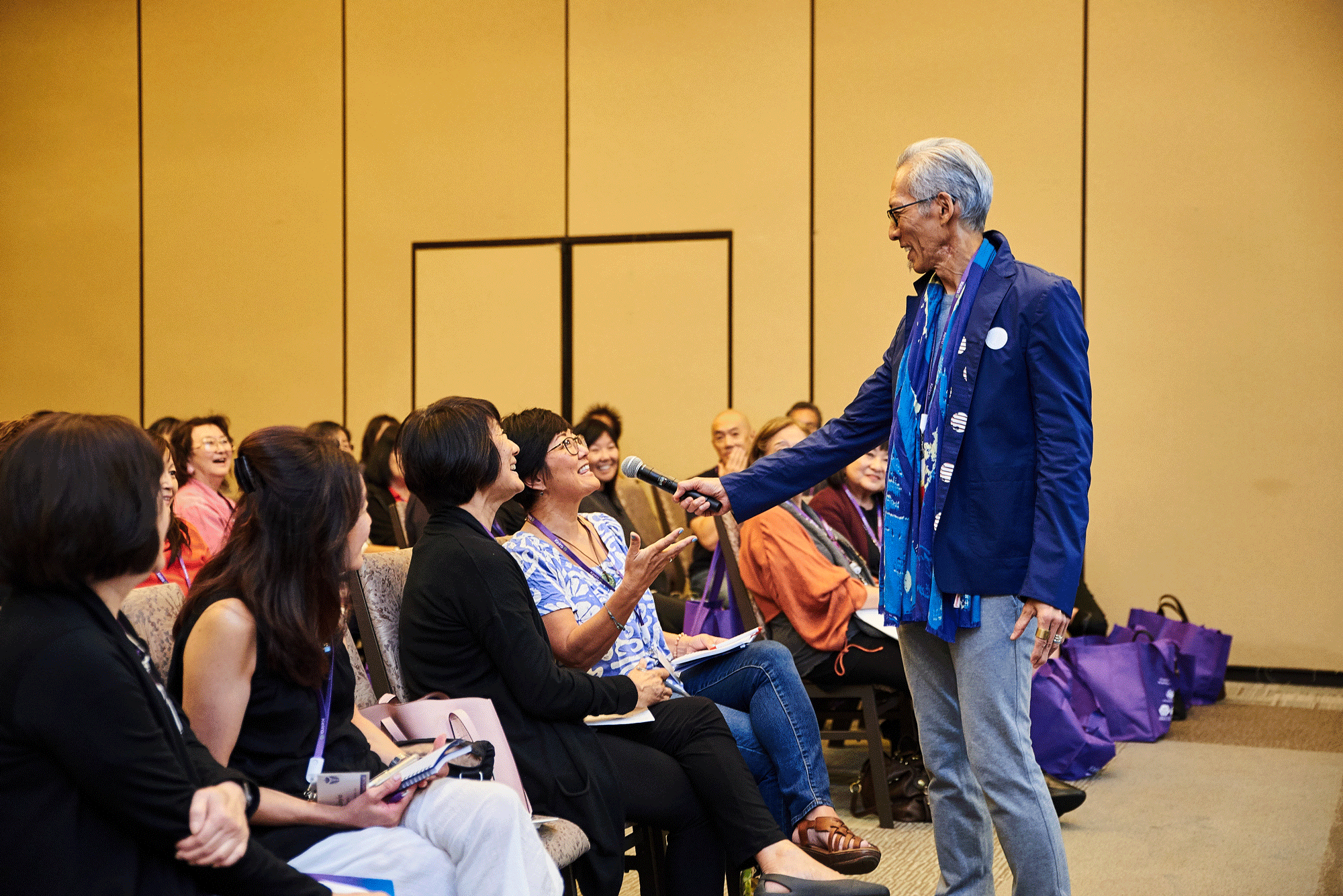 This year's Symposium organized elements of aging into three unique tracks: Aging at Home, Social Connections, and Whole-Person Care. During the Aging at Home track, technology quickly became a focal point for many of the conversations. Davis Park, executive director of innovation & wellbeing at Front Porch, spoke to attendees about reimagining uses for virtual reality, Amazon's Alexa, and other consumer products for their personal benefits. These tools offer great access to entertainment, but can also open doors for different kinds of engagement, and even be helpful with our daily tasks.
After listening to Davis' presentation, Mitzi Toshima, who has been incorporating some technology in her home, shared, "I'm glad I came, there's a lot to learn and more so with technology. I realized that there's a lot of things out there that I didn't know but that I'm now aware of." While she does run into trouble with what she calls advanced products like Amazon Alexa, when it does work, Alexa helps her with spelling. "I used to use a dictionary," she said, with a laugh.
But Davis' presentation touched on more than smart living products to help people age well. He also introduced innovative technologies on hearing. Loss of hearing is one of many contributing factors to isolation and loneliness among older adults.
Park cautioned that as hearing declines, loneliness can intensify. During the talk, he presented various companies and products working to change that. One example, Apple Airpods even pull double-duty – the small earbud can help with volume when watching videos to connected devices, and inform the user of an incoming call or text message. In addition, Park said Bose is entering the market with "hearphones" – not headphones. The conversation on enhancing ear pieces could be a great alternative to high-cost devices that some older adults struggle to afford.
"It's not a part of normal aging"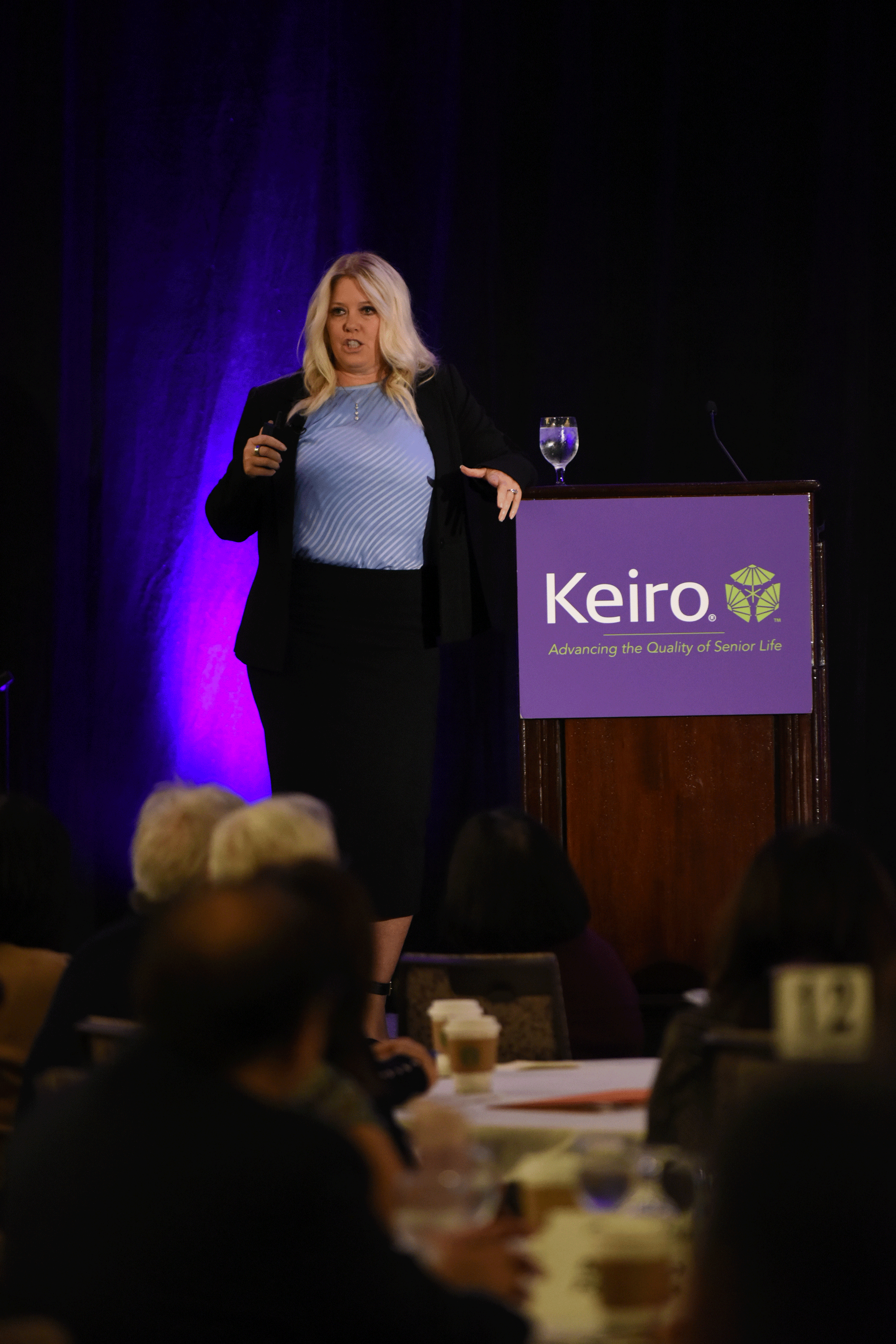 The morning keynote speaker, Dr. Candice Hall, shared with attendees her experience on working with patients who suffer from cognitive decline and Alzheimer's disease. Although it is a difficult and deeply personal topic for many, Dr. Hall, a functional medicine practitioner, shared her belief that functional medicine can chip away at certain stigma around these diseases. She stated that the idea of becoming more forgetful as we age is not true, stating that, "it is not a part of normal aging."
"I thought it was very informative," Nadine Kakimoto said. Her mother has dementia and Nadine said she could identify with a lot of things that Dr. Hall said. Nadine admitted that it can be a little scary, but that the new information was eye-opening.
In the Social Connections track, Maureen Feldman, adjunct assistant professor at Los Angeles Peirce College, touched on the importance of volunteering. It was just one example of how to improve multi-dimensional issues like social isolation and loneliness.
It's a point that resonated with Norman. "Volunteering and aging do go together because you have that interaction," he said. He pointed at carpool arrangements and other activities, adding that intergenerational interaction is important. "I think volunteering is a good vehicle to expand your relationships."
During the afternoon, Rich DeMuro, Emmy Award-winning tech reporter at KTLA, moderated a panel with representatives from companies providing innovative solutions to age at home.
"Technology is evolving, and is helping people stay independent," DeMuro said. Joined by company leaders from Narrative Foods, Hero, and Intuition Robotics, the panel introduced innovative ways to better help people age at home, from meal delivery services to devices helping patients manage medication.
The Social Connections and Whole-Person Care tracks also allowed attendees to explore diverse topics and services, including dating apps for older adults, searching for roommates, tidying-up, and finding walking buddies. This year's Innovation Fair was a first for the Symposium as well. Many panelists and products were available to all participants at the end of the day to take a look at the various concepts introduced at all three tracks.
Use Science to Empower People to Connect
The Symposium also took a personal and emotional turn during the afternoon keynote discussion with Toyota's Motor America CFO, Tracey Doi. Doi shared why the Asian and Japanese American community is so important to her, a home for both Toyota and for herself for decades. Those deep roots were captured in her conversation with Douglas Moore, director of technology for human support at Toyota.
Together they unveiled Toyota's breakthrough technology and how it will help generations to move. From autonomous driving cars to helper robots, Moore wants to do away with "being alone together," a stigma that's often associated with technology, and instead use science to empower people to connect. Toyota is finding ways for people to fulfill their potential, reduce limitations, and expand possibilities.
Mitzi's friend Irene Fujimoto commented that "innovation is happening now… but we won't be here in 50 years." Despite knowing that, Irene said she tries to keep herself up to date – which is a big reason why she comes to the Keiro Symposium ever year. Along with her friends, the community, and resources available, Irene hopes to continue learning and plans on attending again in the future.