Keiro Superstar Yae Aihara is a three-time skydiver, a former museum docent, and a proud great-grandmother. At 95-years-old, she shared with us her life experiences and views on aging that continue to make each day fulfilling.
Habits for Long-Term Wellness
For Yae, a good attitude and a healthy lifestyle have been key to maintaining a superstar quality of life. "I've always considered health one of my top priorities," Yae said. "I eat healthy, and I don't eat that much meat or sweets—though I do have a sweet tooth!"
Before the pandemic, Yae would lead exercise classes at Maryknoll Church, guiding others through head-to-toe calisthenics. She taught for close to 50 years, twice a week, and also brought these classes to Keiro's former facilities as well. She says that teaching this class has helped maintain her wellbeing over the years. "Exercise is something the body has to do," Yae explained. "I think one reason I'm as healthy as I am at my age is because of all the years that I have exercised."
Aside from her physical health, Yae has enhanced her quality of life by keeping up a positive mindset. She said, "Essentially, I'm a happy person. 'Never think negative,' that's been my motto." This attitude has helped her adapt smoothly to the pandemic, which she said didn't pose much of a change in her life. She reads the newspaper from cover to cover every day (her favorite section is the comics), takes care of her plants, and talks to her family members on the phone to stay busy and keep up with what's happening in the world.
A Look Back at a Full Life
When Yae was 16 years old, World War II began. She had just graduated early from high school when her family was sent into a concentration camp following Executive Order 9066. "'Civil rights wasn't even in our vocabulary at that time, so we went," Yae explained. "I guess it did affect me, I think about it often. It was memorable."
After camp, Yae went straight to work as a seamstress to help support her family. She also met her husband Luis around this time, a life insurance salesman with a love for fishing who attended the same temple as her. Eventually, Yae dedicated her life first to raising her four children. Once they became adults, she began doing her own business selling cosmetics. When asked what she is most proud of from her life, Yae immediately responded, "Oh, my kids. I think that's my greatest accomplishment—just that all my kids grew up to be good human beings, good parents."
Passing on the Important Stories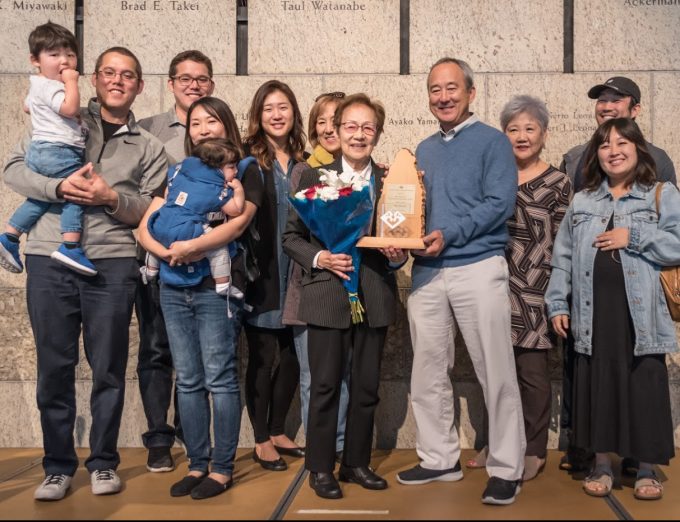 In the early days of the Japanese American National Museum, Yae heard that they were asking for docent volunteers. Recalling her own experience from the camps, she decided it was important for her to pass her story on to new generations. "I was one of the first docents to take people on tours," she shared. "The core of what we talked about is the war and how our civil rights were violated by forcing us into concentration camps." Through becoming a docent, Yae was able to share this history, as well as her personal camp experience, with student groups and other JANM visitors for many years. As one of the very few docents who could speak Japanese, she was asked to assist when groups from Japan would visit. She has also kept herself active in many of the Japanese American community organizations, including Koyasan Buddhist Temple, Montebello Women's club, The Nisei Veterans of Foreign War Women's Auxiliary, for many years.
Diving Into New Life Chapters
Keeping with her positive attitude towards life, Yae continues to seek out new adventures as she has grown older. She decided to go skydiving on her 80th, 85th, and 90th birthdays, each time accompanied by a different grandchild. Her son Doug shared that seeing President George W. Bush jump at age 80 convinced her that if he can do it, she can as well. "It's something people never used to do, jump out of an airplane. But it's exhilarating!"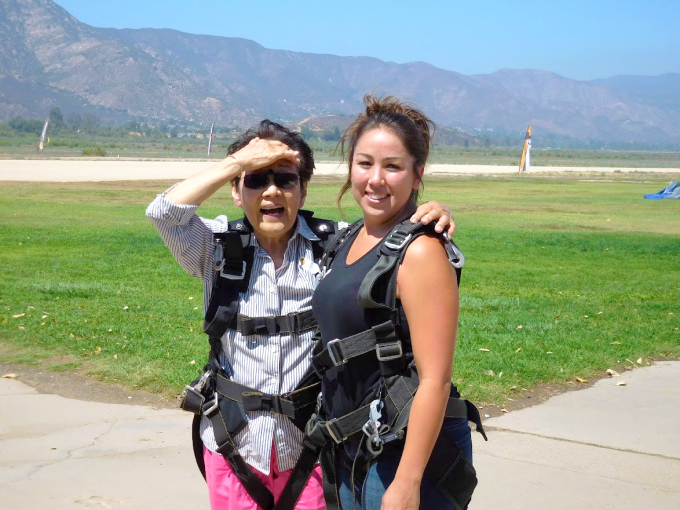 Yae's daring birthday plans have rewarded her with three cherished skydiving experiences. She spoke passionately about these memories, sharing, "When you jump out of a plane it's like… I can't describe it. It's space. You go out and there's all this empty space in front of you! And you float down to Earth. You should try it; it's a wonderful feeling."
At 95, Yae says she doesn't plan to make any more skydiving trips. However, she has other important goals to focus on. "I want to stay healthy," she shared. "I also want to live today—and each day—to the fullest."