Managing the Finance for Johnny's Sport Shop at Age 92
For nearly 60 years, Itsy Ota has worked at Johnny's Sport Shop, the family business where she keeps the books, pays the bills, and organizes the various finances. She says she doesn't miss a payment – and she doesn't skip a beat.
In addition to maintaining the shop's finances, Itsy drives to work every day, prepares her own meals, and gardens in the early morning. She enjoys her daily coffee and especially loves caring for her Jack Russell Terrier, Yuki. And she does all of this at age 92.
Don't Be Lazy
Itsy credits her active lifestyle to one simple rule: don't be lazy.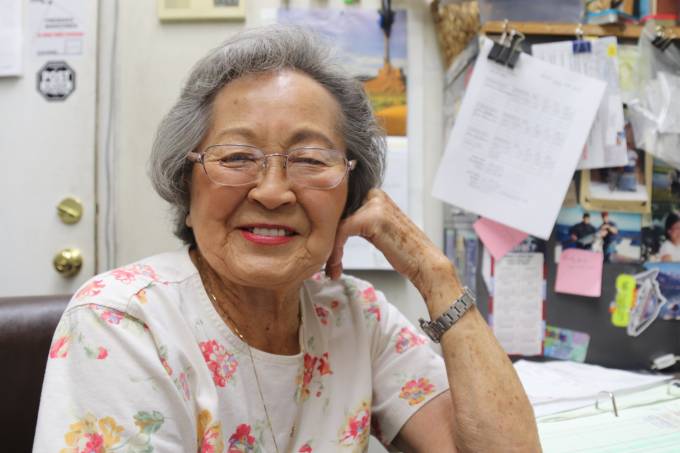 "I was never lazy and I worked all my life. I haven't thought of a time where I stayed home and did nothing," Itsy explains. Even as a child working on her family's farm in Montebello, Itsy remembers helping her mother plant seeds and do housework.
Family Business with Her Husband
In 1941, during World War II, Itsy and her family were uprooted from their home and taken to the Rohwer War Relocation Center. Still, she continued to work with her family and graduated from high school. Shortly after the war ended, she moved to Denver, Colorado, where she worked with her mother sewing cowboy shirts and making Christmas wreaths.
"I must've sewn hundreds of shirts," she says, adding that even after being released from camp she worked very hard. "It was paid by the piece, and I must've been the highest paid girl there because I was so fast."
After her time in Denver, Itsy moved back to California and settled in Pasadena, where she met Johnny. They were soon married and worked at his family grocery store.
Like Itsy, Johnny had an incredible work ethic. In their front yard, he built a garage to sell fishing tackle. It wasn't long until their garage expanded into a store.
"It was hard," Itsy says. "We spent all our money to make this store better. We didn't have much money and had to ask for loans, but he sold fishing tackle and did whatever he could. I worked at the grocery store on top of that. So that's how the store was built." Throughout this all, Itsy kept learning. She pointed to the wall of books explaining, "[Johnny] went to college and taught me a lot of things."
Staying Active and Social: Gardening, Classes, and More
Itsy grows a variety of vegetables including beans, cucumbers, bell peppers, and Japanese eggplants in her yard. She loves planting flowers whenever she has the chance, and spends at least two hours each day tending to her gardens.
Itsy maintains an active social calendar too. Every month, she drives to the Pasadena Japanese Cultural Institute to go to meetings, programs, and other activities. She participates in a local craft group on occasion as well. She also attended a number of Keiro's classes at First Presbyterian Church Altadena.
"Keiro's [programs] help keep me social," Itsy says. "My friends and I are getting older. We don't drive to each other's homes anymore, and I enjoy going to the classes. I like to interact with different people."
Itsy adds that she enjoys meeting new customers at the shop and reconnecting with old friends.
While in the shop, Itsy can sell you on the latest tackle and give you the best fishing advice alongside her son, Bobby, who operates the business today. And while Itsy may not look like a seasoned fisherman, she has caught her fair share of tuna, salmon, and a variety of other fish.
But above all else she can tell you a little something about staying active and living a long, happy, fulfilling life.
*Initial version of this article mentioned she was 94 years old, but she is currently 92 years old.