We recently spoke with three Keiro grant recipients to learn about the creative ways that they shifted their meal service programs during the COVID-19 pandemic. We found that these organizations¬—Pasadena Nikkei Seniors, Mission Valley Free Methodist Church, and Long Beach Japanese American Cultural Center—didn't just provide an opportunity for older adults to receive a tasty meal. These programs were also a means to connect with one another in new, adaptive ways and in many flavors of support.
Sending a Meal While Sharing Support: Long Beach Japanese American Cultural Center
From an interview with Carolyn Yano and Keiko Shibata
The volunteers at Long Beach Japanese American Cultural Center had their bento program up and running soon after the pandemic began, working with local restaurants that generously agreed to deliver the purchased meals to the homes of the LBJCC's older adults. After arranging this, Carolyn and Keiko shared that the center's volunteers then faced another challenge: How do you address social isolation when you can't have any in-person programs?
They found themselves with many creative solutions. Eight dedicated and committed volunteers each called several older adults before the deliveries regularly, and their crafts director sends out handmade cards for occasions such as birthdays or the loss of a loved one. They even created a COVID-19 kit consisting of masks, hand sanitizers, and more, to be distributed along with the meals. Additionally, the center has been sending out newsletters to their bento meal recipients, providing them with updates and health tips. One of these editions included an exercise guide, utilizing Keiro's fall-prevention class material, along with other gentle exercises to be done at home. "Because of Keiro's resources, we've been able to do a lot of things and inform our seniors," Keiko commented.
"But things like that weren't just about the exercises," Carolyn added. "It was also a way of making one more connection with them. We have the food, the cards—this was another way to say, 'We're here for you, and please let us know how you're doing!' I think it's important they know they have a support system in us, if they need it." The efforts also resulted in connecting with those who were reluctant to come to the center before or who were limited in their mobility, creating personal connections for these potentially isolated older adults.
Home-Cooked, Home-Delivered: The Pasadena Nikkei Seniors
From an interview with Ron Dyo, Scott Shinmoto, Jeannie Toshima, and Ron Toshima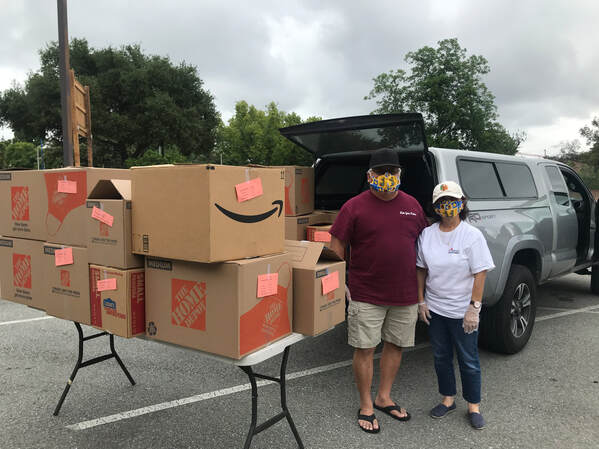 Luckily for the Pasadena Nikkei Seniors (PNS) team, when it came to turning their in-person luncheons into a meal delivery program, their experience serving food to the community had prepared them for the task. Having already received their proper food handling certification from fundraisers at the Buddhist temple, Ron Dyo and Jeannie (two popular cooks on the PNS team) traded off preparing and packaging meals for their older adults twice a month.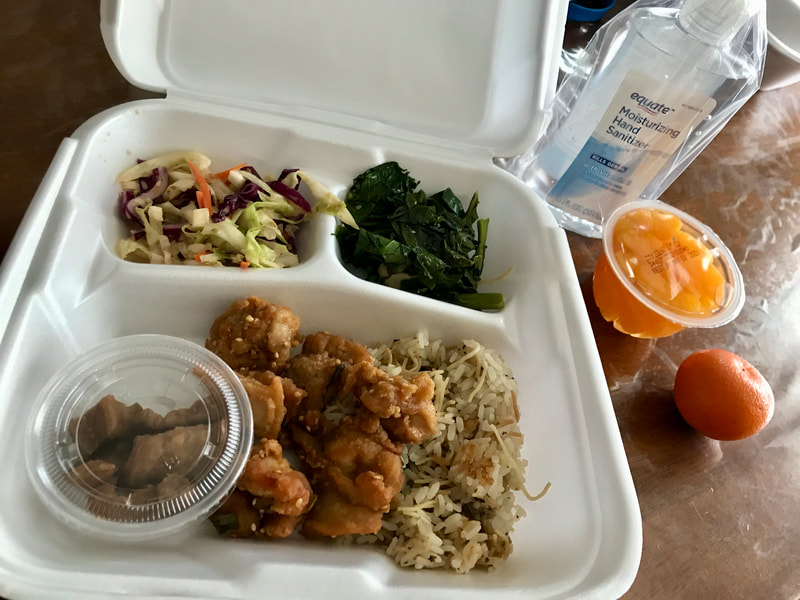 Ron Toshima emphasized that the selfless support from their volunteer delivery team was crucial to the success of the program, allowing them to connect with the 130 older adults that receive these meals. "By having our volunteers deliver, it gave our older adults a chance to safely interact with somebody they knew, if only briefly," he said. "We're so lucky to have such loyal and faithful support from them."
The program has evolved over the course of the pandemic, adding a pick-up option for the lunches as well as occasionally providing meals from community restaurants. They have also included a survey with their meals to check in on their members' wellbeing and needs. Jeannie explained, "We felt that was important—to stay in touch with them, to make sure they're doing okay." And indeed, they have continued to stay in contact with their older adults from this shift, serving meals with a personal touch despite the distance.
Parking Lot Pick-Ups and Nichigo Newsletters: The Mission Valley Free Methodist Church
From an interview with Lenora Hall and Joy Shiraishi
At Mission Valley Free Methodist Church, the core team decided to transform their in-person lunches into bento distributions held outside the church. On Saturdays, volunteers direct traffic through the parking lot and hand out locally-purchased bento to their older adults and their caregivers (For those who are home-bound due to mobility factors or otherwise, they arrange for those meals to be delivered).
Lenora commented on the enthusiastic feedback from their community surrounding this shift, noting, "Many have told us that it's just really nice to be thought of and remembered. One of our seniors even says that this is the only time that she sees other people." The meal handoffs are quick and socially distanced, but Joy and Lenora said that it has been wonderful to see people be able to come back to the church, if only for a few minutes.
The core team has also been proactive in helping their older adults stay connected through their newsletters—particularly with their Nichigo (Japanese-speaking) division. They began featuring one Nichigo member per issue, asking the older adult about themselves with prompts like their favorite childhood memory or their pandemic hobbies. Lenora shared, "It has been heartwarming to get to know them and the history, I mean, it's just fascinating! We're very happy that the newsletter is helping people connect."
Looking Forward to Going Back
The organizers from these three programs wholeheartedly agreed that the gratitude from their older adults has kept them motivated to continue serving these meals. Joy from Mission Valley Free Methodist Church shared, "It has been very rewarding. The feedback we kept getting, the 'thank you's'—we could tell it was something that they really enjoyed. And because of that, we wanted to keep doing it for them!"
Carolyn shared, "We were in awe of the spirit and resilience of our senior participants; their concern for others' needs before their own – despite the isolation they were experiencing and the ever present health risks."
Invigorated by this positive feedback, all three organizations are committed to providing their meal services until the end of the pandemic. The experience has even inspired some of them to consider dual programs post-COVID, hosting on-site lunches as well as delivering meals to those who are home-bound. Until then, however, these grant recipients will continue to feed their older adults' appetites for delicious meals and caring connection, sending support to their community wherever they call home.