This is Our Chance to Think About How We Want to Age
Experts, pioneers, and community leaders gathered at the Keiro Conference: Aging Into Tomorrow on Saturday, Oct. 13, 2018, to learn how to reinvent the aging experience. Leaders from a variety of fields spoke about the latest aging trends, providing insight and depth on topics such as nutrition, financial health, dementia, decluttering, and more.
Keynote speaker Dr. Carla Perissinotto, Associate Chief of Clinical Programs in Geriatrics at the University of California, San Francisco, spoke about the complexity and growing rise of social isolation among older adults.
"I'm so thankful for organizations like Keiro that talk about aging in a positive way," Dr. Perissinotto explained. "Aging is complicated. Life is complicated. But this is our chance to think about our lives and how we want to age."
Social Isolation, a New Epidemic, and How to Face It
Social isolation and loneliness are incredibly common, according to Dr. Perissinotto. Nearly 28% of Americans over the age of 50 are afflicted by at least one of these issues. While loneliness and isolation are different, she explained, they affect our health in significant ways. Research has shown that prolonged social isolation is as harmful as smoking 15 cigarettes a day. But Dr. Perissinotto, along with other geriatric researchers, are working to bring awareness to this public health issue and prevent at-risk aging adults from falling victim to it.
In her presentation, Dr. Perissinotto shared highlights of her research, which includes intervention methods that use technology and ways to improve social frameworks. While there isn't a one-size-fits-all prescription for social isolation, she added, being proactive in identifying solutions is critical.
"It's something we cannot ignore," Dr. Perissinotto said. "It's not a fix that happens overnight but it's an ongoing conversation on next steps."
A number of the different solutions included topics featured in other conference sessions.
Healthy Mediterranean Diet and Keeping Your Brain Healthy
June Masui attended Chef Simon Elmaleh's session, "The Secret is at the Table: The Mediterranean Diet." With a tasting and cooking demonstration, June learned cooking tips to improve her health and meals at home.
"It was so easy, not complicated, and refreshing," June said, adding that her daughter has taken her to Mediterranean restaurants, but she never cared for it before. "After this session, I realized it was so simple and without a lot of ingredients."
When Chef Simon showed how saffron rice could be made in a Japanese rice cooker, June started to grow more curious. "It was so unexpected to see how a combination of Japanese and Mediterranean tools could make such healthy options."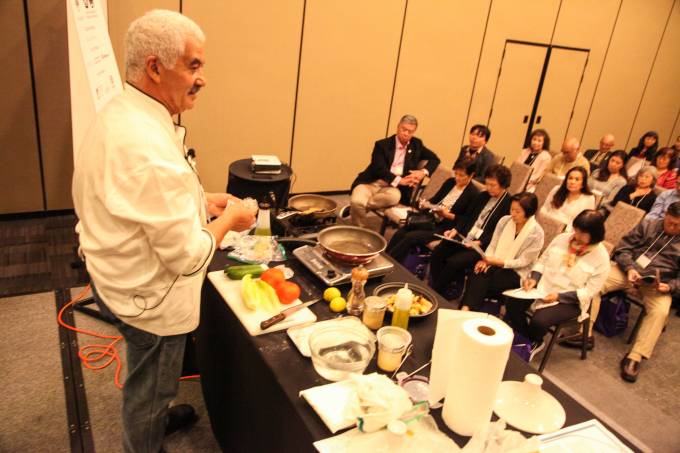 June's friend, Carol Matsuoka, attended a session titled "Keeping Your Brain Healthy: How to Lower Your Risk for Dementia." Carol said, "I always worry about my memory and it's a big concern." She was surprised that nearly everyone is at risk for dementia and Alzheimer's disease. "I collected a lot of handouts and after the social isolation session, the brain session reinforced how not to isolate ourselves," she said.
Joy with Downsizing and Decluttering
Attendee Diana Ono found herself surprised and inspired after listening to Peter Walsh's keynote presentation on decluttering and downsizing. "I've read other books, but this is different," Diana said. "Everybody needs to downsize. Eventually we all have to and this speaker really explained the importance of it – especially for me."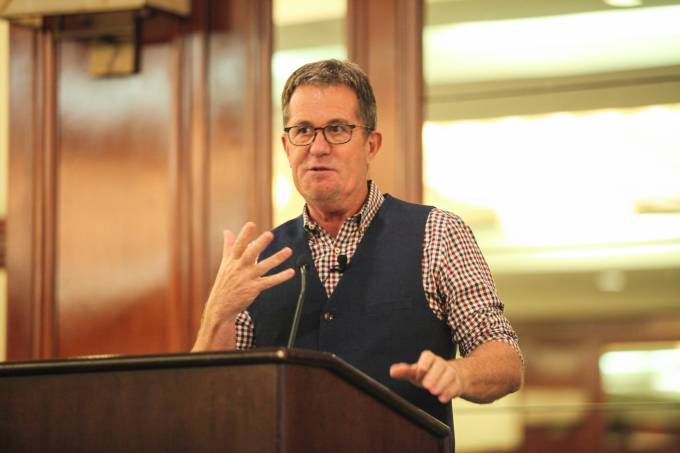 As a Keiro supporter and volunteer, she said she's happy that Keiro hosts events such as these. "I think it's good to keep your mind active, your body moving, and to eat well. This is such good programming and here we are today being active." Diana added that opportunities like these are vital for the community, giving people the resources to learn and have conversations about aging. "It's always good to learn something – especially something new!"
Technology Isn't About Babysitting You
Davis Park, executive director of Front Porch Center for Innovation and Wellbeing, went over new technology that supports aging adults. Davis showcased a variety of available products and resources from virtual reality to transportation and ridesharing – even social robots.
While holding PARO, a therapeutic robot seal, Davis explained that technology is a powerful and surprising tool to engage aging adults. However, technology can't simply be given to a person. "It needs a human element in order to help us," he said. "Technology isn't about babysitting you. It's about finding ways to engage and learning how it can connect you."
Aging in a Positive and Proactive Way
Other sessions throughout the day discussed financial health, contemporary aesthetic treatments, and mind-body exercises. Many in attendance said the conference was full of unexpected and surprising conversations on how to talk about aging in a positive and proactive way.
Attendee Nori Kurose commented, "We're aging, and reading through these topics, I felt that they were relevant and interesting. A lot of these apply to what I've been thinking about and that's the reason for coming. I can't attend everything, but I plan to come again next year to continue learning."