Monthly Religious Services
"I want to do more things that will make jiichan and baachan happy," Pastor Becky Hirata, a caretaker advisor for the Japanese Christian Church Federation of Southern California, joyously shared about her motivation to continue her work.
The Japanese Christian Church Federation of Southern California is a federation of about 30 churches in Southern California whose mission is to unite churches, pastors, and believers in God's love and to provide support ministries in the Japanese language.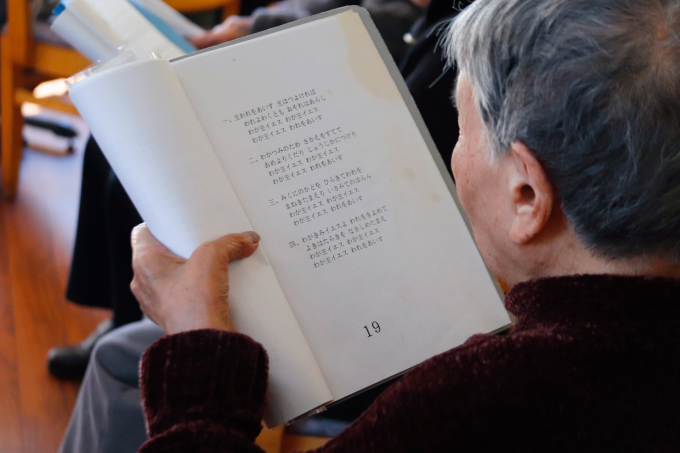 One of their key programs is the monthly Japanese services at local senior living communities, which they have provided for over 50 years. These services are held in three facilities (Kei-Ai Los Angeles Healthcare Center, Sakura Gardens, and Kei-Ai South Bay Healthcare Center) every month for the Issei "jiichan" and "baachan" who can no longer go to church like they used to. Pastors from the federation's churches conduct the programs.
Pastor Hirata emphasized how important these programs are for the older adult residents in reducing social isolation. The services act as an opportunity for residents to come together to take part in the camaraderie of the group to enjoy components that are non-denominational that include Japanese nursery songs. Even if the participants are not Christian, they can still sing songs and participate with the group. "I think being lonely in your own room alone is not good for your health." She also added that having regularly-scheduled services is important especially for residents at the facility.
New Initiative Through the Grants Program
However, continuing this tradition of visiting three locations every month was a challenge in itself. According to Pastor Hirata, the Japanese Christian Church Federation of Southern California started seeing the aging staff struggling to sustain the program by themselves.
Around this time, she heard about Keiro's Grants Program and began searching for ways to continue these services. During the first year of the grants program, Pastor Hirata decided to reach out to each church and recruit younger pastors and seminary students in order to continue offering services for the older adult residents of the facilities who could no longer make it out to services themselves.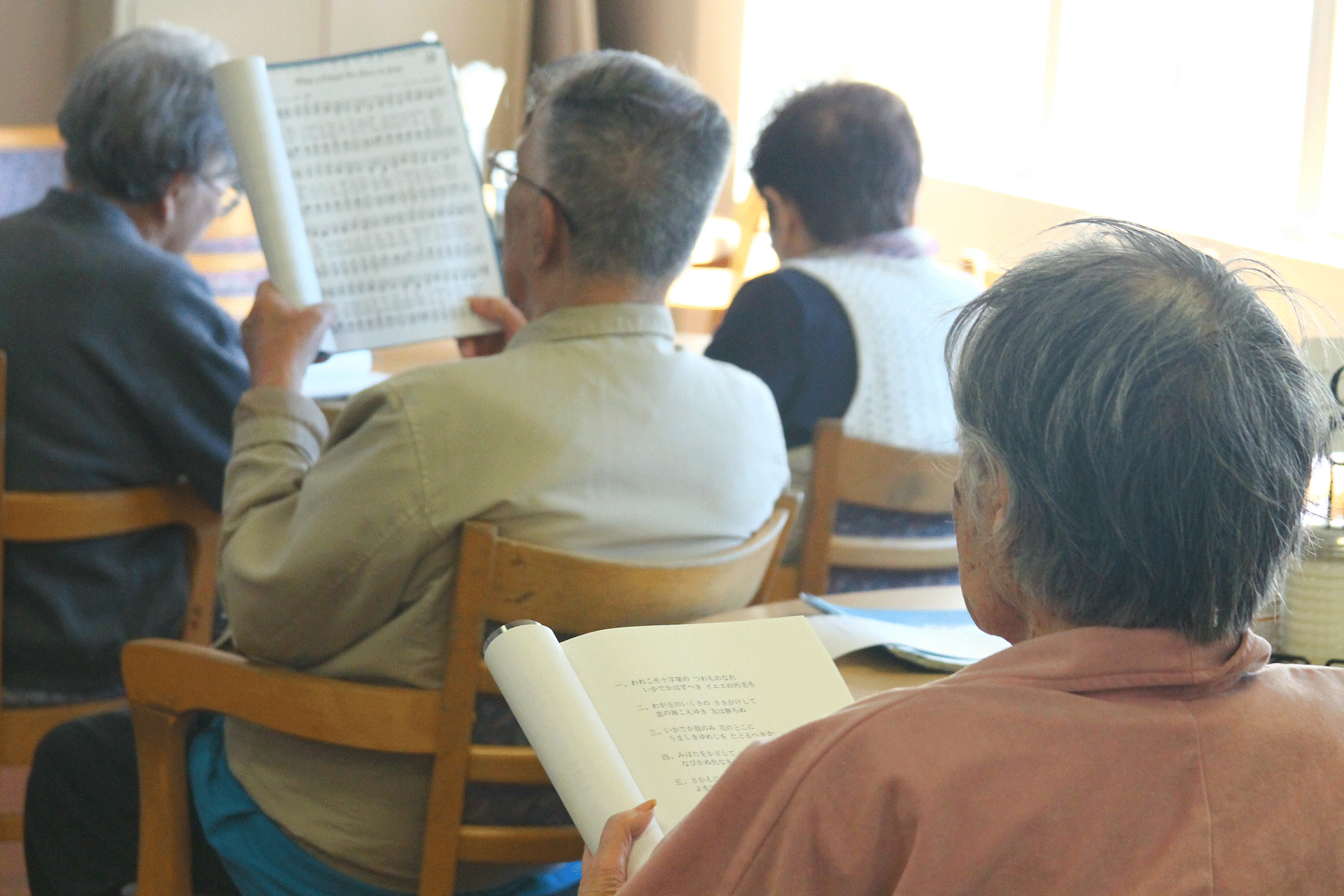 The Grants Program was the trigger that started a new initiative within the organization. "I talked to everyone, including seminarians aspiring to become pastors and missionaries who came from Japan. It was a new approach, but something sparked inside me as well as those around me, and I felt a lot of positive energy building up within the group," she said.
Keiro's grant supports the provision of these services by a new generation of pastors and missionaries through increasing their capacity to provide the services to the older adults in each of the facilities. These services also include performing music, which the older residents very much enjoy participating and singing along. This provides each facility with once a month opportunity for residents to gather and to enjoy each other's company while taking part in a social activity they would otherwise may not have.
Synergistic Effects through Intergenerational Interactions
More than 100 residents at the three facilities participate in the program. According to Pastor Hirata, the attendees were previously mostly Issei, but more Nisei have been attending lately.
"Younger students are very open minded, and they incorporate translated Japanese songs and nursery rhymes in addition to hymns. That's winning the hearts of our jiichans and baachans," she shared. The services provide key touchpoints for older adults living in facilities to socially engage with the younger generation.
She finds that the benefits go both ways, and these services help the students as well. "For the younger generations, it's a great opportunity to understand what is important for jiichan and baachan, as well as their roles and what they can contribute."
Through the Keiro Grants Program, Pastor Hirata, who sometimes felt that the Nikkei community could benefit so much more by understanding older adults, was able to incorporate the youth's energy and ideas into these monthly services. "I'm happy if I am able to enlighten the younger generations even slightly and connect them to the larger community." And now, the students themselves voice the importance of continuing these services, and Pastor Hirata looks forward to continue increasing involvement and service.