Since its inception in 1985, the Japanese American National Museum (JANM) has been able to chronicle more than 130 years of Japanese American history. Along with its award-winning exhibits and collections, JANM boasts another treasure: its volunteers. With more than 200 dedicated individuals in its network — many of them older adults, some even in their 90s — JANM shares Japanese American history with the local community and visitors from around the world.
As visitors explore the museum's numerous exhibits, they are sometimes led by volunteer docents who possess a wealth of knowledge and expertise, rich with personal anecdotes and experiences to share.
These dedicated volunteers are the heart of the museum and to help organize this instrumental group, the museum looks to its volunteer manager, Julia Murakami. "The volunteers are the driving force of the museum," says Julia. As one component of support through Keiro's Grants Program, the volunteer manager position has seen success in the form of better-trained volunteers who ultimately provide a richer experience for visitors. JANM has recruited 21 new volunteers since July 2018, with 10 of them being older adults or soon-to-be retirees.
A Training Session for Docents on the Special Exhibition
Aging Challenges and Continued Volunteerism
"Our dedicated volunteers continue to stay active for as long as they are able," says Lynn Yamasaki, director of education for the museum. However, like many other organizations, JANM faces aging and health challenges, as this group cannot always help in the same capacity as they once did.
In order to work around some of these challenges, the museum has proactively looked for ways to support its aging volunteers, such as adjusting the hours and structure of the program. "Even if volunteers can't lead full, hour-long guided tours, we encourage them to stay active and share their favorite exhibit with the visitors," says Lynn. The museum also purchased more than 40 lightweight stools through grant support from Keiro. Weighing in at less than four pounds, these stools allow JANM's aging volunteers to remain comfortable as they guide visitors through different moments in Japanese American history.
It does take time for some docents to become comfortable using them, as there is a sense of enryo among the group, and they do not want to look dependent or needy by using the stools. "Not everyone uses them just yet, but knowing they are there gives docents a peace of mind," says Lynn. Julia adds, "We use the stools for facilitator trainings and everyone is encouraged to use the stools as a way to stay comfortable and attentive. Once people start seeing others use it — especially the younger volunteers — more people are receptive to using it themselves."
"We have one docent who is a very great storyteller, but because of his cancer treatment, his stamina is low," says Julia. "But he is so passionate that he still comes out to volunteer. During Oshogatsu, he actually did take a stool and it allowed him to remain active for a longer period so he was able to help us out."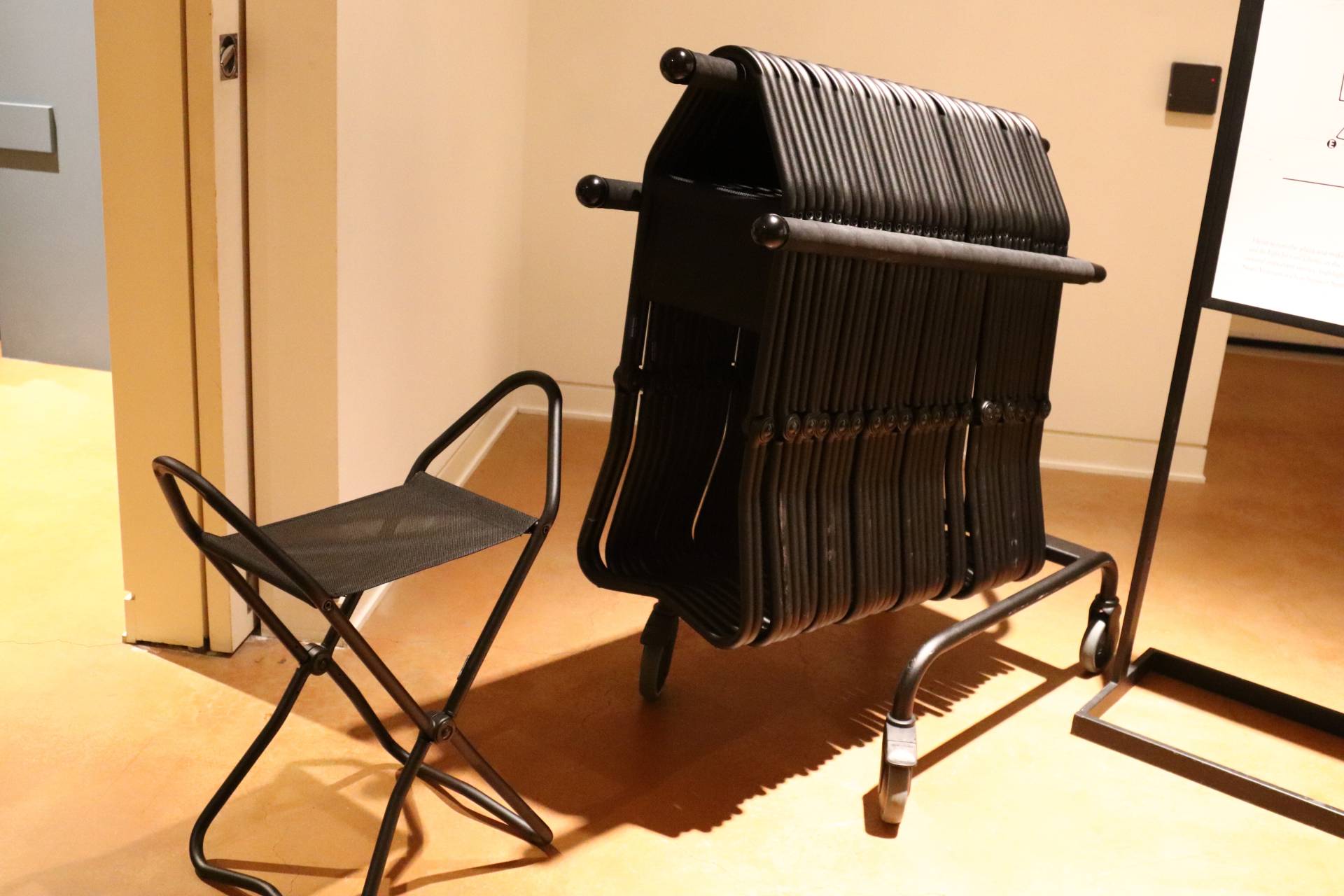 The stools have helped not only the volunteers, but also retirement community tour groups with older adult visitors. They are provided with a sense of comfort and relief knowing that the stools are available if needed. As an added benefit, the stools are lightweight enough for use as assistive walking devices throughout the gallery.
By continuing to care for its robust volunteer network, the museum helps ensure that this group remains active for as long as they wish so that visitors from all over can learn about and appreciate the Japanese American legacy. Julia is now looking into the next challenge: transportation – finding ways to support these aging volunteers so they can safely and easily travel to and from the museum.
There are many types of volunteer opportunities that support JANM's day-to-day operations. For more information, please contact Julia at [email protected].