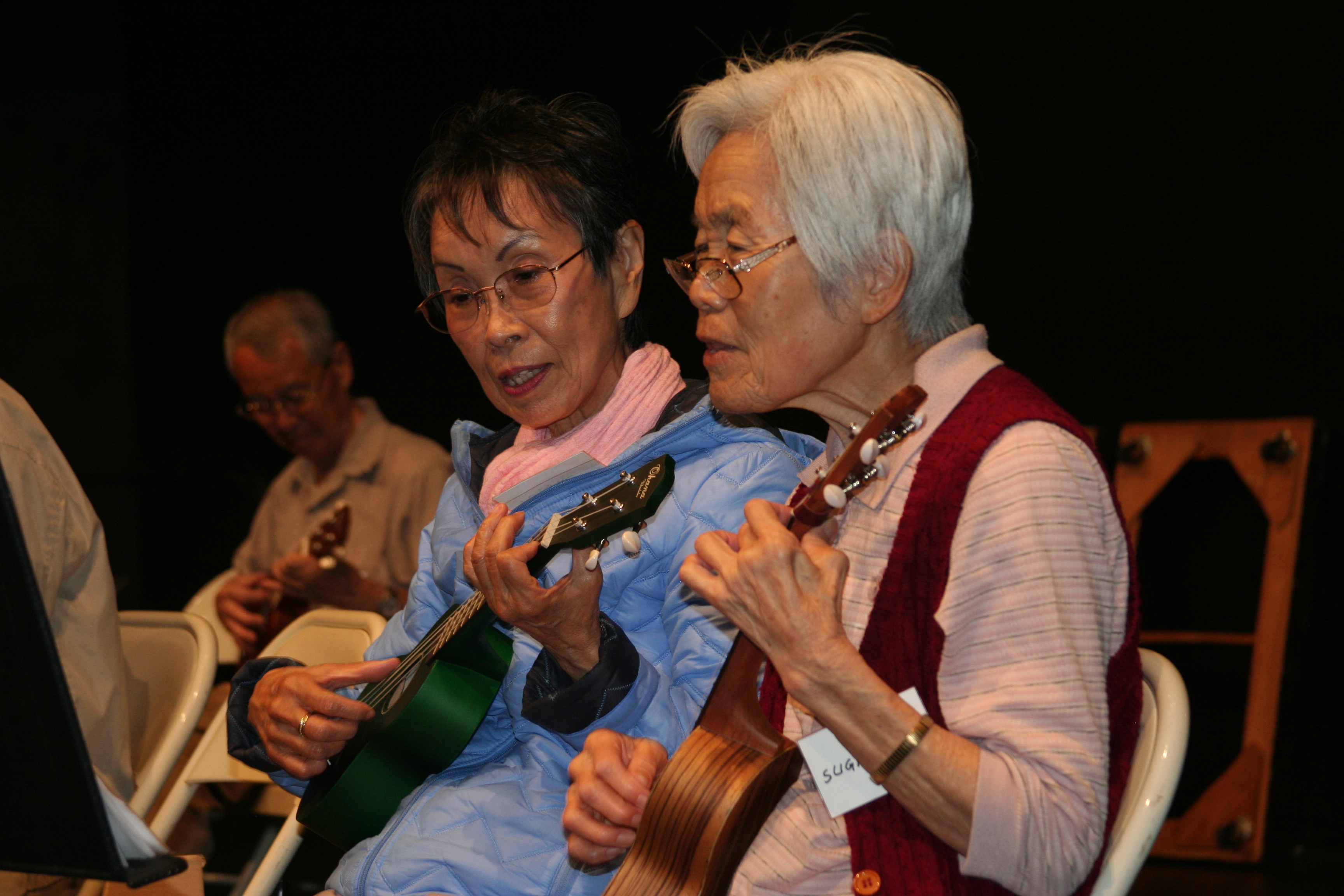 At the Japanese American Cultural and Community Center (JACCC), Chester Ikei teaches older adults how to play the ukulele as a way to bring them together and reduce some of the challenges of aging. The free class supported by Keiro Grant funding, called Ukuleles for Little Tokyo (U4LT), began in September 2016 and has seen interest grow with every class. Now boasting a class size of about 30 students, Mr. Ikei and the JACCC encourage these older adults to learn how to play and sing classic Japanese songs – the kind they listened to in their youth.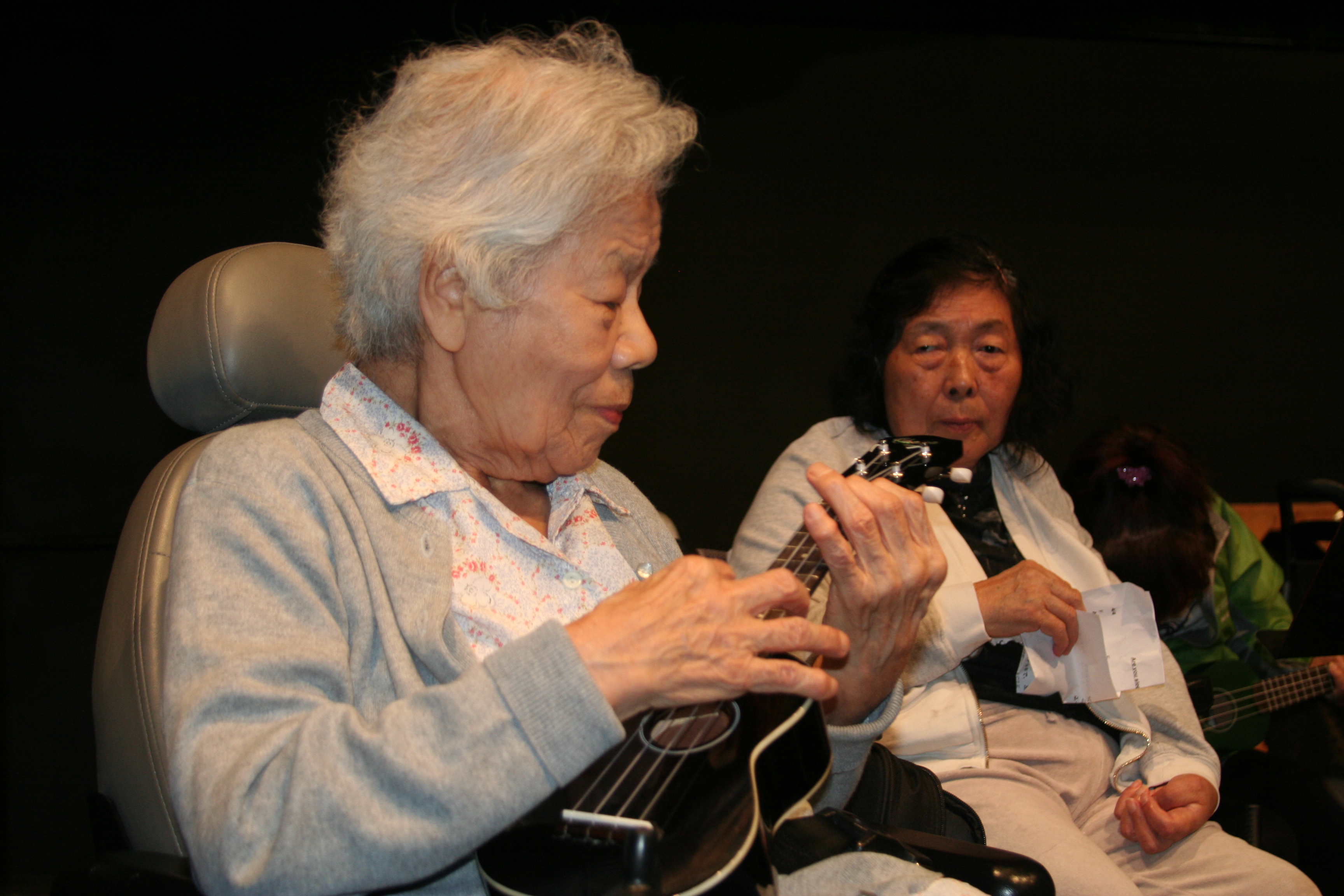 According to Dr. Nina Krause and Dr. Samira Anderson, there are benefits to beginning musical instruction, even from ages 60 to 85. In their study, they find that older adults, "exhibited improved processing speed and memory after just three months of weekly 30-minute piano lessons and three hours a week of practice." The benefits of musicality in relation to old age are still being researched, but it is an expanding field with a promising future.
Meeting once a week on Thursday mornings, the group, most of whom are residents of Little Tokyo Towers, learn a little bit of the cultural background behind the music they learn with Mr. Ikei. Over the past year, U4LT has had a handful of opportunities to perform in the community: during a Hawaiian themed holiday celebration at the end of 2016, monthly birthday lunch performances at Little Tokyo Towers, and an intergenerational performance alongside children at Tuesday Night Café. These performances give the participants a purpose and help them in both the occupational and emotional dimensions of wellbeing.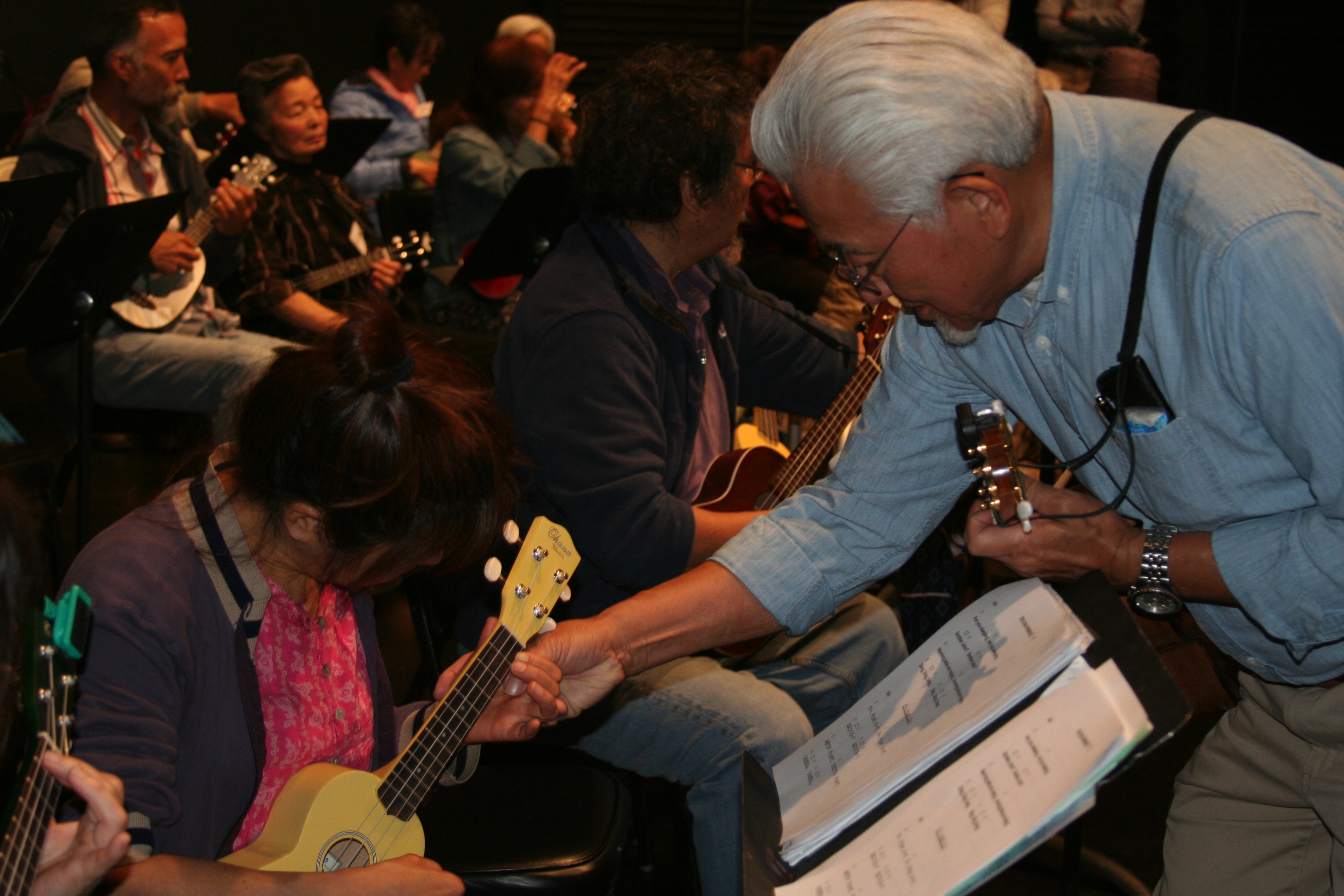 Music can be a powerful agent when combatting the challenges of aging, and for U4LT, the ukulele is simply a vehicle used to convey the benefits of music. With research being conducted more frequently on the effects of music on older adults, the benefits of music have become clearer. Ann Skingley and Trisha Vella-Burrows expand upon the benefits of music in a journal article published by Art and Science. In six different studies, music is correlated with decreased agitation, increased cooperation, and feelings of empowerment and wellbeing.
This class has given these older adults something to look forward to in practices and performances. It has given them a renewed sense of purpose and a different outlook on community. Mr. Ikei said, "I realize that I can help more to improve their lifestyle and daily life. By singing songs, playing music, and participating in the Little Tokyo Community … I hope through this class, these old folks will have a chance to feel connected to the community."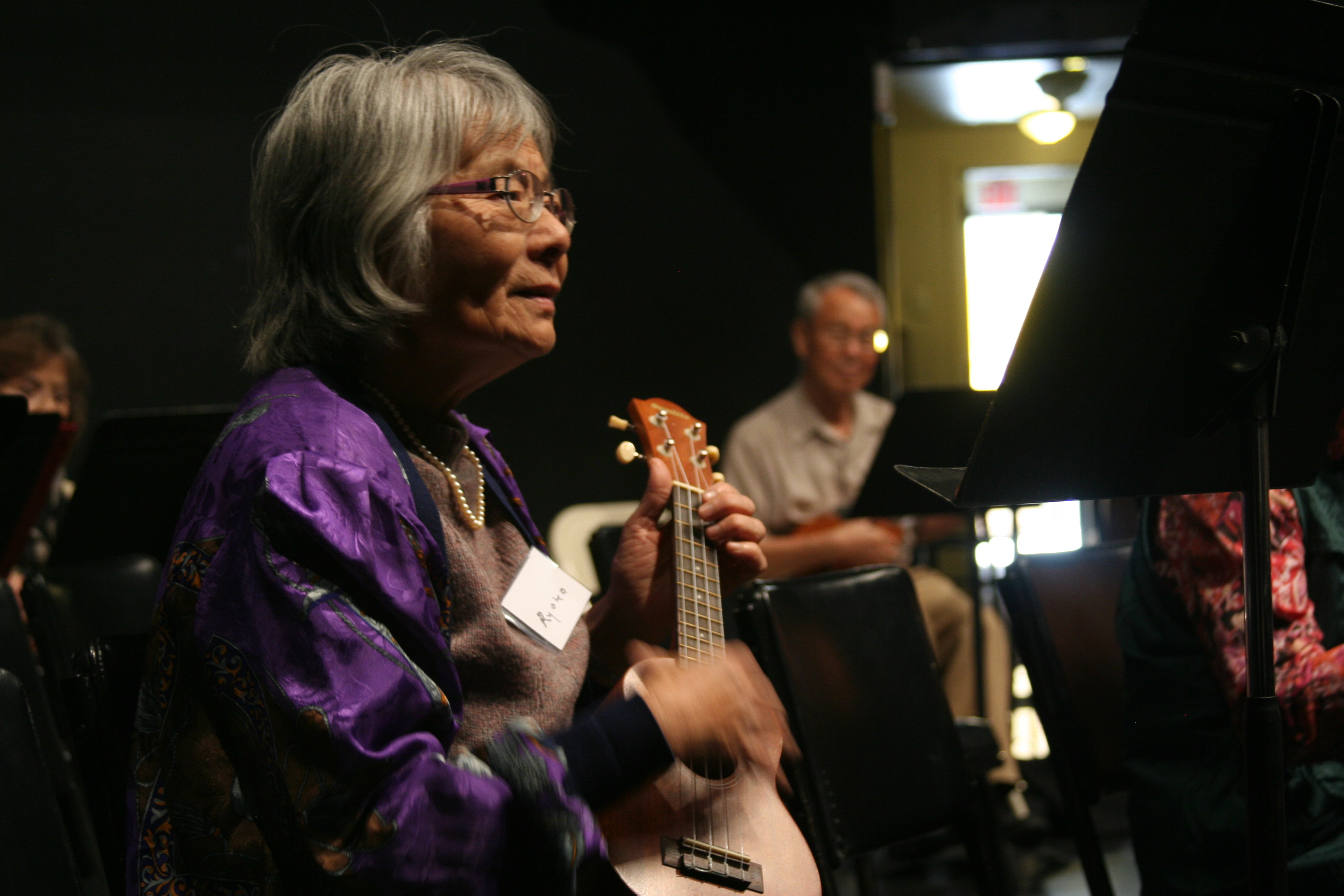 Once the participants have completed the class in its entirety, they are gifted a ukulele for them to keep and with which to continue practicing. This encourages the participants to come back to subsequent classes and continue learning. Mr. Ikei has noted that many of these older adults suffer from arthritis and joint pain. It is beneficial for the participants to strum and use their fingers, helping to improve their fine motor skills. Moreover, this class encourages residents at Little Tokyo Towers to interact with each other, helping to reduce social isolation. Kent Marume, JACCC's Community Engagement Coordinator, makes note of a substantial and visible difference in the way participants in the class socialize with other residents: "The class helps break down cliques. It's similar to how high school students will sit with who they know and only talk to each other during lunch. This program has helped the seniors get out of their bubble and talk to new people." The community at Little Tokyo Towers is a little friendlier, a little more vibrant, and to these residents, feels a little more like home.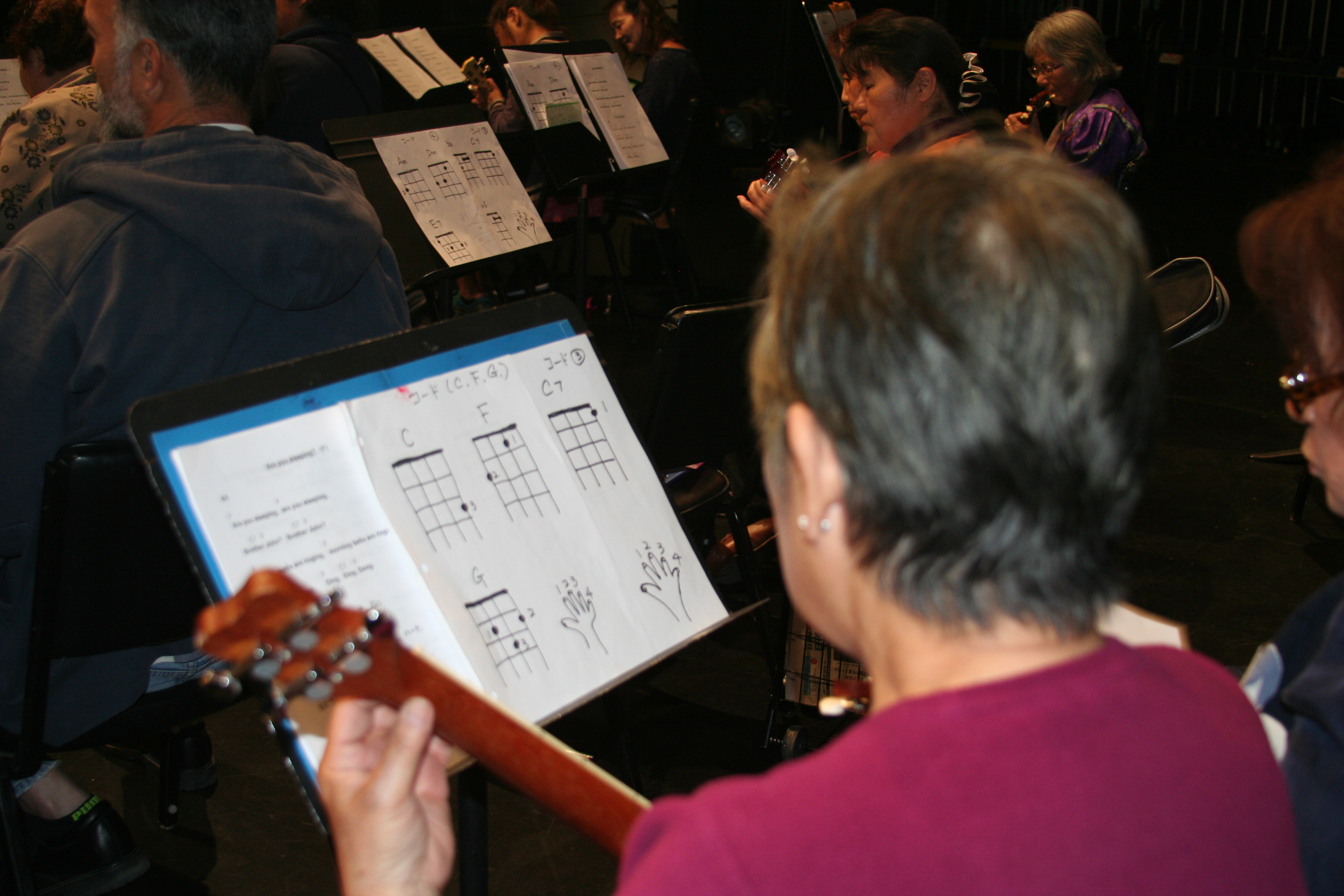 This program has helped improve these seniors' quality of life and in many ways, Ukuleles for Little Tokyo serves older adults in Keiro's highest needs areas. Mr. Ikei notes that the class has changed some of the participants' outlook on life. They get to enjoy Japanese music that they listened to growing up while exercising their hands and voices, relearn some of the history behind the music they play, and allow the monolingual Japanese speaker to connect with non-Japanese speakers on a musical level.
Beyond learning how to play ukulele, Ukuleles for Little Tokyo is a program that has allowed the JACCC to better serve the older adults in its purview. Mr. Ikei says, "[This program] creates community spirit; those old folks don't have a lot of opportunity to connect. … It has helped [its participants] physically, mentally, and emotionally. … It's more than just playing ukulele, it's not simply a ukulele class."