Please scroll down for a simple assessment to see if this program may be a fit for you.
What is Iyashi Care? What is Palliative Care?
Iyashi Care is a partnership between Keiro and Providence Health & Services that brings culturally sensitive palliative care to Japanese American and Japanese-speaking older adults who are living with a serious illness, chronic condition, and/or life-limiting symptoms. Palliative care is specialized medical care that focuses on providing relief from the symptoms and stress of a serious illness, with the goal of improving the quality of life for both the patient and the family. As a palliative care program, the support offered through Iyashi Care can be accessed at any stage and any age, starting from the day of diagnosis or when additional support is needed to help support you or your loved one.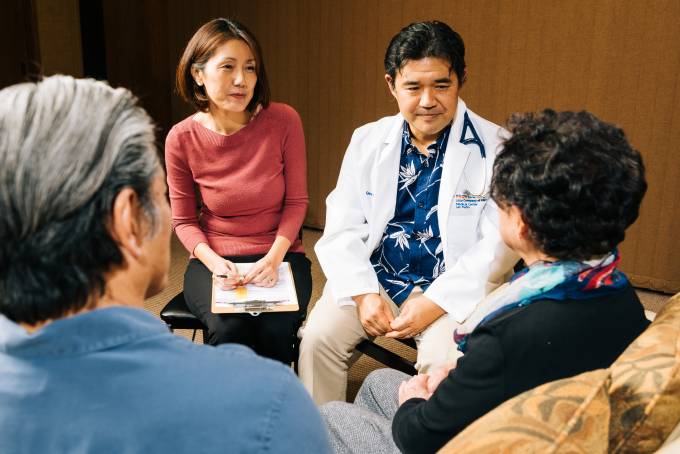 Who is Iyashi Care for?
Iyashi Care is available for the Japanese American and Japanese-speaking community to offer an extra layer of support for you and your family in the comfort of your own home and at no cost (for consultations and visits by the team). The Iyashi Care team does not replace your current doctor or any specialists you might be seeing. This team provides support and resources via telehealth visits to assist you when making medical and care planning decisions.
What Does Iyashi Care Offer?
The program involves coordinated communication by an interdisciplinary team of doctors, nurses, social workers, and administrative staff that provide resources for patients and families in English and in Japanese, if needed. Members of the Iyashi Care team work together with the patient and their family to come up with what "quality of life" means to them and to strive for that definition in the care that is provided. Services offered through Iyashi Care include around the clock telephone support, coordination with your current medical team, emotional and spiritual support, and assistance with difficult conversations among family members including advance care planning. Support is offered for both the patient and the family members helps ensure a level of shared understanding through conversations about the goals of care for their loved one.
Why Should I Consider Iyashi Care?
If you or a loved one are living with a serious illness or chronic condition that prevents you from doing the things that you enjoy, Iyashi Care can help. If you ever have questions or want additional support with access to resources, free consultations with medical professionals, or if you would prefer working and communicating with a team familiar with Japanese cultural tendencies and values, Iyashi Care can help. If you could benefit from having a conversation about advance care planning or if you just have questions about if you are doing the right thing, Iyashi Care is a space for you to ask those questions.
Take this assessment to see if you would benefit from the program today. It only takes an email, phone call, of a filled out Iyashi Care inquiry directed to our team to get you and your loved one connected to the benefits offered through Iyashi Care.
To get more information or to enroll yourself or a loved one into the program, please fill out this inquiry form, email [email protected], or call our phone number at 213.873.5791 today.
---