Sharing a treasure box of memories – how storytelling about similar experiences can retain a strong sense of social connectedness for older adults.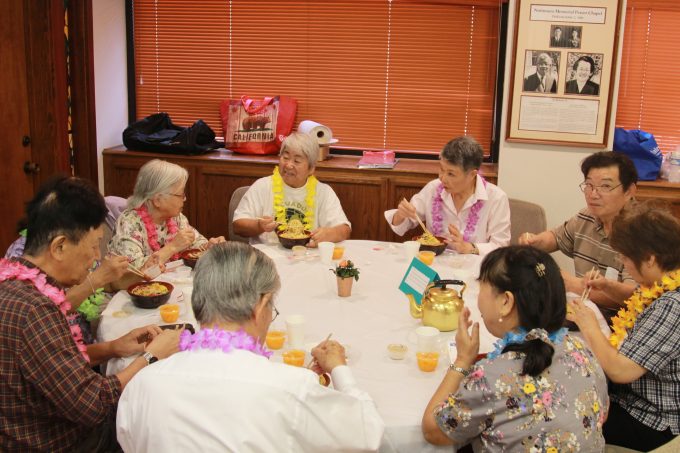 As we age, we collect a great many things throughout our lives. Some may collect cars or coins while others collect bottle caps or baseball cards, but we all collect stories. The little things that happen in our day-to-day lives may not necessarily be all that interesting, but at seventy, eighty or ninety years old, there are always at least one or two stories worth telling. Funded by a Keiro grant, a lively, luau-themed luncheon at Mission Valley Free Methodist Church (MVFMC) begins, following the regular Sunday service. Older adults sit around circular tables, leis hanging from their necks, hashi in hand, ready to partake in a delicious somen salad.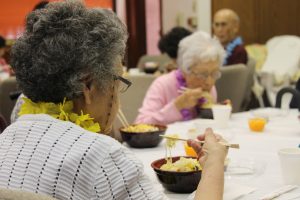 After they are finished eating, Jennifer Sato-Veloz, a licensed social worker and member of the church, facilitates a session for participants to share their stories. As each person stands up one at a time to speak, everyone in the room turns their attention to the speakers. This series of stories is about gaman, or perseverance. They discuss various experiences from World War II, from places like Manzanar, Tule Lake, Hiroshima, and Nagasaki. Some speak in English and others speak in Japanese, but a translator is available so that all stories are heard.
One man recounted the experience he had visiting an internment camp decades after living a full and happy life. He said, "I bought a brick and wrote my father's, my mother's and my brother's names on it. I left it at the site so that people would remember our names. I wanted to send my family a picture to let them know how I was remembering them at Manzanar."
Ms. Sato-Veloz asked, "What was it like to share that story?"
He responded, "It was emotional. It was a memorable experience, but very sad."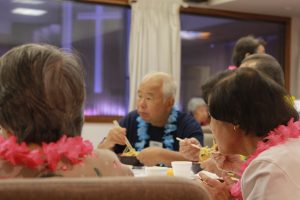 A key component of Mission Valley's senior luncheon program is to create opportunities for older folks to exchange stories and be around others who share similar experiences. According to Mrs. Sato-Veloz, this is important because, "when you get older, you don't have people to share stories with anymore."
Social isolation becomes a more prevalent problem as we grow older and can significantly decrease the number of years we have left to live. According to Connect2Affect, powered by AARP Foundation, social isolation and the subjective feeling of loneliness increase an older adult's mortality risk by 26%. A lack of physical contact and social interaction can drastically affect the way adults age. At Mission Valley, Pastor Dave Fukuyama notes, "some of their needs are more about companionship. A lot of them who aren't as mobile – this lunch is the only time we'll see them."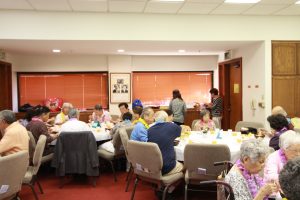 Reducing social isolation is one of the key objectives that this Keiro-funded program seeks to achieve. Thankfully, as Pastor Fukuyama said, "I think there's an overall sense of camaraderie that comes from being together. This program brings together two parts of the congregation: Japanese and non-Japanese speaking. Being able to tell your story, and not just telling your story, but telling your story in a medium so that your experiences will be passed on is kind of an achievement and brings these people a sense of shared happiness."