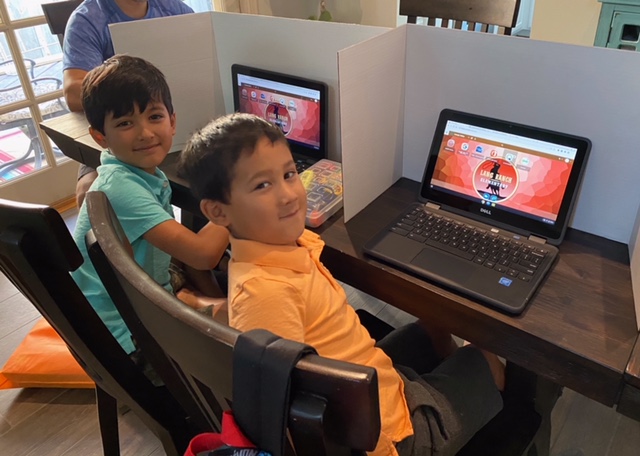 School Central at Grandma's
Having taught first grade for many years, Mary Ellen Wong always knew she would be a part of her grandchildren's education. Since retiring after the birth of her first grandchild, Mary Ellen has been both grandparent and educator to Logan (8), Gavin (5), and Ella (3), nurturing their appreciation for reading and math as well as regularly volunteering in the classroom. She has also helped with the schooling of her two grandchildren in Goleta through regular visits.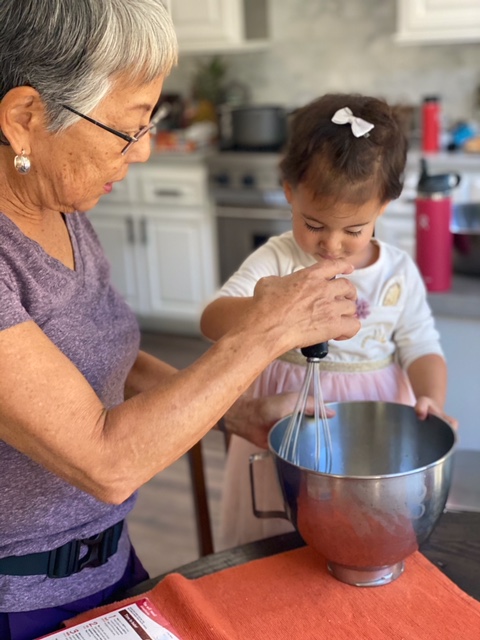 When schools closed down due to COVID-19, Mary Ellen could no longer be a classroom volunteer like she used to. However, her daughter Erika was still able to count on her for help. "My house became school central," she shared, referencing how Logan and Gavin attend their virtual class sessions from her house.
Meanwhile, since Ella was kept home from preschool due to safety concerns, Mary Ellen has been spending more time with Ella. She explained, "I started to do one-to-one counting with her, repeating stories, singing songs—just all that stuff you need to do to prepare them. So I was actually working more with the grandchild that was not in school!"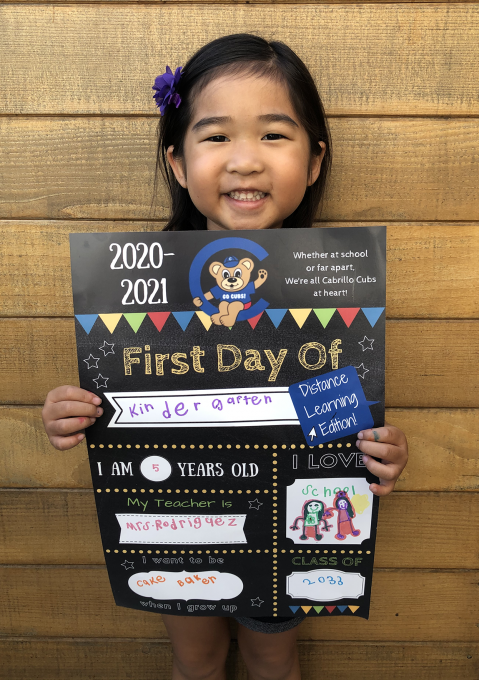 Zoom Kindergarten with Grandpa
For Ken Mui, helping with his granddaughter's schooling was an unexpected turn that emerged from an unexpected year – but he gladly welcomed the opportunity. 5-year-old Sophia began kindergarten in September of 2020 through an all-computer format. Since her mother Leslie needed to work virtually from her own classroom as an elementary school teacher, Leslie asked Ken about helping with Sophia.
"When my daughter said, 'Well Dad, how would you like to go to Zoom kindergarten?' I was actually looking forward to it," Ken remarked. "Though the initial days were just helping Sophia get independent on how to use the computer, learning to mute and so forth – that was pretty time consuming."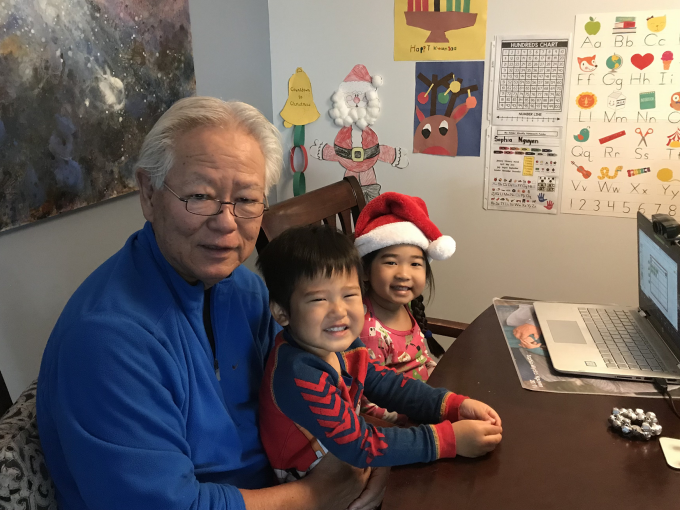 Zoom assistance evolved into study help as Ken and Sophia eased into the routine of virtual education. These days, Ken sits next to Sophia as she attends class, paying attention so he can help her during independent study time. He enjoys this process, sharing, "It's fun when I see the excitement on her face when she answers a question correctly – a lightbulb goes off in her head and she says, 'Grandpa! This-and-this-and-this!' and I'll go, 'Right on! That's great, Sophia.'" Ken also makes time to work with Sophia on her socialization skills through play-pretend games and practicing with Sophia's younger brother Jackson (2).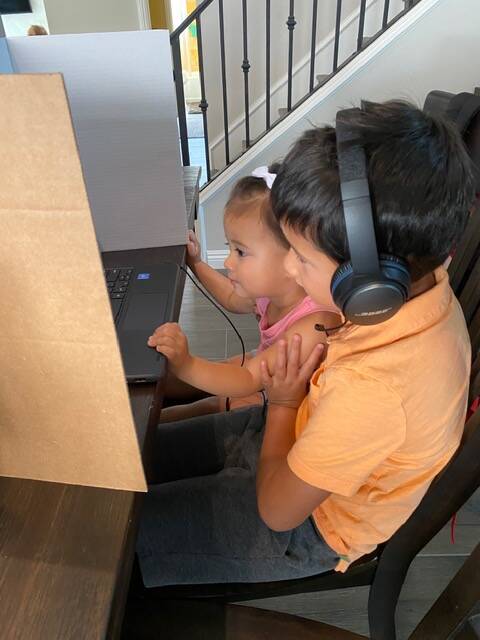 The Challenges of Learning at a Distance
Virtual schooling, of course, comes with its obstacles for both students and grandparents. Mary Ellen and Ken each named issues that have come up for them, including managing technical difficulties, enforcing regular hours of "screen time" schoolwork, and letting their grandchildren make their own mistakes in class. Both made a point to note, however, that one of the biggest challenges of supporting their grandchildren's learning lies in the amount of socialization that the kids are missing. Mary Ellen explained, "You don't have the other kids to learn from and see what they're doing – they're kind of losing that interaction."
The Fulfillment of School at Home
Regardless of the challenges, Mary Ellen and Ken spoke with warmth about this time with their grandchildren. "I enjoy them coming over every morning, hanging out, eating lunch, you know, and all of that. I love being with them—that's what I like the best," Mary Ellen shared.
"Observing Sophia learning new things and the excitement she visibly shows me when she learns something just makes me feel really, really grateful," Ken said, "and she's real nice to me. She says, 'Thank you Grandpa for teaching me and helping me learn; I love you, Grandpa.' So I look forward to that."
Envisioning the post-pandemic future, Mary Ellen feels excited to volunteer in her grandchildren's classrooms again. Ken plans to continue asking Sophia about her school days, helping her with homework, as well as spend more time with Jackson, and his other grandchildren Zachary (9) and Brandon (5) living near Philadelphia. Until then, Mary Ellen and Ken will continue being at-home helpers, enjoying one of the many roles of a grandparent: that of a teacher.
Published 1/7/2021