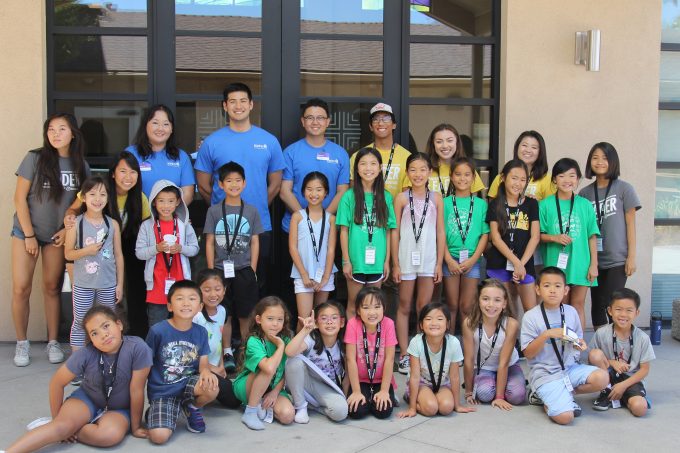 Over the past few years, Keiro has worked with Kizuna's Summer Camp program to run an annual workshop for the youth participants. In the last two summers, Keiro's interns from the Nikkei Community Internship (NCI) program have designed and led different workshops centered on healthy living and aging.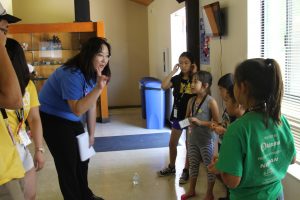 This summer, Keiro interns presented at West Los Angeles United Methodist Church and Gardena Buddhist Temple, and organized the workshops as an Education Carnival with the theme, "How to Hang Out with Older Adults." Using four aging simulation games – Vision Impairment, Hearing Loss, Communication, and Healthy Eating – Keiro's interns and intern supervisor, Kevin Onishi, taught participants ages 7 to 10 about some of the challenges faced by older adults.
The intent of these workshops is to practice an intergenerational approach to caregiving, teaching young students that caregiving does have a singular definition. Driven by our mission to "enhance the quality of senior life in our community," Keiro seeks to teach youth that anyone can be a caregiver, and that caregiving can take the form of simply spending time with and talking to an older adult.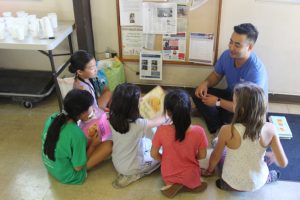 Today, nearly one in three members in our community provide caregiving to a loved one. However, the role of caregiver is not strictly limited to adults caring for their older parents: grandchildren, regardless of age, are capable of contributing as caregivers as well. Each of the workshop simulations taught the students valuable lessons and tips for caregiving at their age. Examples include having patience; using a loud, clear voice when interacting with older adults; and being conscientious of vision, hearing, and dietary impairments. Now equipped with the practice and tools to "hang out with older adults," Keiro hopes that the Kizuna Summer Camp students better understand how to help their grandparents and other older adults around them.