An Excuse to Get Out
When Yoshi and his wife, Masako, heard about a festival for Japanese American and Japanese older adults, they were both surprised and a little curious. Friends of theirs had gone to the Keiro no Hi Festival the previous year, but the couple wanted to experience the celebration for themselves.
"We wanted to spend the weekend out," said Yoshi, who just turned 96. They live close by in a condo, but rarely made their way around Little Tokyo. This event became a perfect reason for them to spend a weekend together and enjoy something they had not experienced before.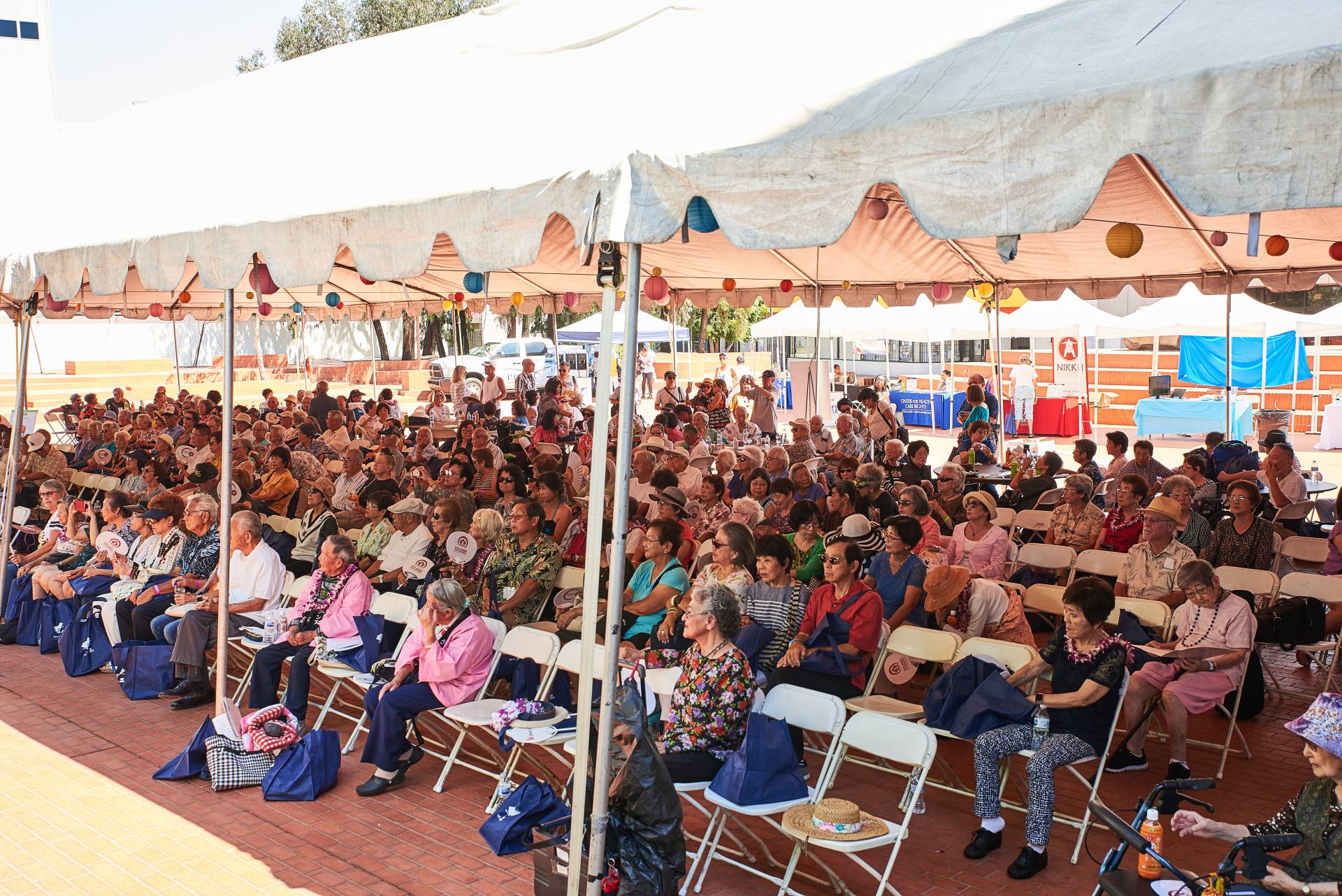 Yoshi and Masako were among the 1,100 attendees of the second annual Keiro no Hi Festival. Families, caregivers, friends, and volunteers from across Los Angeles, Orange, and Ventura counties descended on the Japanese American Cultural & Community Center plaza for the special day. This one-of-a-kind festival is inspired by the national holiday celebrated in Japan, Respect for the Aged Day, which celebrates and honors the community's older adults.
Calligraphy and Mochi Workshops
For many attendees, it was a day full of joy and unexpected moments.
For Reiko from Gardena, it was not only her first time to the Keiro No Hi Festival, but also the first time she had a chance to do something she hadn't done in decades: calligraphy.
"I was very excited to try this for the first time since I was in junior high!" said Reiko. She raised her calligraphy paper and showed her friends who were watching near the tent. On it, the word "peace" was written. Reiko said she never would have attended without some encouragement from her friends, but that changed once she arrived. "I really enjoyed it, especially with my girlfriends."
Calligraphy with Shodo for Little Tokyo was not the only activity available at the festival. New this year was a mochi-making workshop, hosted by Brian Kito of Fugetsu-Do. The family-owned and operated confectionary store is one of Little Tokyo's landmark businesses, which opened its doors in 1903. It has provided Los Angeles with sweet treats and mochi ever since.
Making New Friends
On stage, a host of entertainers and performers kept the plaza tent busy. The San Fernando Valley Japanese American Cultural Center Meiji Ondo group, Fujima Kansuma Kai dance group, and Asian Persuasion were only some of the groups who performed. The ensembles ranged from dancing to singing and taiko drumming.
Jenny from Palos Verdes said the stage performance schedule was a big reason why she came this year. "They played my favorite songs," she said.
And during the Rajio Taiso exercise, Jenny even made a new friend, Mizue.
Together, they enjoyed the performances and even exchanged numbers, spending the lunch hour together. "Yes, I met a new friend," said Mizue, gesturing to Jenny.
It Takes Time to Decide to Come Out
Another pair of friends, Rose and Akiko, drove from Montebello after hearing about Keiro no Hi from another friend. At first, they were apprehensive and unsure what to expect from a festival for older adults. But like many others who arrived, they said the decision to get out was a good one.
"You know, we older adults, it takes time for us to make the decision to come out here. It's fine if you live nearby, but today I was invited and that's how I was able to come," said Akiko "Once I came out here – even though I don't know many people — it's still fun to enjoy a different atmosphere than usual."
"Aging is Not So Bad After All"
"This is the first time we had something like this, so you know, I felt like aging … is not so bad after all," said Shoko. It was the first time in a while that she and her friend, Eleanor, had been in Little Tokyo. Together, they enjoyed the free bentos and were thankful for the bus transportation from South Bay so they did not have to drive to Little Tokyo.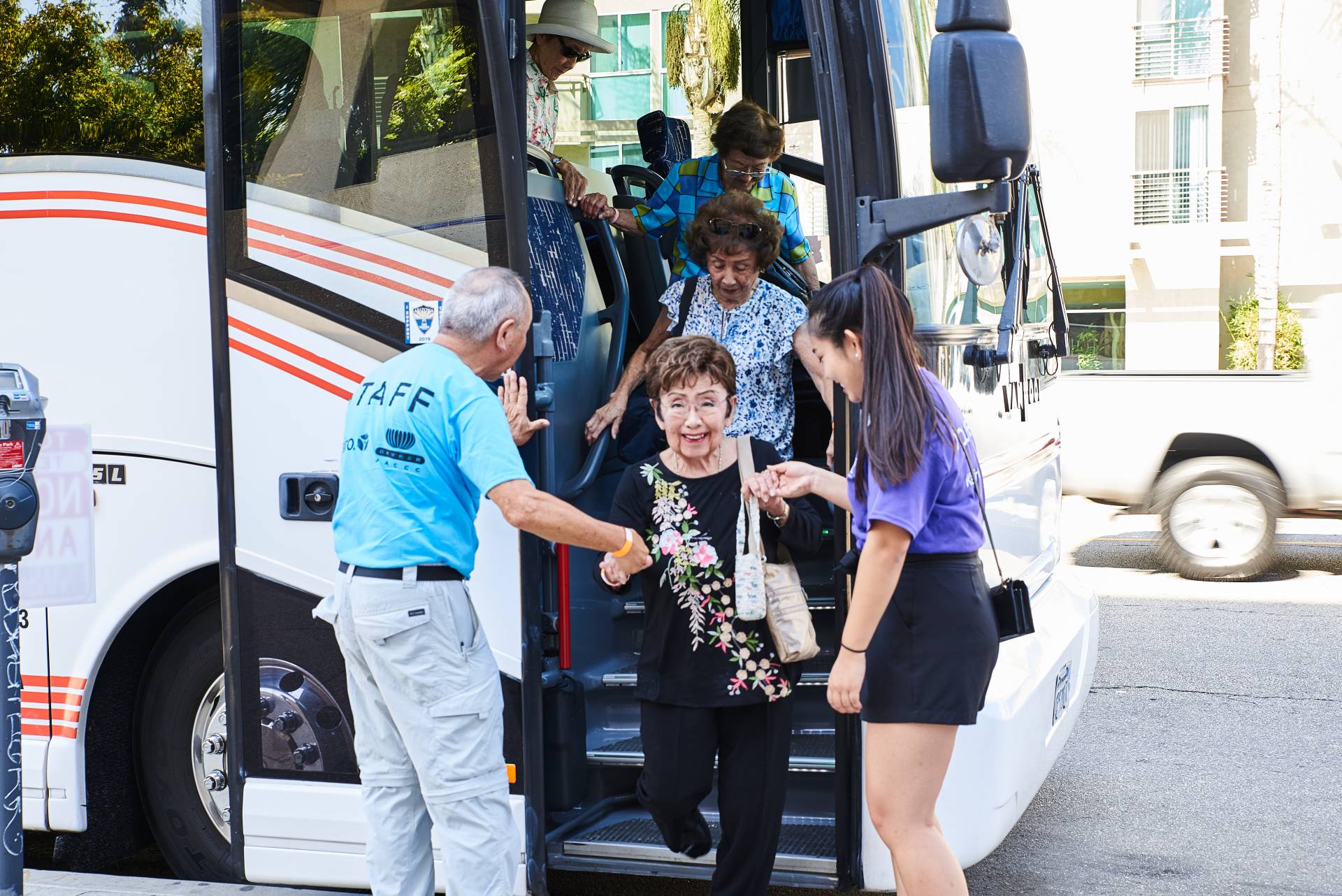 Complimentary bus transportation was popular among attendees, with an increase in the number of buses provided this year. People rode from the East San Gabriel Valley Japanese Community Center, San Fernando Valley Japanese American Community Center, Venice Japanese Community Center, Victor Fellowship in South Bay, and even as far south as the Orange County Buddhist Church.
Young Volunteers Support the Day
Keiro no Hi is meaningful not just to those enjoying the activities, food, and resources, but also to those behind the scenes. Close to 70 young volunteers turned out, many of whom were representing their colleges and universities from the Intercollegiate Nikkei Council. They dedicated hours to helping Keiro staff and supporting the event's service and needs. And their presence did not go unnoticed!
"The amount of young people here this year is great," said Sandy, while sitting at lunch with her friend, Caroline. "I wasn't as active when I was younger and I recommend young people now to get active in culture and community."
Today, Sandy is very engaged with the community, whether it's attending classes with Keiro, or volunteering with the Japanese American National Museum. After attending Keiro no Hi last year, she enjoyed seeing so many new faces at this year's event.
From meeting new friends to trying new things, many who came this year were glad to attend. For many, this annual tradition not only changes perceptions of aging but celebrates it as well.
"This was my first time. I ended up running into friends here and I enjoyed the program," said Sugako, who went through the trouble of taking public transportation to the festival without knowing who she might see there. "I'm glad I did, and I will continue to come."
For more photos from Keiro No Hi 2019, click here.