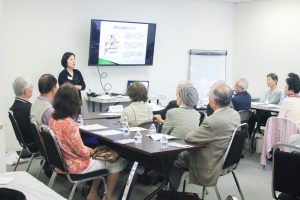 Keiro co-hosted a fall prevention presentation with Orange County Japanese American Association (OCJAA) on May 17th. Keiro staff member, Hiromi Aoyama, opened the presentation with an important message to the attendees: "falls may be a common experience for older adults, but they are NOT a normal part of aging." Presented in Japanese, the forum was attended by 45 OCJAA members eager to learn about the steps to prevent falls.
Some participants shared their fall experiences. After falling and injuring her face in a parking lot, one older woman spent three months recovering from her accident. She recognized the incident could have been prevented if she had been more attentive to her surroundings.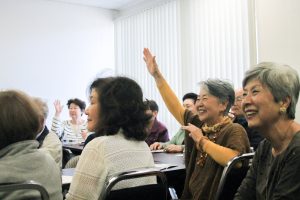 The presentation first started with the definition of a fall, which is "Landing on the ground or some other lower surface when you didn't intend to be there" according to the American occupational Therapy Association and the Academy of Geriatric Physical Therapy. After going over the definition of a fall, the class discussed the fear of falling. While falls are dangerous to older adults, the fear of falling becomes another danger for an older adult when that fear prevents them from doing things they enjoy, and that actually help decrease the risk of falling, such as going on a regular walk or having lunch out with friends. A harmful cycle of being less socially and physically active begins, leading to a decline in strength and balance and making the individual even more prone to falling.
The latter half of the presentation focused on ways to prevent falls through methods like exercise, consistent eye examination, assessing home safety to remove any environmental risk factors for falls, etc. Side effects from medications, as well as decrease in eye sight could increase the risk of a fall. Participants were recommended to consult with their pharmacists to review their medicines, as well as taking an eye examination at least once a year. Participants also received a simple checklist taken from Check for Safety brochure by CDC, to assess if their house has anything that can increase the risk of a fall.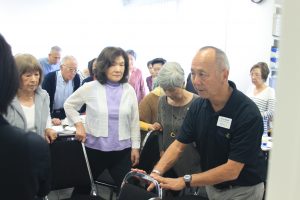 After a short break, the participants then engaged in a series of basic exercises including breathing that can help prevent falls. "Although these may seem very easy and simple, these exercises are the ones that will help you. And remember to do them slowly," explained Keiro staff member John Nakaki, who led the exercises.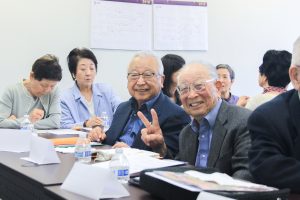 Many participants shared their thoughts after the class. The oldest attendee, 98-year-old Akemi Miyake, recalled, "I've learned quite a lot today […] I should put into practice and change some of my habits. I am so thankful for this seminar."
OCJAA board member Hiroshi Matsushita, who coordinates educational classes, saw his wife and a few others chatting for a while after the seminar was over. They were discussing how the exercises were so meaningful that they decided to do them every morning. He mentioned, "Often times, after whatever seminar we conduct, we forget to practice what we learned. After I heard from these ladies, I believe they will continue to practice in order to improve their daily lives."
Keiro holds numerous classes and seminars throughout Los Angeles, Orange, and Ventura counties, with topics ranging from healthy living to technology. Classes are offered to provide helpful information for older adults in our community so that they can age with confidence, wherever they call home. For more information, please visit keiro.org/what-we-do/classes or email [email protected].