Alzheimer's disease is one that is especially pertinent to the aging population. As people live longer – into their 80s and 90s – they have a higher risk of developing Alzheimer's disease and other dementias. It is said that 1 in 10 older adults are diagnosed with some type of dementia.
California is home to the nation's largest population of Asian American older adults, and that figure is likely to increase. Despite these rising rates, many within these communities struggle to report symptoms of dementia to medical professionals. According to studies, cultural stigma is one reason that symptoms are under-reported. Additionally, the signs of dementia can sometimes be interpreted as mental illness, triggering negative responses that ultimately prevent people from seeking help that they need.
A special project in the community wants to change that. Alzheimer's Los Angeles is reaching the community through an innovative educational video series, "Faces of Caregiving." With funding from the Keiro Grants Program, the organization seeks to educate people about dementia while also destigmatizing its diagnosis.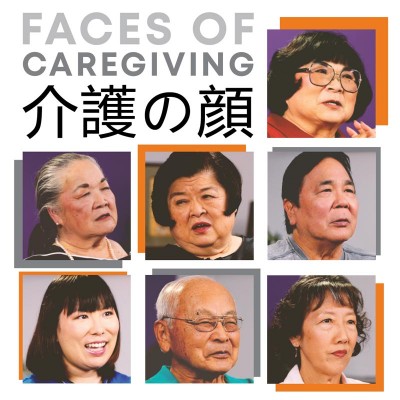 "Faces of Caregiving"
In the film series, Japanese American and Japanese caregivers, who are caring for older adults with dementia, open up to share their unique and powerful stories, all in an effort to provide insight and support to others in similar circumstances.
The "Faces of Caregiving" awareness and education campaign explores this powerful storytelling tool. Through screening events held across Southern California, community leaders, residents, family and friends get a chance to listen to others' experiences and share their personal journeys.
The event is catered not only to current caregivers, but also future caregivers who can benefit from learning more and finding resources that may help when they step into this role.
Outreach for Change
Angie Yeh, manager of Asia Pacific Islander Services at Alzheimer's Los Angeles, knows the challenges firsthand, as she observed her grandfather at the end of his life.
"The 'Faces of Caregiving' video series began because I truly believe that we live in an age where we must be innovative," she says. "And part of that innovation is to use tools that we might not have used in the past."
Before a crowded multi-purpose room at the Gardena Valley Japanese Cultural Institute, one such screening event served as proof that the stories were meaningful and important. For Japanese American and Japanese caregivers in particular, it was not only a way to connect with the featured caregivers in the videos, but also to connect with different experiences shared among the audience.
Storytelling
As a series of intimate interviews, the "Faces of Caregiving" bilingual collection explores different themes with a common thread of caring for loved ones with dementia.
Tamo
Before his wife was diagnosed with Alzheimer's disease, she took care of the bookkeeping and household duties. When the symptoms became harder to manage, Tamo had to take on these responsibilities in addition to caring for her.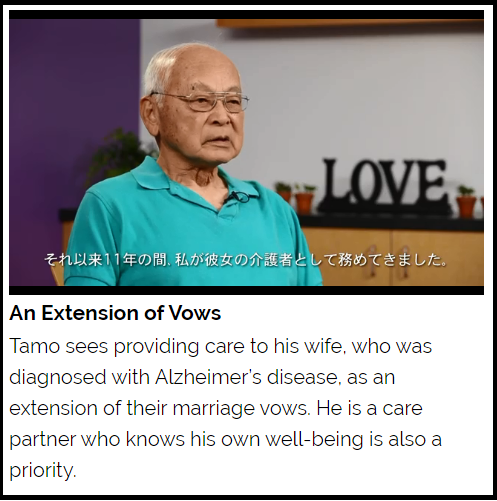 Tamo sees these caregiving responsibilities for his wife as an extension of their marriage vows. He says it is a part of life.
In his interview, Tamo explains the stigma he grew up with around caregiving such as women being a typical image of a family caregiver as well as how it's difficult for men to accept that a family member has dementia, and how he overcame those misunderstandings.
"I want people to learn that it is difficult but it's nothing to be ashamed of," he says. "More caregivers should ask for help and know that resources are out there for them as well." He especially wants people to understand that taking care of your own physical and mental health is still important.
Alice, Jane, and Elaine
Three sisters found support in each other while caring for their mother through her journey with dementia. While their mother was originally diagnosed with Alzheimer's disease, after seeing multiple doctors, they finally found out that she actually had vascular dementia.
Their story highlights the important fact that Alzheimer's disease is not the only type of dementia. And between the three of them, the sisters learned that their journey still continues.
In their mother's memory, Alice, Jane, and Elaine take part in research to better understand the disease, and continue to give back — reminding caregivers that positivity and joy can help our loved ones age with grace.
Continued Stories
Other interviews include Jane, who speaks about the strength in seeking support from the community; and Cory, who reminds caregivers that knowledge is empowering. To this day, those who participated in the series say others have reached out to them in appreciation. The power of storytelling can educate us while creating unexpected and relatable connections.
---
The series can be found through the Alzheimer's Los Angeles website, YouTube and social media channels.
Alzheimer's Los Angeles continues to provide services tailored to the cultures, specific needs and circumstances of local Southern California families.