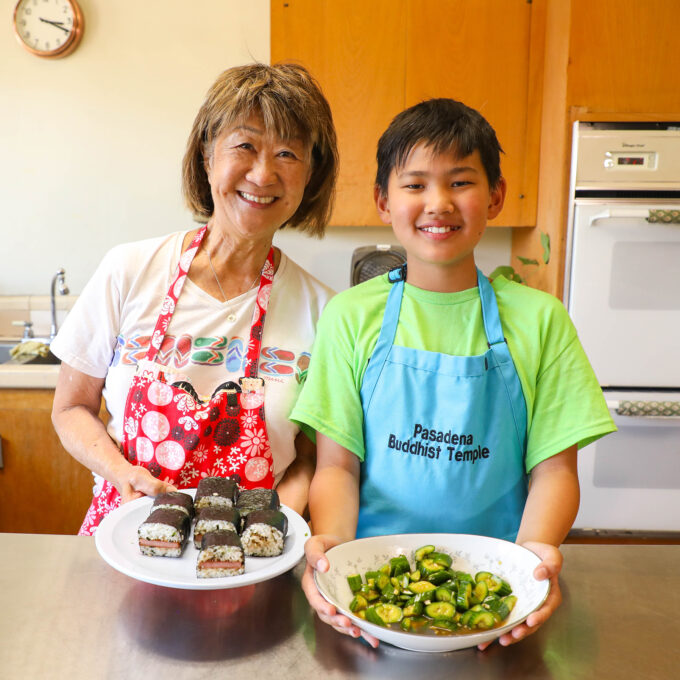 Whether making a recipe that has been passed down in your family, trying new foods together, or simply sitting down to enjoy a meal with your loved ones, food never fails to connect us with each other. Conversations over food or while cooking together can help deepen connections and strengthen relationships, even among family members. Keiro invited Jeannie and her grandson, Acen, to participate in a cooking video together and share how food continues to bring together people of all ages.
Taking it Step by Step
Jeannie and Acen decided to cook Acen's favorite dishes: cucumber salad and Spam musubi. While cooking, Jeannie and Acen engaged in small talk about various topics such as Acen going to middle school, their favorite foods, and how Acen trades his Spam musubis with his friends at lunch. "Sometimes they have stuff I like, and [they may] have stuff I like. It is pretty funny!"
Jeannie would walk Acen through the recipes while passing the reins onto him to cut, pour, and mix the ingredients. Once they got started, Jeannie reminded Acen about a technique that she taught all her grandchildren while cutting foods called "kitty cat fingers" where you tuck in your fingers on the hand that is holding the food. Acen immediately knew what she was talking about from past cooking they've done together.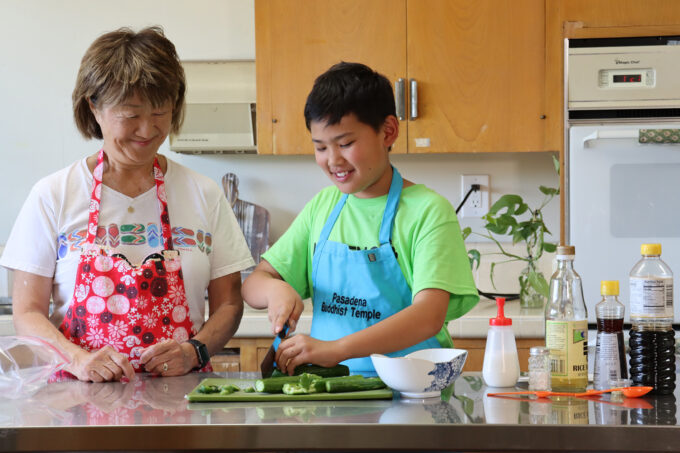 When it came to measuring the ingredients, Jeannie would give Acen a small math quiz by giving him measuring spoons that were a little bit smaller than what they needed so that Acen could think about how many spoons to pour.
Showing Their Grandchildren the Ropes
Jeannie and her husband regularly spend time with their grandchildren, which often involves picking them up from school, hanging out together, and cooking a wide variety of meals for them. More than anything, Jeannie enjoys sharing recipes with all of her grandchildren by teaching them hands-on cooking skills as they help her prepare the food.
"Acen didn't help [me cook] in the beginning, it was always the girls. And now that the girls are busy with high school and middle school homework, he has become my assistant in the kitchen," Jeannie shared.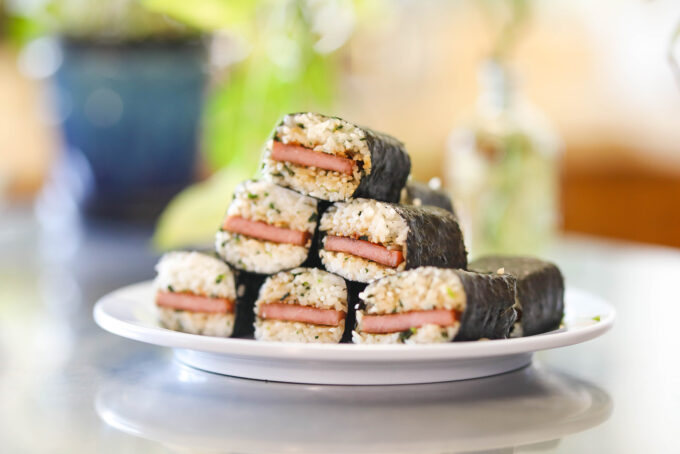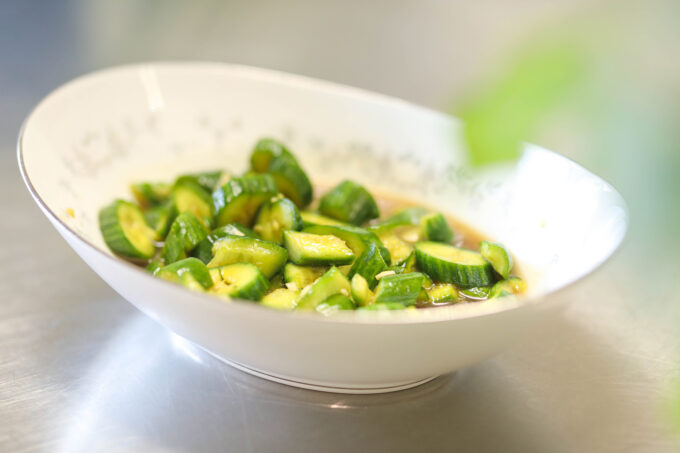 What Jeannie enjoys most about cooking with her grandchildren is that they can share and experience Japanese and Japanese American culture through food. "I remember being embarrassed taking nigiris for lunch, but my grandkids don't mind it at all," said Jeannie. It makes her happy that they all really like the food!
Making Memories Over Food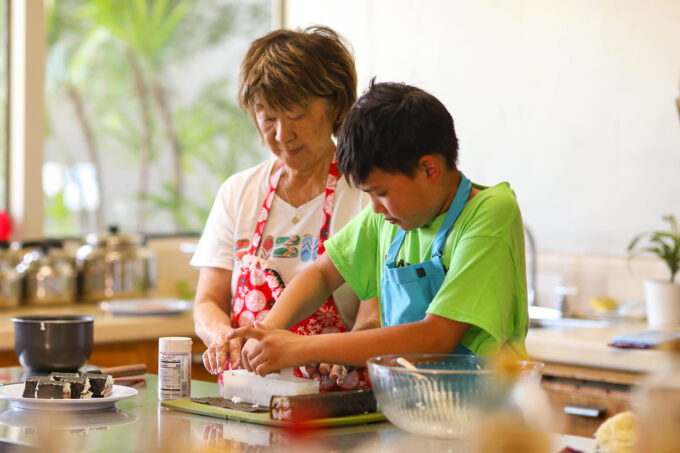 Acen asked his grandma, "What's your favorite family memory over cooking or food?" Jeannie said that although it is difficult to choose because they cook together so often, she would say that her best memories surrounding food with family are during New Year's because they cook many types of dishes that they would not normally eat year-round.
When Jeannie returned the question to Acen, he reflected on a past trip to Hawaii that they took as a family with his cousins from out of state who they don't see as often. He shared, "I think it is really fun eating with [my cousins]."
In response, Jeannie said, "I think the [best] memories that we make over food are [because of] the people that we are with. The people make it memorable."
Toward the end of their cooking session, both Acen and Jeannie agreed that they both had a great time cooking together. Acen said, "The Spam musubis are fun to make and eat, as well as the cucumber salad."
Jeannie replied, "Let's hope that we get to do this more often!"
---
Watch their video here:
---