West Los Angeles Buddhist Temple
As coordinator for a Keiro-funded grant program, Connie organizes the Dining with the Dharma and 80+ Care Package programs at the West Los Angeles Buddhist Temple.
Overcoming Technological Barriers
As the pandemic continued, the sangha had concerns regarding their isolated older members. While the younger generations were able to switch to online service viewing, the older members struggled to stay connected, especially for those who did not have access to technology.
This challenge brought about the Dining with the Dharma program. The biggest challenge was finding the technology that the older members could adopt. After getting a few tech savvy volunteers to test out a number of products, they decided on 14-inch digital photo frames to provide access to services through technology. They distributed the photo frames along with videos of the temple services downloaded on a flash drive with instructions on how to view in both English and Japanese. Along with providing access to the services, they also delivered bento and provided social check-ins with members on a weekly basis.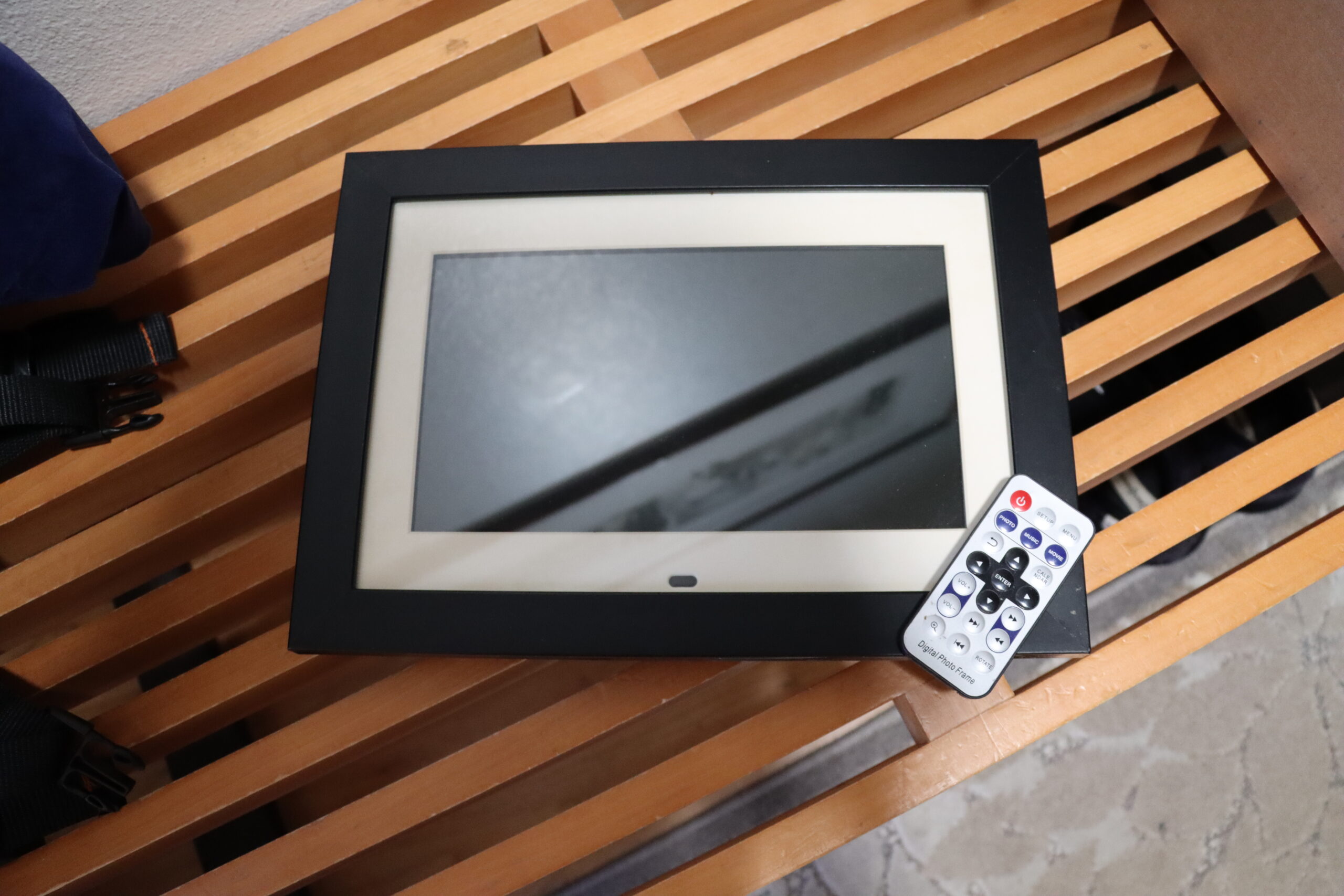 At first, the older adults needed assistance using their devices, but, Connie says this was a fairly smooth transition, and not many had hesitations in adopting the new technology. "We had instructions in both English and Japanese. The majority of them only read and speak Japanese, so having it in Japanese was helpful. Once I delivered the photo frames, I went through the instructions with our members, with the remote control, and actually went through the service. Once I showed them, I gave them the remote and had them play with it until they looked like they're comfortable. Of course, the next week I would hear 'oh how do you do this?' [laughs] and it's going to happen, so I'll go through it again but now they've become very comfortable."
Organic Inception of the 80+ Care Package and Applying for Grants
At the end of 2021, the reverend suggested delivering mochi to the older adults who were homebound. This inspired them to start another program, the 80+ Care Package, which is delivered every other month as a way to check on their members, specifically those 80 years and above. "Many of our members are widows and widowers and were isolated during that time. So even though I would visit once a week, they were happy to see somebody and to chitchat for a few minutes." With a strong base of volunteers, Connie was able to quickly start up the program.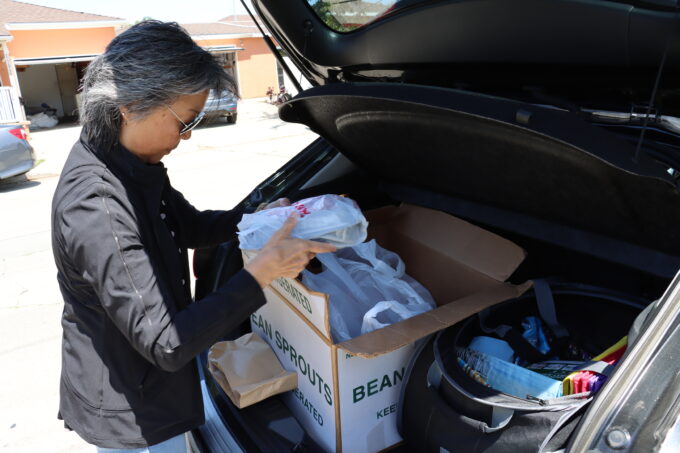 As Connie was creating these programs, she heard about Keiro's Grants Program through a friend. "I didn't realize Keiro was giving these grants until then. So we did apply, and gratefully we have been receiving grants." The grant helps them sustain and maintain these programs.
The Connecting Link: Food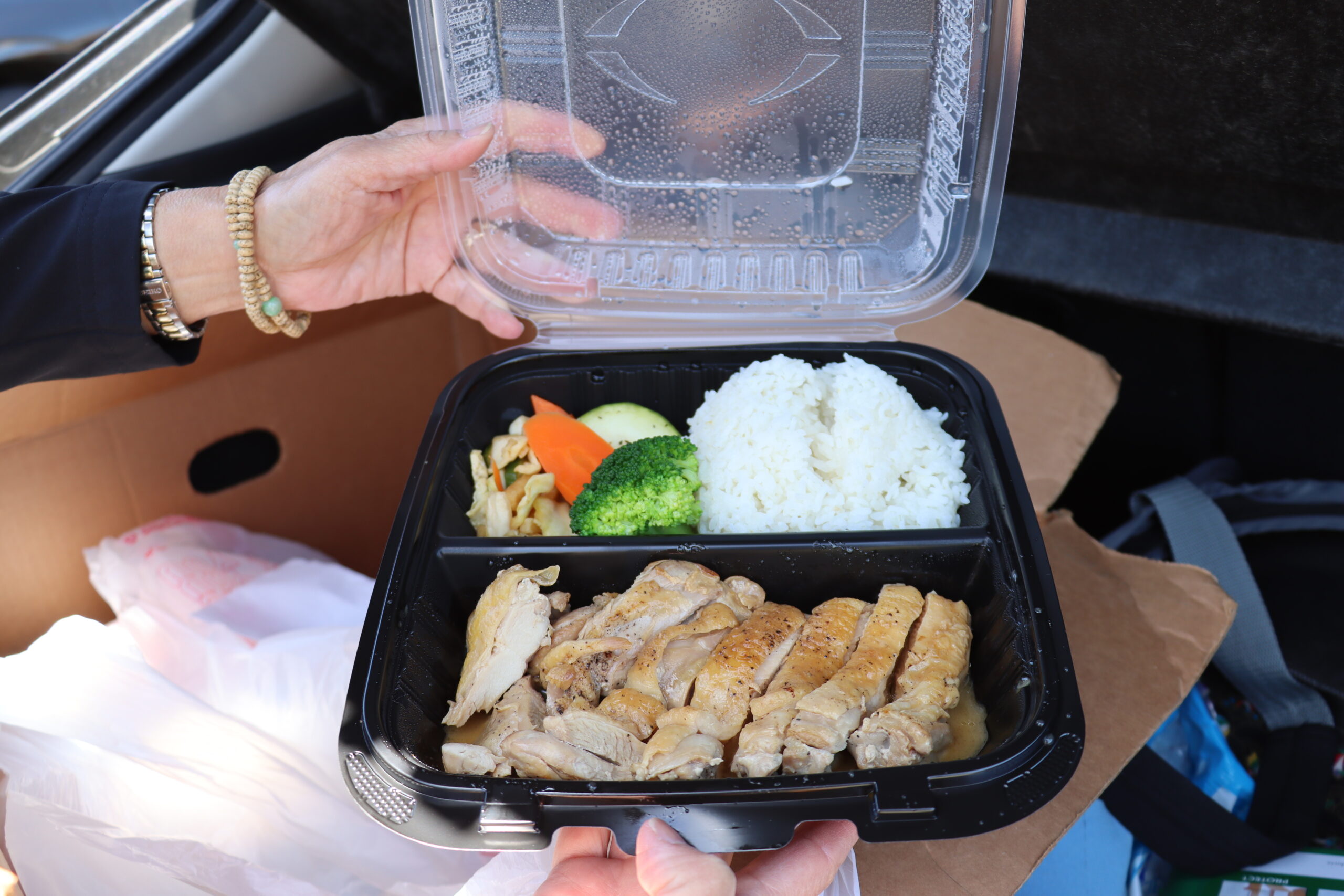 "Pre-pandemic, when we had major services at the temple, we always served lunch. I don't know if they came for the service, or the lunch, but whenever food is involved, people come." The 80+ Care Package and Dining with Dharma take on this food element through deliveries. Some deliveries are bento while other times, ingredients are sent so they can easily cook at home. Meals remain a key part of the two programs. Connie added, "Even though they can't have a meal together, it brings them happiness. Everyone loves to eat, and that always brings people together."
New Connections and Stronger Ties
Beyond the food aspect, one of the biggest impacts Connie saw was that there are more genuine connections amongst the sangha. "Before the pandemic, the older members would keep to themselves. They had these cliques, especially because of the language barrier. So [the older and younger generations] never got a chance to get to know one another. [For the deliveries,] I tried to assign the same group of members to each volunteer driver, for them to build rapport."
They have also asked the students of the Japanese Institute of Sawtelle and the basketball youths of the WLA Youth Club to write letters in Japanese and English for our older members. The letters, which are included with the 80+ Care Package, are appreciated and enjoyed by all that receive them.
Connie has also had a newfound connection with many of the members. "I've really gotten to know these people. Before it was just 'oh hi, ok how are you' and that was it, but now, they're really like my friends, even though they're 90 years old."
Connie and her team continue to think of other ideas to support their older members in the future. "If we come up with something else, Keiro will be the first to know!" she exclaimed.