Iyashi Care has served over 200 patients since the beginning of the program, delivering culturally-sensitive palliative care to Our Community's older adults. Two and a half years into the program, we interviewed three Iyashi Care team members to share their journey. In this five-part series, we dive deeper into how this program benefits Our Community.
Iyashi Care provides a personalized approach to each patient and family's situation. What works for one person may not work for another. Yet through these interviews and stories, we hope to show the many different options and Iyashi Care experiences.
* This partnership program between Keiro and Providence Health & Services provides the patient and their family with an additional team of doctors, nurses, and social workers that helps them navigate through their illness within a complex health care system.
PART 4: CULTRALLY-SENSITIVE CARE
How does Iyashi Care support Japanese-speaking patients and their families?
Kanako Fukuyama: For Japanese-speaking patients, I notice they need assistance with understanding the medical system itself. Even if they understand English, medical terms are often more difficult to understand, so they feel comfortable hearing it in Japanese.
Dr. Yuichi Edwin Yanami: I sometimes talk to their doctor to get a sense [of the situation] and then call the family to clarify too.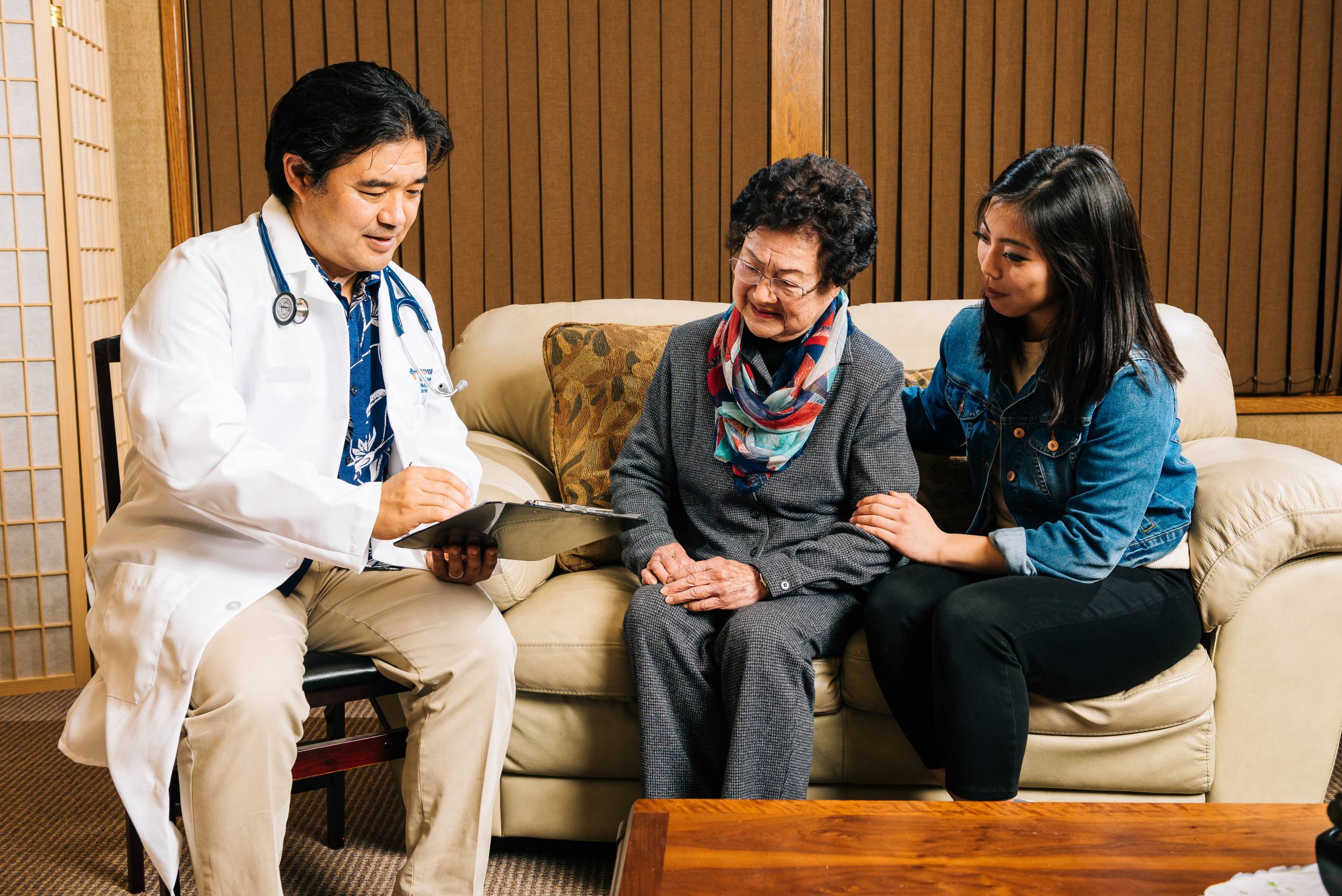 Do you act as a translator for them?
Dr. Yanami: I like to say interpreting in a big sense and clarifying the situation than translating directly. I try to tell [them] in Japanese with a doctor's perspective. But even in English, I think miscommunications happens. I often tell Japanese speakers, "Trust me, this happens even if it's in English." (Chuckles)
Is there any specific part of the United States health care system that Japanese-speaking patients struggle with?
Kanako: I think it's validating what they're going through. They're so frustrated that it's so different from what you do in Japan.
Dr. Yanami: I think because of my background, I think I have a little more empathy towards or awareness of their struggles. I know that patients who come from a different medical system might have a lot of suspicion of… what is going on and what is right. Sometimes for these patients who come from Japan, it's reassuring to say that even if you spoke English, you have to go through this process. Or even in occasions where they need more language support, more often than not they are doing the right thing. They're just not sure if they're doing the right thing, or getting everything they can.
Kanako: It is a struggle for these patients because they have to act and make sure things are being done. Cancer patients have to be on the phone [for] many hours trying to get approval for therapy. Or making phone calls to clarify bills. I guess in Japan, they probably have an understanding so maybe they don't have to do that much, or someone can do it for them but here you have to do it by yourself.
Do you ever suggest going back to Japan as an option for these patients?
Dr. Yanami: For some, I actually do bring it up in an upfront way for certain cases. Like couples who don't have children, or if there is no intention of going back to work here. Basically, [only] in situations where it makes more sense to go back to Japan.
Kanako: It's not an option for everyone, of course. It's an option for people who are still well enough to be able to go home, to tolerate the trip. We also assess the support system they have. If there is a support system, whether it's Japan or elsewhere, we recommend relying on that.
Dr. Yanami: It's actually unique because you can get treatment back in Japan. For other countries, they may not have care that's as structured as in the United States, so in that case I wouldn't recommend it as an option.
What is one type of support you provide for those moving back to Japan?
Dr. Yanami: We have supported a case where I wrote a referral letter in Japanese for the patient. It's used for when they transition back to Japan with their new hospital or doctor.
If you ask for a medical record in the U.S. system, they usually give a very thick package to bring back. So I created a two-page summary in the referral letter to have a smoother transition. It's not that they can't read English, but having to go through hundreds of pages is not helpful for the medical team in Japan.
In your opinion, what does culturally-sensitive care mean?
Kanako: You know… you think culturally-sensitive care is to know their culture, know the small nuances, but I think it really means to be mindful about other people's needs. Being compassionate and mindful about what this patient or person is really like, or being aware of what they prefer and need right now is important.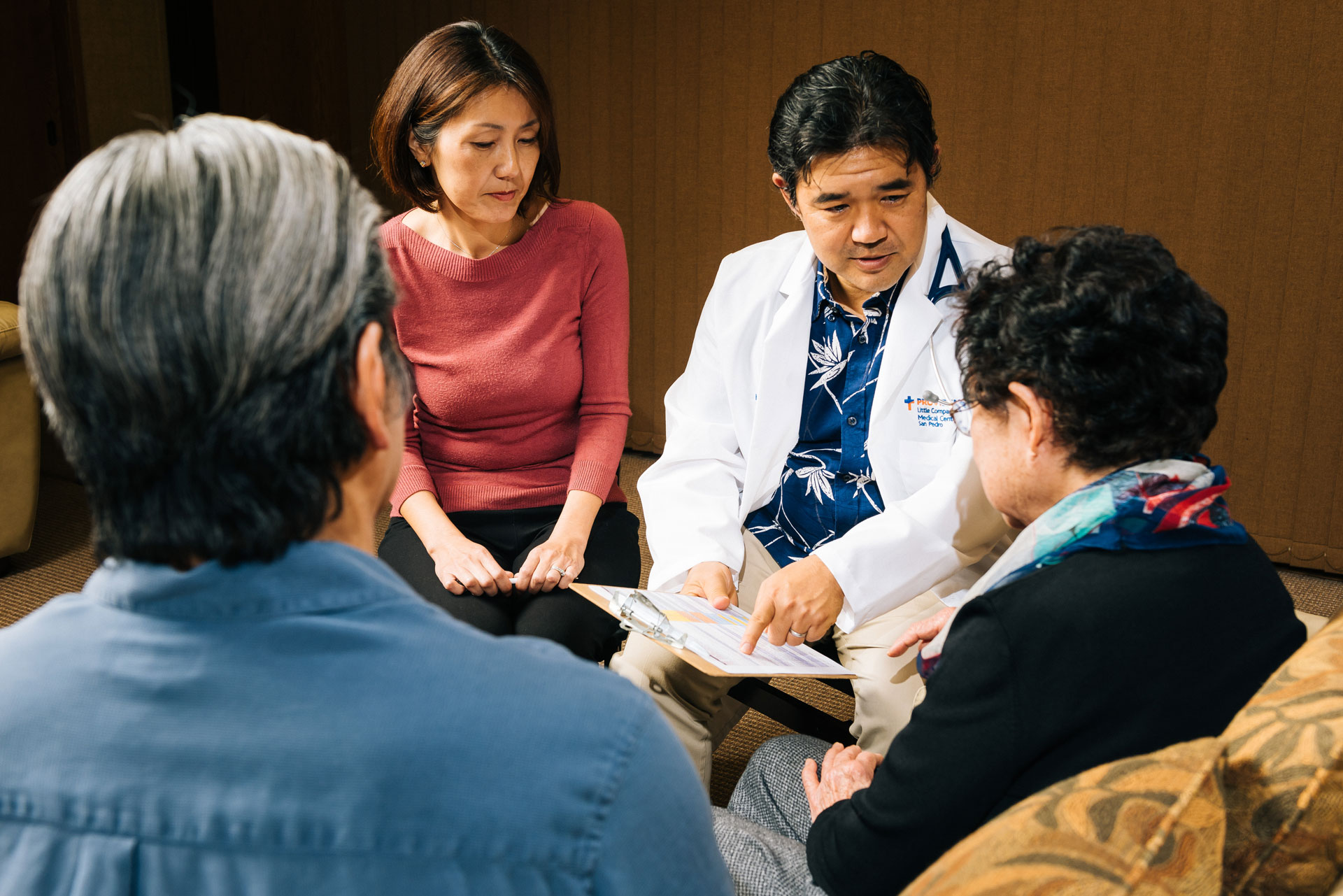 Dr. Yanami: Just because someone is Japanese or Japanese American, doesn't mean everyone is the same. Their values, what is important to them, and their family dynamics are very different from person to person, family to family. When I went into this field, I initially thought since I'm Japanese American, I kind of know what the patients are thinking. But it's a universal approach to any patient, to be respectful of their culture and keep an open mind. I guess that's what I'm learning as we go. I think just because we are in the same ethnic group, doesn't mean we know everything about them.
Any specific examples?
Dr. Yanami: I have a patient who is 80 years old, who is bedridden at home, and hasn't gone to see a doctor in a long time. But he wants to die here (at home). He says, "I don't want to go to the doctor." His brother, who lives with him, says, "This was the way it was for my mom. We cared for her here. She never went to the doctor, and she passed away here. We were wondering if we could do the same for him." The family was worried that if something happens to him and they haven't taken him to the doctor, the police and adult protective services would be involved and they would be accused of elder abuse. So we stepped in. We told them we are here, we are validating you. After quickly examining to make sure they're not being unreasonable, we said, "If that's his wishes, and if that's what he wants, we can support that." So, I think that's culture… like culturally-sensitive care that we provide. This happened to be a Japanese patient but [this situation] could have been [present in another culture]. Everyone's values are different and we should be respectful and not project our values onto them.
We could have examined the situation more closely, but we didn't because that was his wish. I think we are culturally-sensitive not just in the Japanese sense but also the family's culture and what their tradition is.
Culturally-sensitive care can take different forms based on the needs and preferences of both patients and their families. The approach taken by the Iyashi Care team is one led with compassion as every situation is unique to each patient and their circumstances. This personalized form of care and compassion from the team are critical parts of the service delivery offered through Iyashi Care's whole-person care model.
Read part one of this series here
Read part two of this series here
Read part three of this series here