PART 2: Supporting caregivers and the most common case – living with dementia
Iyashi Care has served over 200 patients since the beginning of the program, delivering culturally-sensitive palliative care to Our Community's older adults. This partnership program between Keiro and Providence Health & Services provides the patient and their family with an additional team of doctors, nurses, and social workers that helps them navigate through their illness within a complex health care system.
Two and a half years into the program, we interviewed three Iyashi Care team members – Dr. Yuichi Edwin Yanami, physician, Kanako Fukuyama, social worker, and Joshua Northcutt, nurse – to share their journey. In this five-part series, we dive deeper into how this program can benefit Our Community.
Iyashi Care provides a personalized approach to each patient and family's situation. What works for one person may not work for another. Yet through these interviews and stories, we hope to show the many different options and Iyashi Care experiences.
What the Iyashi Care team offers is to support not only patients going through various types of illnesses, but their family members who care for them. Specifically, what kind of support do you provide for these family caregivers?
Kanako Fukuyama: A lot of validation for these caregivers. Often times they need it. They're not sure if what they're doing is right or enough. We also discuss future care options like, "If this happens, then let's consider this option." We constantly check in on them and see how they're managing with caregiving, and give appropriate resources.
Dr. Yuichi Edwin Yanami: Caregivers often don't know what's happening within other families, right? So, they may only see their situation and decide how good or bad the situation is. That's what we mean by providing validation. We say, "Actually you're doing really well," or "This is a very tough case." Like an outside opinion.
If it's too much, it's okay to ask for help. Maybe getting siblings to help you or you may need to have a caregiver. Depending on the situation, we also tell the family it's okay to place your loved one in a facility as well.
Kanako: Other ways we support include providing resources for caregiver support groups if they are isolated, and just need to connect with others to share their feelings; explaining long-term care facility options, like board and care versus assisted living; providing information on Medi-Cal, if they are interested; providing resources and options on private caregivers or in-home caregivers; giving legal assistance if they are interested in making wills, trusts, or advanced directives, or updating any of those documents; and providing resources on meals on wheels and/or transportation.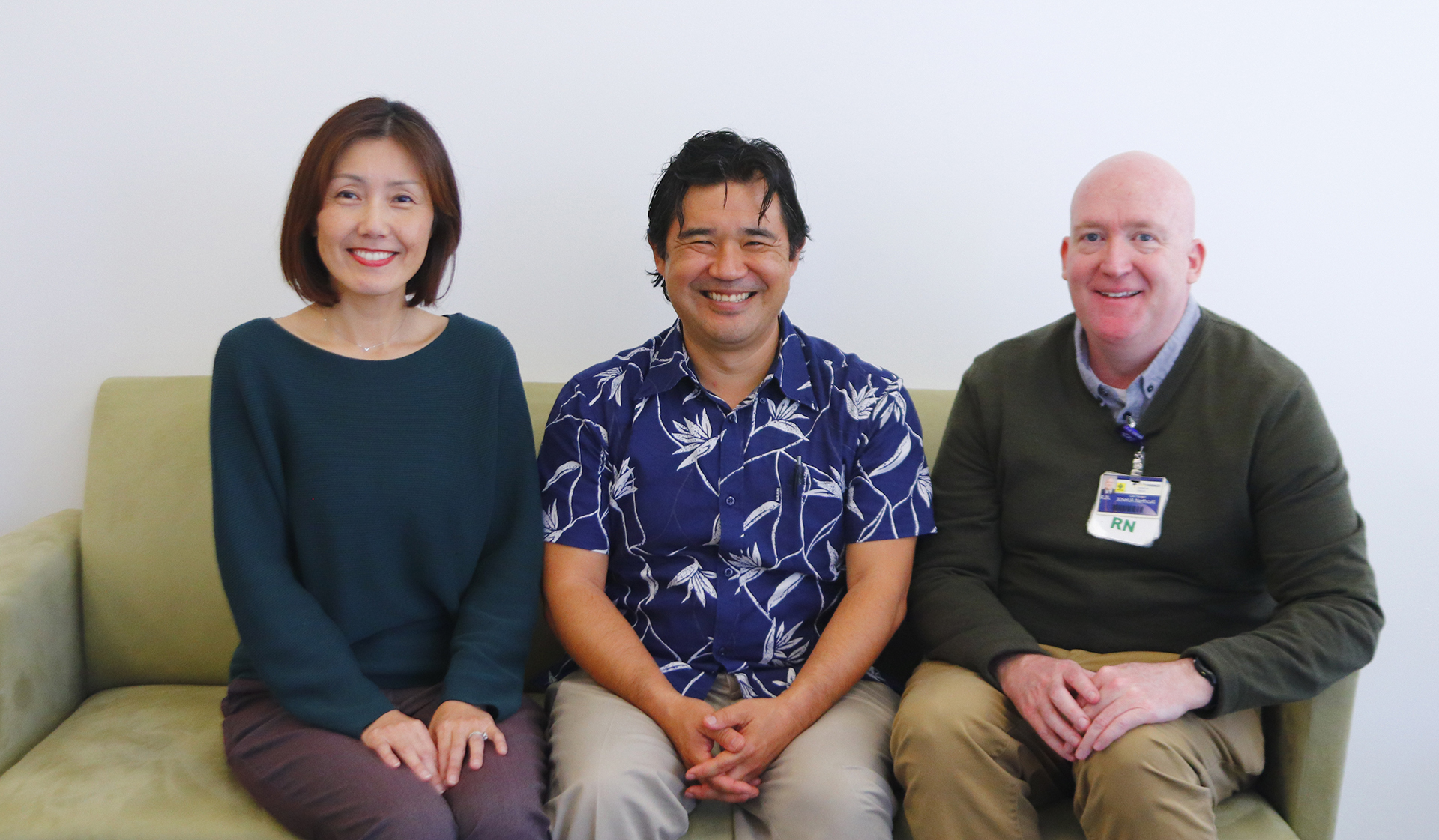 Have there been cases where families need the help but are limited financially? At that point, what assistance do you provide?
Dr. Yanami: There's a lot of cases like that.
Joshua Northcutt: It's rare that they can financially afford everything.
Dr. Yanami: We talk to them about reaching out to other family members, and tell them it's a tough time and you can't bear it by yourself to care for your loved one.
Kanako: In the past, I have referred one family to a financial planner in order to qualify for Medi-Cal*. And now he lives in a skilled nursing facility.
Throughout the two and a half years since the Iyashi Care program started, have you seen any major patterns in whom you have provided support for?
Kanako: The biggest thing we see is family caregivers struggling and needing help with caregiving for patients with dementia. I would say the majority of our Iyashi Care patients have a dementia diagnosis.
Dr. Yanami: Dementia patients have memory issues, so they tend to have decreased judgment. They are not aware of their risks, and so they are at a higher risk of falling.
Joshua: Medications play a factor too, depending on what time of the day it is. They could also forget that they need a walker or cane, and so they are prone to falls.
Do you notice community members being in denial about their own status as a dementia patient?
Kanako: Yes.
Are people still thinking that losing their memory is a normal part of aging?
Kanako: It's not that they think losing memory is normal part of aging, but they don't realize they're losing the memory. They're past that point of identifying that they are losing their memory.
Who tends to make the initial call for enrollment into Iyashi Care?
All: Family members.
What common struggles, if any, do family members who care for those with dementia express?
Dr. Yanami: I notice that the patient's family members are overwhelmed with caregiving in various ways. There are families struggling to manage a very confused and agitated patient. There are other families who may be struggling to hire a caregiver, because the patient says, "I'm fine, I don't need your help."
Joshua: Yes, denial is huge, especially among male patients.
Dr. Yanami: We get calls where people say, "My parents/cousin/sibling needs your help." When I get around to speaking with the individual they sometimes don't want any help… Those are difficult situations.
What do you do in those types of situations?
Dr. Yanami: We try to ease [the patient] into it. We encourage the family to start assistance with once a week, and tell them it's not a caregiver. The phrase I like to use is, "Now's the time to live like a king or a queen, and have people help you." (Chuckles) We try various things and hope something will work.
Joshua: If the patient is mildly confused, we sometimes say things like, "This isn't so much for you. We know you want to be independent, and keep your privacy, but this is so that your wife can do her thing, like go shopping."
Dr. Yanami: We also say, "I don't want you to fall, because falling can lead to further decline, so you'll be independent and comfortable as long as it doesn't happen. That's why we need someone to look out for you." The family is aware but we say it to both the patient and family, so that the family has the power to say, "remember what the doctor said?" and the patient may or may not remember, but at least the family is not lying.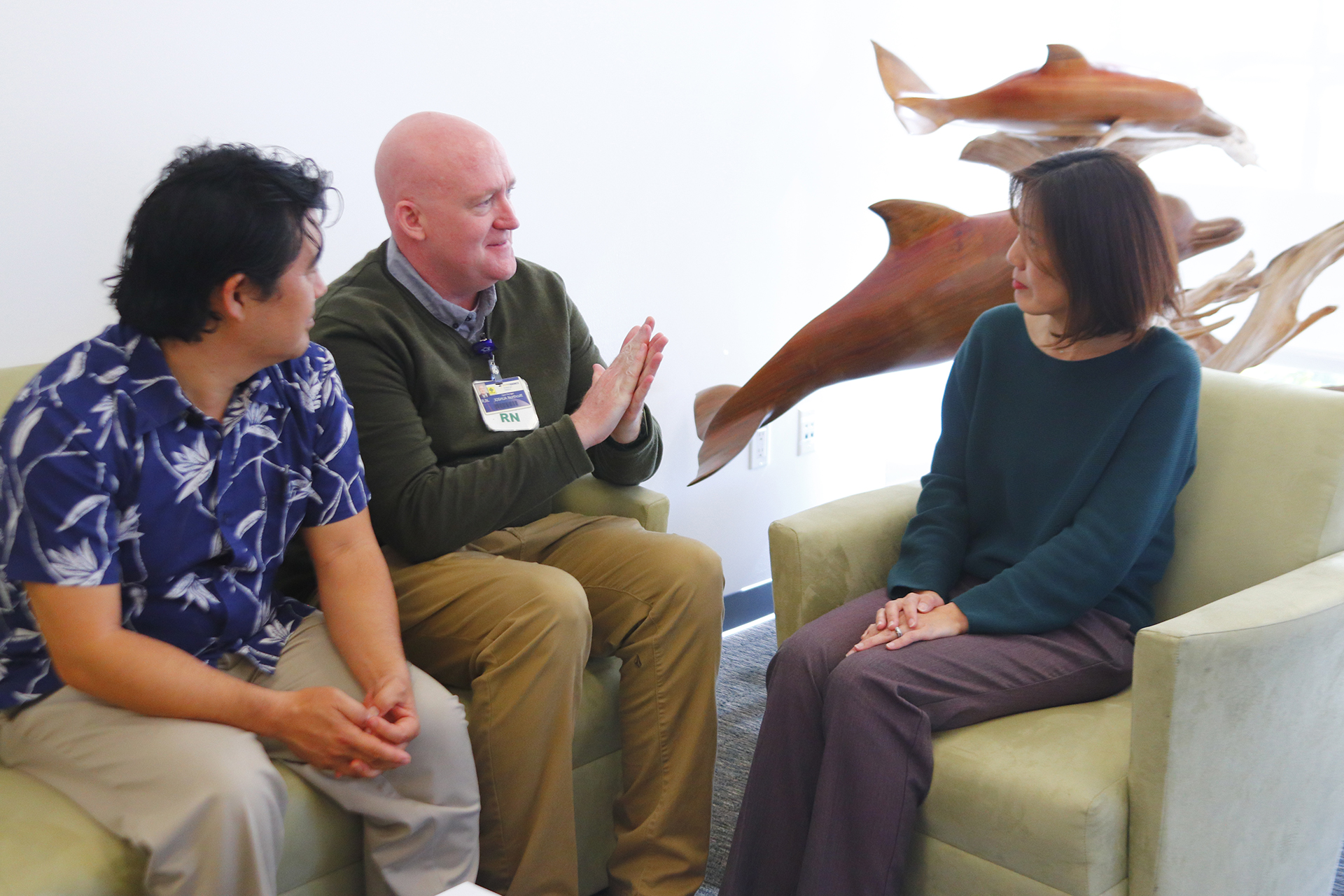 Are there times when you can't convince the patient to do something?
Joshua: We don't convince ̶ we can only strongly encourage.
Kanako: We really can't convince the patients anymore to do or not do things. At a certain point for dementia patients, if we argue, it's not going to go anywhere. I think at that point what we can try to do is to educate the family members, for example, that a patient not taking showers won't kill them. Family members may benefit from learning how to balance what is best for the patient, while also maximizing the care they provide for their loved one.
We encourage family members to try to listen to the patient's concerns and really educate them that that's part of the symptom, and we have to work around it; because what you think is normal is no longer normal for them.
Is it more difficult if the patient gets more violent as a result of advanced dementia?
Dr. Yanami: If the patient does become violent due to dementia, it may be actually easier to accept that you need help.
Kanako: When one of the family members are managing, they usually don't call us. But when it's getting to the point where family members are noticing how the reminder doesn't work anymore, or they wander out on their own, then they will call us.
Dr. Yanami: It's usually early to moderate dementia, when memory is becoming a problem, when people decide to call. It's that point when the patient still wants to be independent or thinks he/she is independent when they are not anymore. But whatever the situation is, you can still call us and share the stress rather than not talking about it.
*If you are looking for options to pay for long-term care facilities, such as a skilled nursing facility, consider consulting a financial planner to discuss options such as Medi-Cal.
Read part one of this series here