What does the term "old" mean to you? Have you started planning for the changes in daily life that come with growing older? As the next generation begins to see aging-related care on the horizon, Keiro strives to provide innovative ways to support and guide individuals on this next phase of life. We gathered four adults from the baby boomer generation to ask how they view aging, with particular focus on their different approaches to preparing for their future care. The conversations ranged from Medicare to McDonald's discounts as participants discussed the reality of experiencing and planning for the changes that come with age.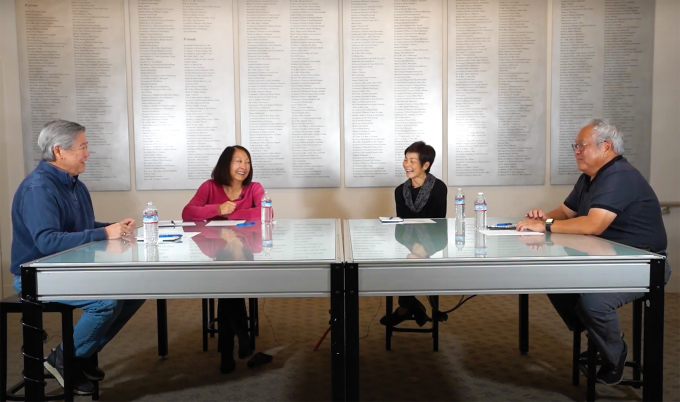 Old Word, New Meaning
It can often be difficult to determine when one considers themselves "old", or even understand what that term really means. In approaching this topic, we first asked the participants, "What do you think of the term 'old'"?
Teeny: When I think of somebody who is old, I think of the word "experienced."

Tim: It's actually not in my vocabulary yet. I don't consider it being old, I consider it adjusting, in terms of lifestyle, to our body. So I never say "old."

Deena: I don't think I've used that term too often! I used to think it was a number, but that just flew out the window. I still don't think I'm old, I just think I'm not as young as I once was!

Tim: Well that's a way of looking at it, half full versus half empty! I totally understand that. The only times you wonder is when you wake up and you feel an ache that you didn't have a day before. And you say, "Whoa, why does my shoulder hurt today? I didn't do anything."

Teeny: I realized I was kind of old when my former students turned 60. And I was going, "Oh, that means – oh."

David: When people at work started calling me "sir" instead of my first name, I knew I was old.
The Perks Never Get Old
"Old" or not, the participants found common ground with many of the perks of being in an aging generation when asked: "What is the best part about aging?" In their insights, they shared how this chapter in their life has allowed them to focus on things other than their career, whether that be caring for loved ones or grabbing a bargain cup o' joe.
Teeny: Senior discounts!

David: McDonald's 99 cents coffee!

Deena: I liked the fact that I could retire.

Teeny: Oh, yes. Every day is a Saturday. Best thing I ever did was retire.

Tim: My mindset was, I'm retiring from this career, but I'm starting a new one when I retire. Did you ever feel that?

Deena: I thought I was going to be volunteering — I mean I was, until my mom needed me more. That kind of wasn't in my plan.

Tim: Yeah. There are things you never anticipate, right? At least in retirement, you have an opportunity to devote that time to those things, versus if you were working, it would be hard to do.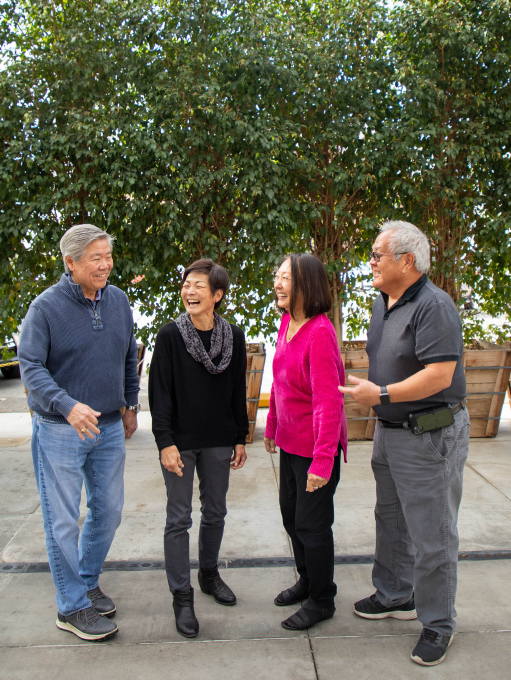 Concerns and Accommodations
The conversation then turned towards aging concerns and how to prepare for them, sparked by the question "What are your biggest concerns about aging?" Some mentioned the changes they were willing to make with their lifestyle and living space, while others noted that setting up plans for future care is an important step they should take.
Deena: Losing your mobility or independence, that's a huge concern. But what I'm seeing is that the more active you are, you do stay healthier and you keep your mind active, so that's influenced me in wanting to stay a little more alert and doing things.

Teeny: I'm also ready to get a new bathroom with accommodations, with the low entry or a seat. And I'll clear away all my clutter so I don't trip. I need to learn more about these accommodations to make as we get older.

David: Mine is Medicare. Health insurance keeps on changing – and then not having any kids of my own, like, who's going to take care of me?

Deena: Yeah. It's ideal to age at home, but since I have no children as well, that's probably not going to happen that way. I think that's kind of the reality that my husband and I are going to have to face. That's kind of my fear — that when I get older, who's going to be taking care of me?

Tim: I know this might sound bad, but I have no concerns. There will always be issues — I figure I'm going to deal with them as they come up.

David: I respect that. There's a lot of people that have feelings like you do. But the one thing I tell them is make sure you have everything in place so you don't have to think about it.
Starting the Conversation
Ensuring everything is in place includes talking to loved ones about the changes in accommodations that may be needed down the road. When we asked the interviewees, "Have you had a conversation with your loved ones about future care?", Tim and Dave expressed they have made plans and their loved ones know how they would like to age, while Teeny and Deena shared they still needed to approach their family about the subject.
Teeny: I find it hard to imagine that my two sons will take care of me. Right now it's like, I'm the only one who does stuff, so I'm going to take care of my husband who's old, but what about me when I'm at that point? I have long-term care insurance and other plans… I think I'll be the one to find the place for myself. But I need to communicate to my children what my desires are.

Tim: I think with me it's pretty clear in terms of what I want to happen. So I think my loved ones totally understand the issues. I guess in my same philosophy, when I have a problem, I'll address it. I just don't want to have to think about the whole thing because it might not happen that way. When there are issues that I need to address health-wise or mentally, then I'll address it.

David: I don't expect [future caregiving from family]. I got my living trust done, and Medicare. When I retired, I got a financial planner. So basically everything is set, in my opinion. I'll find a way to take care of myself. I don't have any kids, so my niece and nephew — I tease them, I say, "You know you're going to be taking care of me!"

Deena: I do the same thing! I don't think I've talked to anybody about aging… I don't expect my nieces to have to worry about me. I guess that conversation never happened. I think it's something my husband and I do need to talk about, because it is just us. I think I have to talk to more family members about the future, because you never know how fast that future comes.
The baby boomers closed the discussion with plenty of laughter and smiles, having become quick friends over the course of their conversation. One jokingly commented, "I've learned that yes, I am old!", while others shared how they are going to start important talks with their family members. All agreed that they would be taking time to think about the questions from the day, considering how they can best prepare to enter the next chapter of their lives.
---
Discussion Participants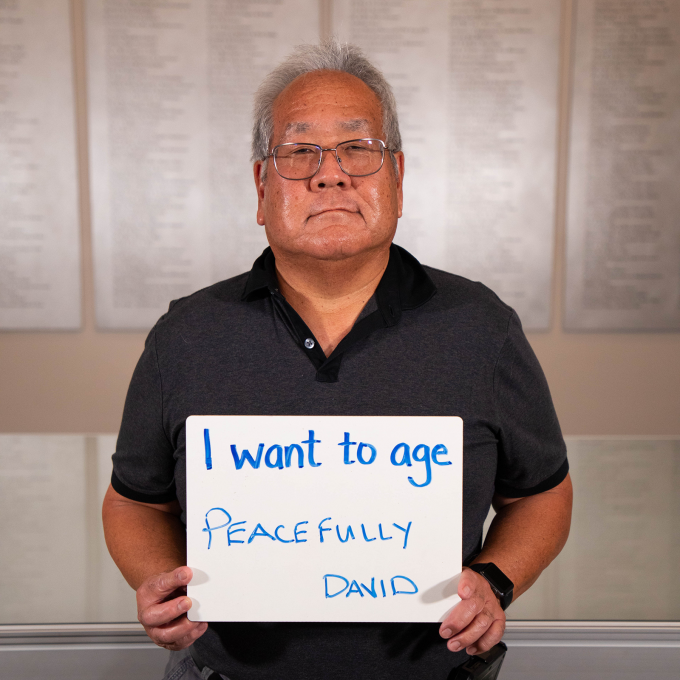 David, 63
David lives on his own and has no children. After working at UPS for 36 years, he has focused his life on taking care of himself and reconnecting with friends and family. He enjoys exercising, walking his dog, doing yard work, and detailing his car.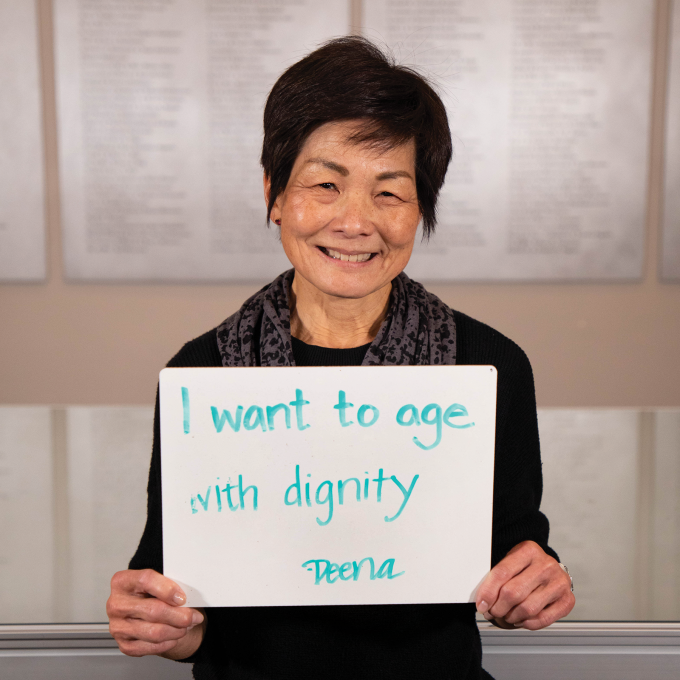 Deena, 64
Deena lives with her husband, Bob, and has no children. She and her sister currently care for their mother. Deena worked at California Children's Services as a pediatric occupational therapist for 39 years. She enjoys going on walks with her dog and volunteering with Pasadena Nikkei Seniors for their lunch deliveries.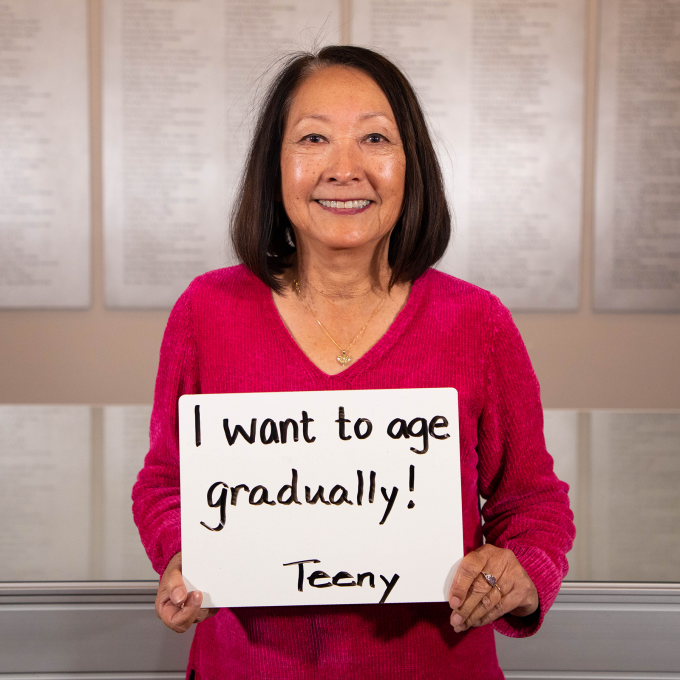 Teeny, 71
Teeny lives with her husband, Sei, and has two children. She was a teacher at Belmont High School for 37 years and still keeps in touch with her students. She enjoys spending time in her garden at home and looks forward to planting more fruit trees.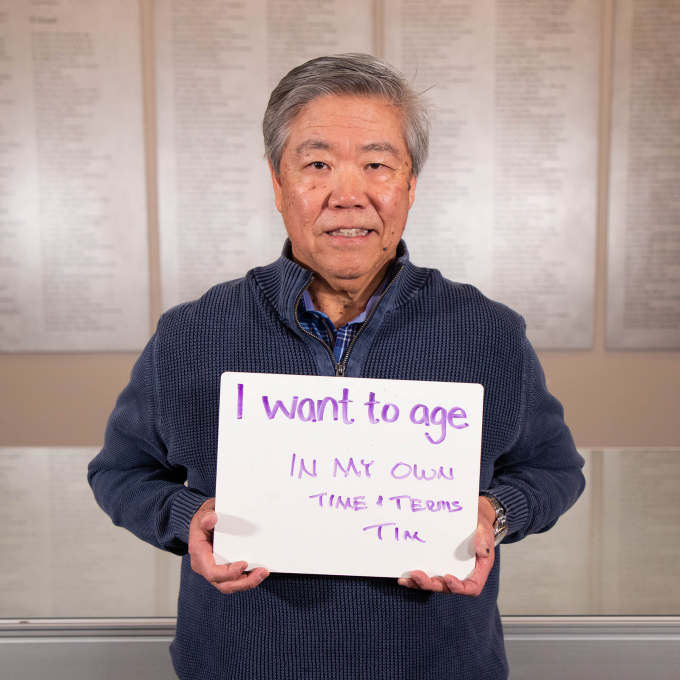 Tim, 67
Tim lives with his wife, Sandy, and beloved dog, and has no children. He is past five-time Nisei Week Foundation president. He retired from the Automobile Club of Southern California in the Litigation Division. Tim is currently president of the Board of Directors of East San Gabriel Valley Japanese Community Center.
Click here to watch the video of their conversation.
Thank you to the Japanese American National Museum for generously providing the location for this project.

To ensure the safety of all individuals involved in the filming of this discussion, all necessary precautions were taken according to Los Angeles County's COVID-19 protocols.