Little Tokyo saw its first ever celebration for older adults at Keiro no Hi on September 16, 2018. In partnership with Japanese American Cultural & Community Center, Keiro welcomed over 1000 attendees to enjoy a Sunday full of activities and entertainment.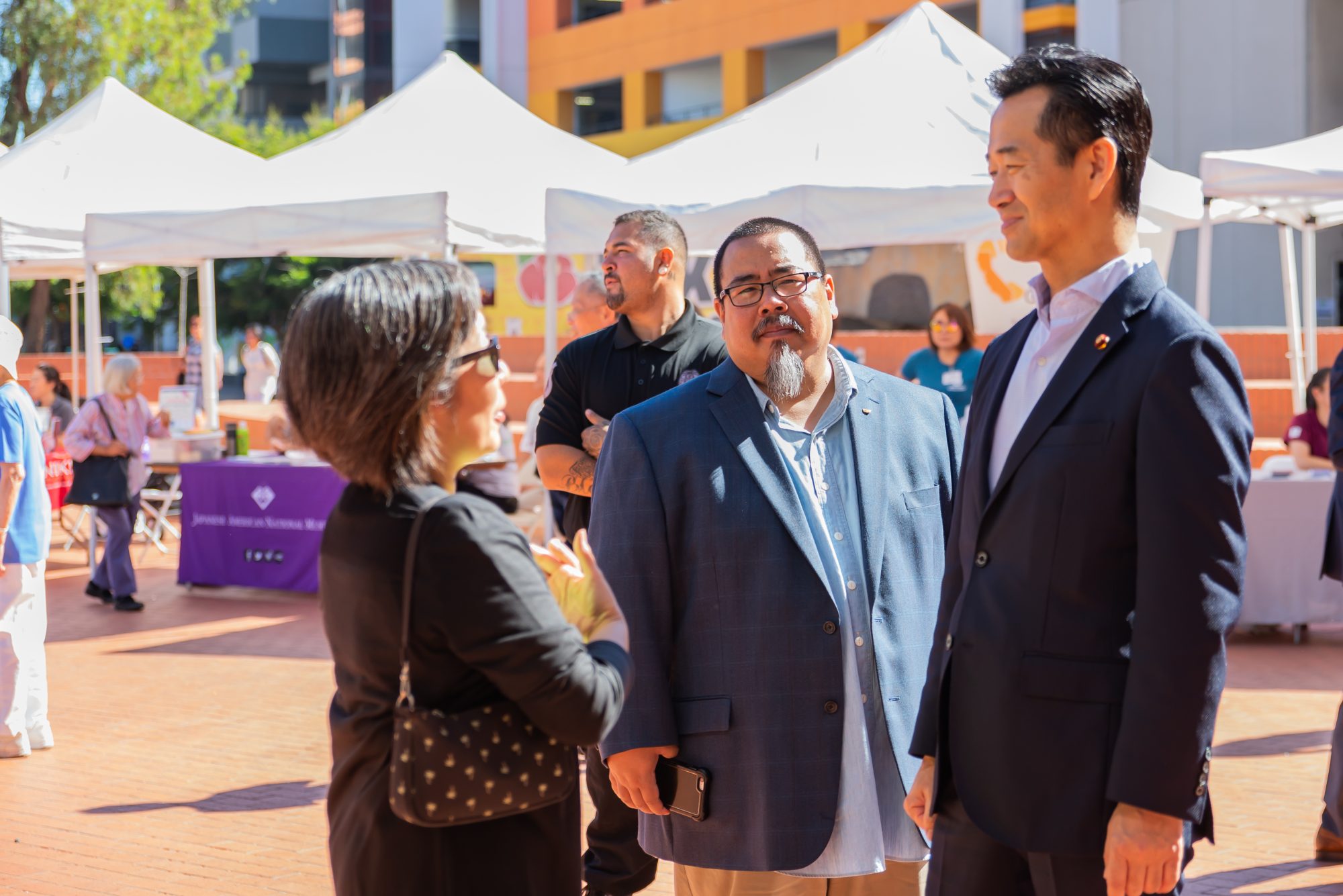 The festival honored the community's aging members with entertainment on stage, exhibitions, vendors, and other activities designed for older adults. A special visit was also made by Mitsunari Okamoto, Vice Minister for Foreign Affairs from Japan along with Consul General Akira Chiba and Consul Shigeru Kikuma from the Consul General office. Mr. Okamoto spoke briefly about the importance of celebrating our community's older adults, a sentiment shared in Japan.
All day, the stage entertainment featured senior performers, including several local ukulele groups, taiko, traditional dance, and singing.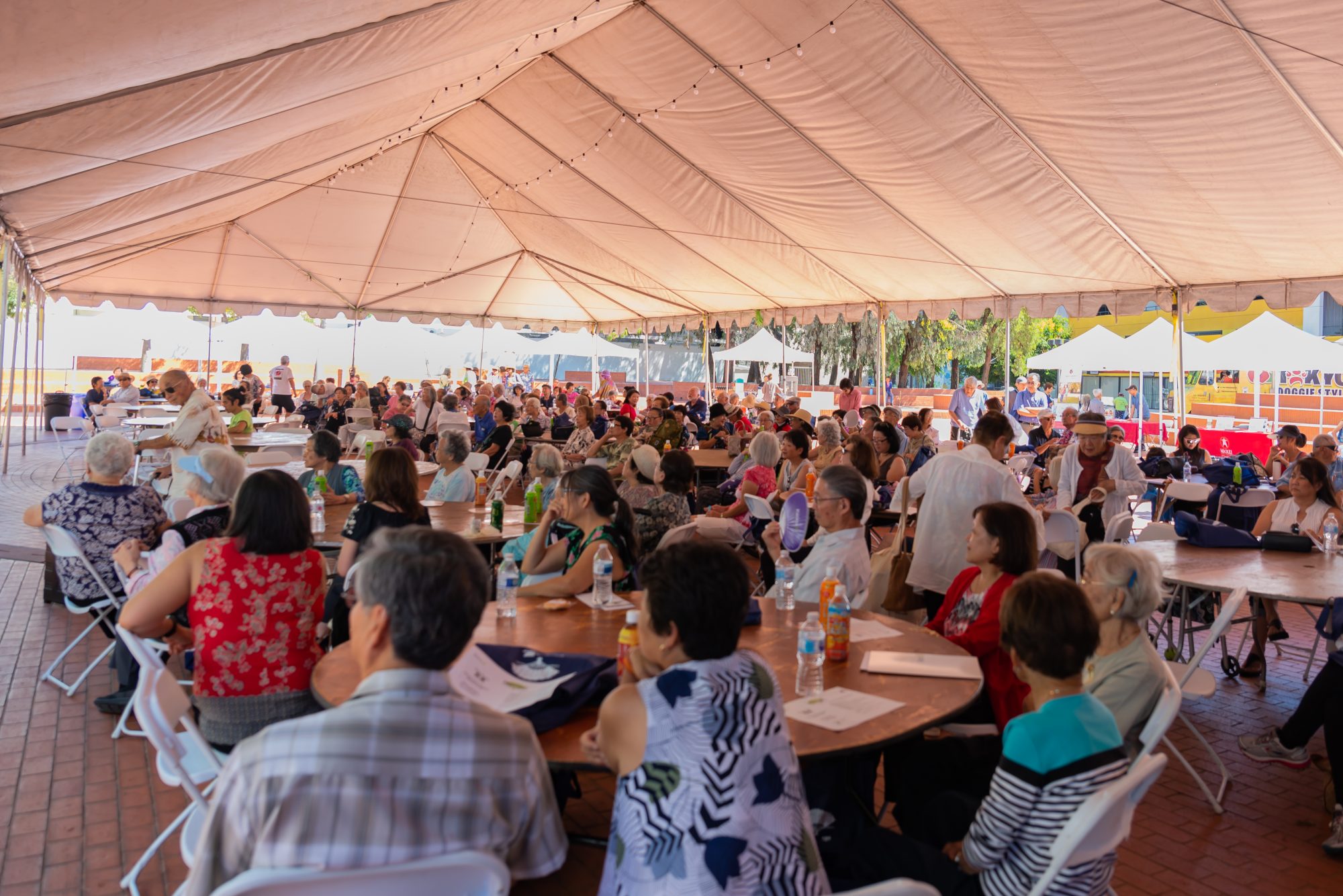 Complimentary Transportation provided
Special complimentary transportation was provided from four locations throughout Los Angeles and Orange County, shuttling about 140 older adults and their families to the festival hassle free.
Chieko Shibata from Gardena explained that using the free bus was easy and the reason why she came to Keiro no Hi. Despite coming alone, she said that she never would've made it to the festival without the service, saying hosted transportation to events like this are needed for her to get around.
"If transportation was more easily accessible, I would come to things more" Shibata said.
Hatsuko Gentry also used the bus service after seeing Keiro's newsletter about the festival. "The ride was easy and nice," Gentry said. "I prefer the bus and it's nice seeing everybody coming and enjoying this festival."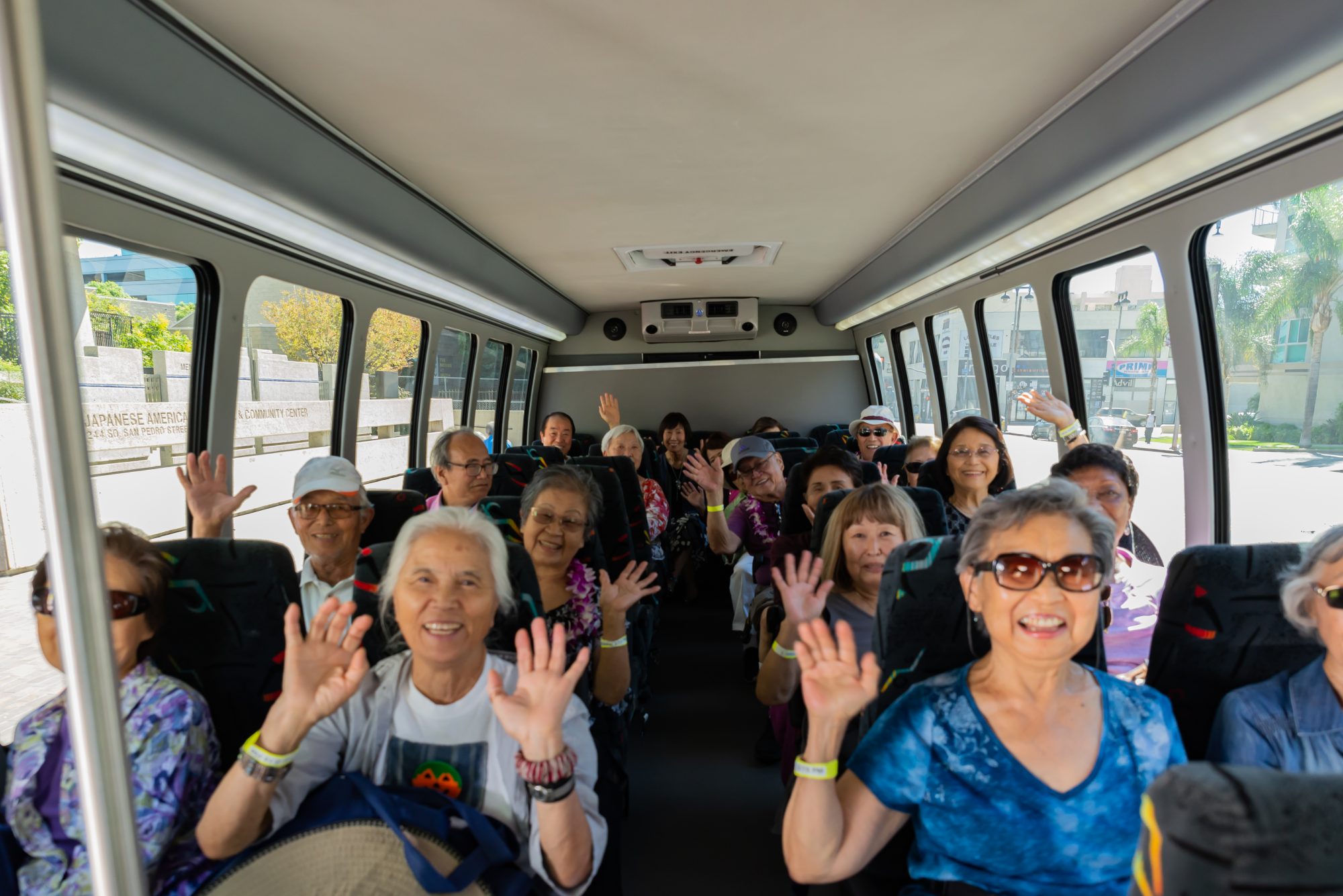 Quality Time with Family and Getting Resources
At a corner table, Gayle Wada, her mother Amy Takamatsu, and Tim Yamamoto with his parents Kenji and Hideko enjoyed the hosted bento lunch. Amy, Kenji, and Hideko also wore their special leis as gifts for celebrating their birthdays.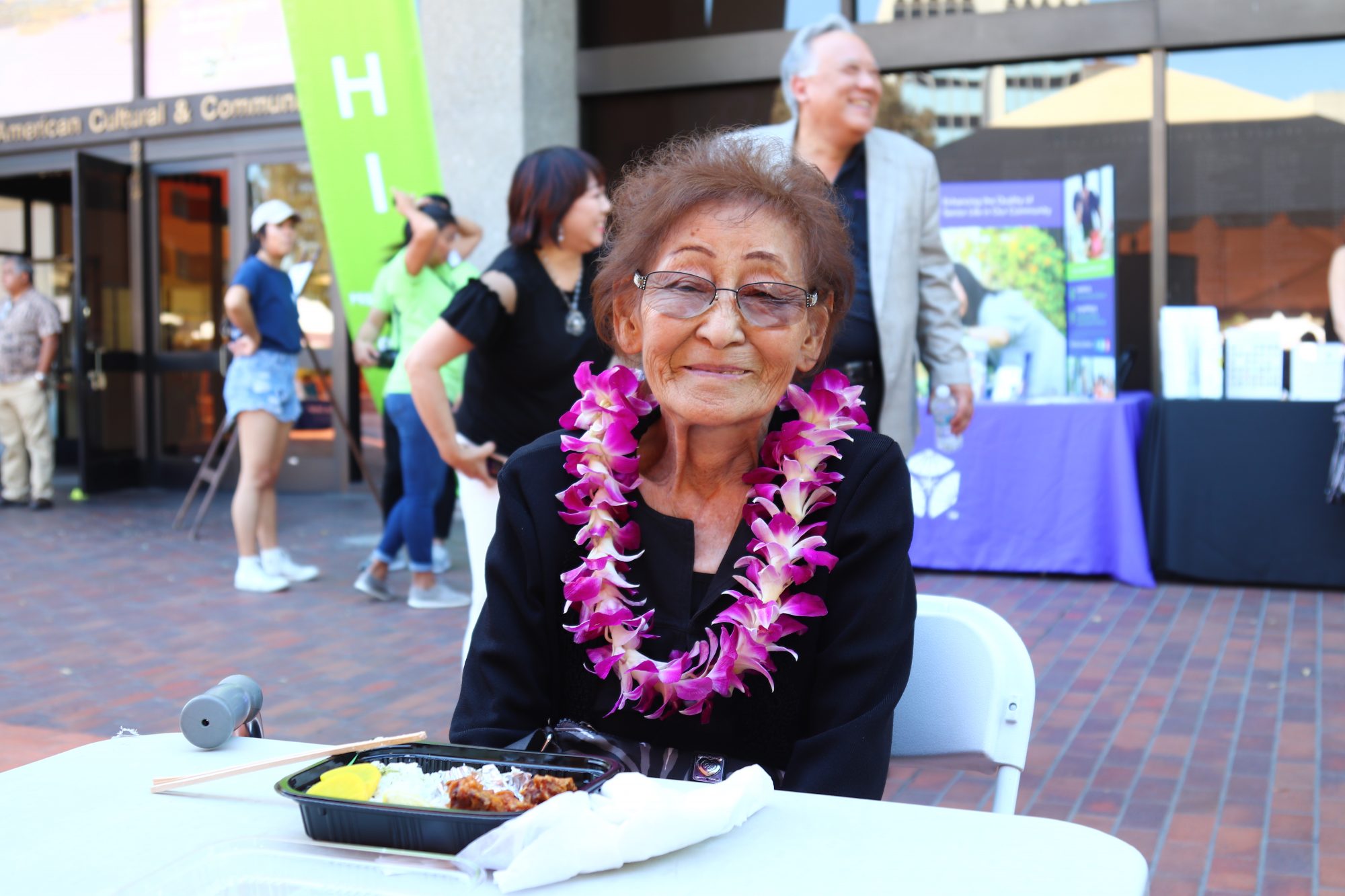 "She's having a great time," Gayle said about her mother, who only speaks Japanese and enjoys having the opportunity to go out every so often, especially with friends. She adds that the festival was a great reason for her to take her mother out.
Across the table, Tim Yamamoto and his parents, Kenji and Hideko Yamamoto, enjoyed the ukulele performance together.
Tim shared how he and his wife Tomoko are the primary caretakers for his 101-year-old dad and mom who is turning 98 this fall. He explained that the festival both allowed his parents to enjoy a day out and gave him the opportunity to visit vendors and find caregiver resources.
And like Tim, Barry Tabata,77, wanted to make the most out of the resource fair.
"It's nice to drive back, I haven't been back for a long time." Barry said he saw the festival as a reason to see the JACCC Plaza. While he and his wife Hatsue both wanted to meet friends, watch performances, and enjoy a bento lunch, they really wanted to learn more about what to do about getting old.
"The Adapt=Ability table was a very helpful booth," said Barry as he carried a folder with flyers. He went over a checklist of things to do for his home like installing hand rails and ramps.
"I also worry about dementia and what to do about that," Barry said. He made it a point to visit the Iyashi Care team as the day went on.
Iyashi Care table and Calligraphy Exhibition/Workshop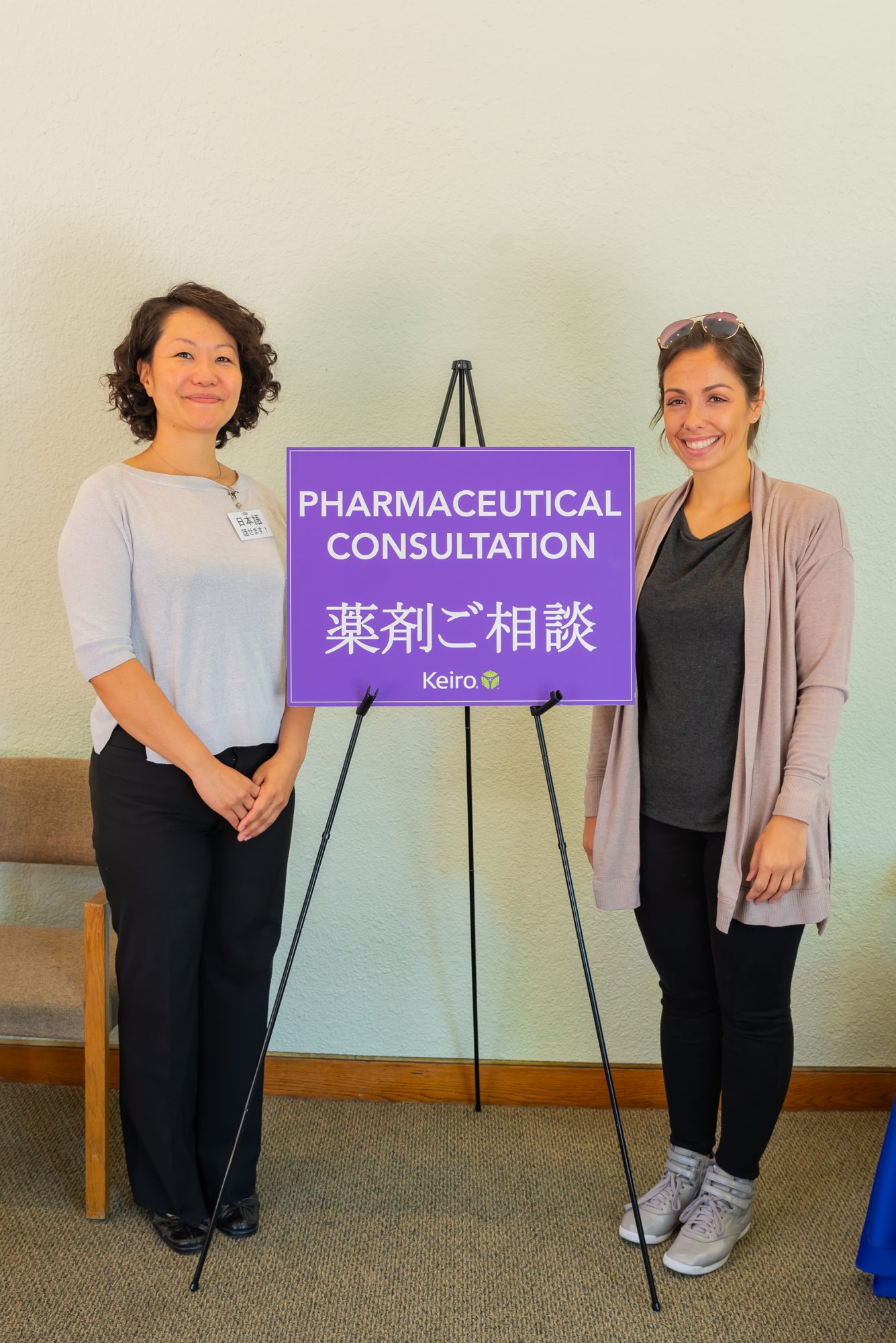 The Iyashi Care team along with the Advance Directive and Pharmacist tables saw a number of festival attendees just inside the entrance doors of the Aratani Theater. Some came with a list of drugs they were taking, inquiring about side effects and benefits. Others signed advance directives with family members before a notary.
These booths were an opportunity to take a break from festival activities and receive free professional or medical guidance.
In another indoor space tucked inside JACCC, a calligraphy exhibition featured artwork and calligraphy by older adults. Led by Kuniharu Yoshida, a calligraphy artist and teacher at JACCC, a number of older adults had a chance to see their artwork on display like Nagisa Hamasaki.
She said she came alone just to see her cal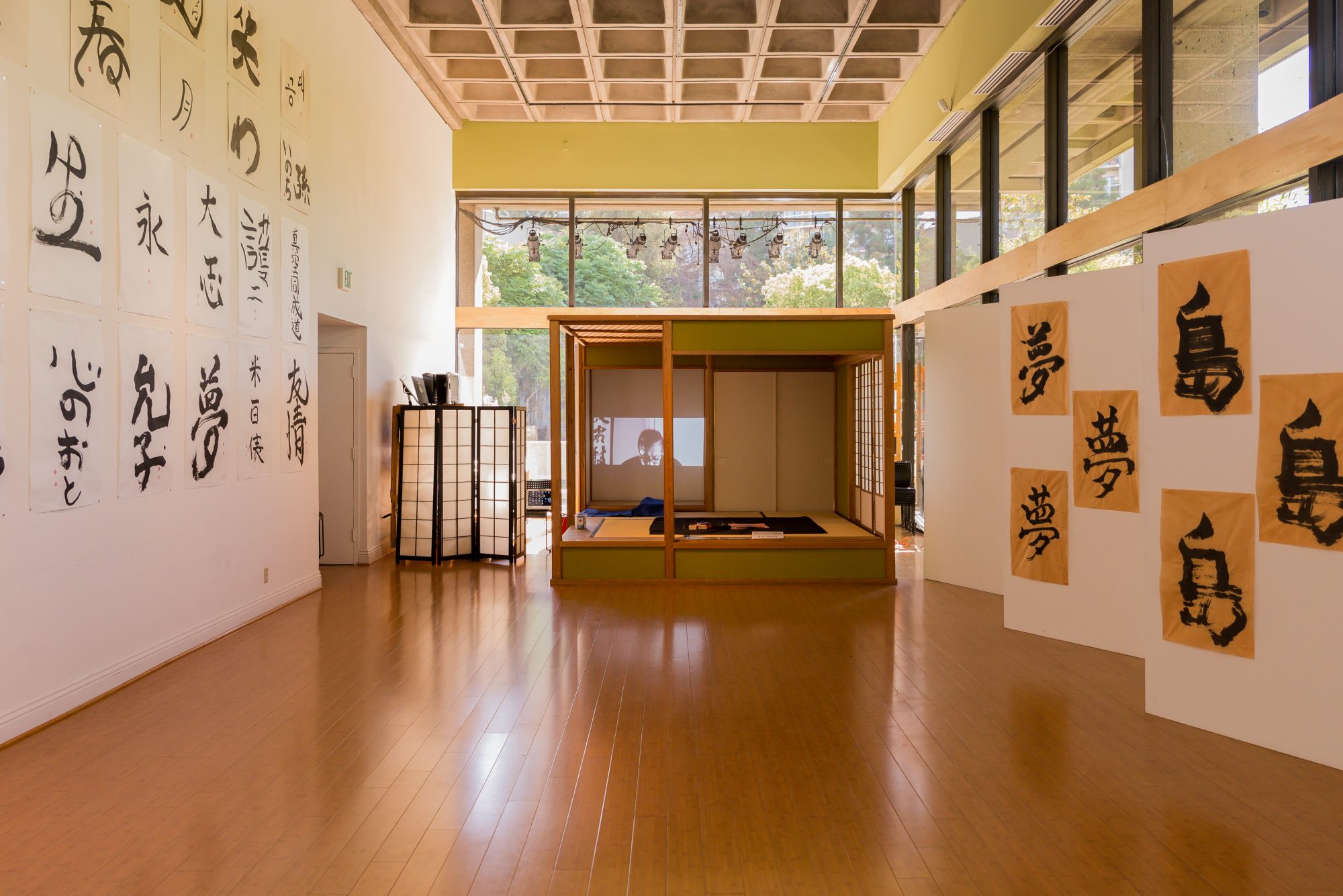 ligraphy and see her classmates' art on display.
"I feel pretty good seeing it there," she said about her work on display, "it's my art!"
Outside, Yoshida hosted a casual table for festival attendees to learn calligraphy, meeting new and old students.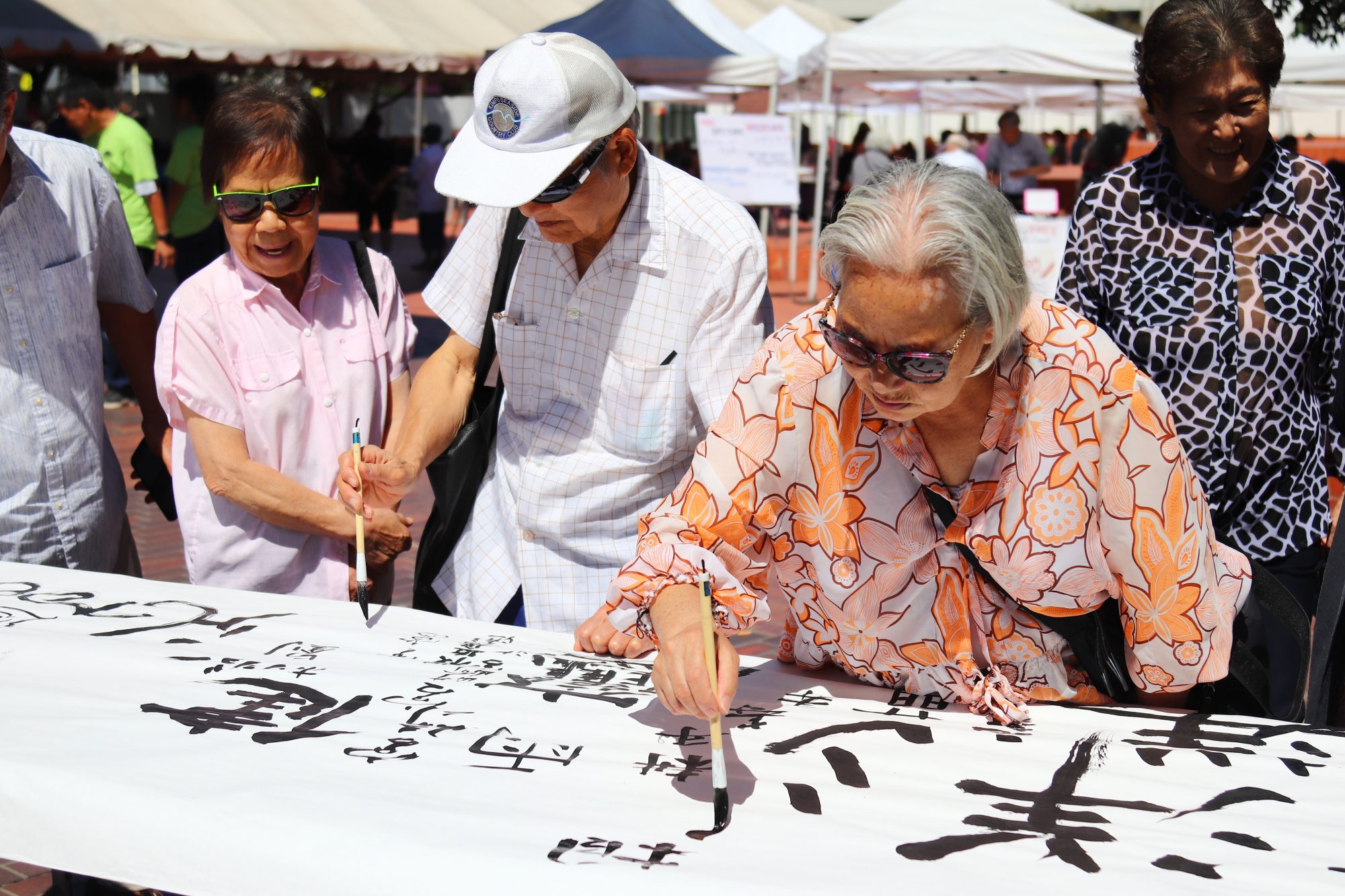 During his artist residency project, Yoshida explained how he wanted to create a space for older adults to engage with the community at-large. "I wanted them to meet new friends and get involved with Little Tokyo more because it's a great community," he said. His goal is to "do more beautiful work and show them how to put expression (their heart) on paper."
Older Adult Performers Take on Stage
Across the plaza courtyard, performers expressed themselves through musical performance.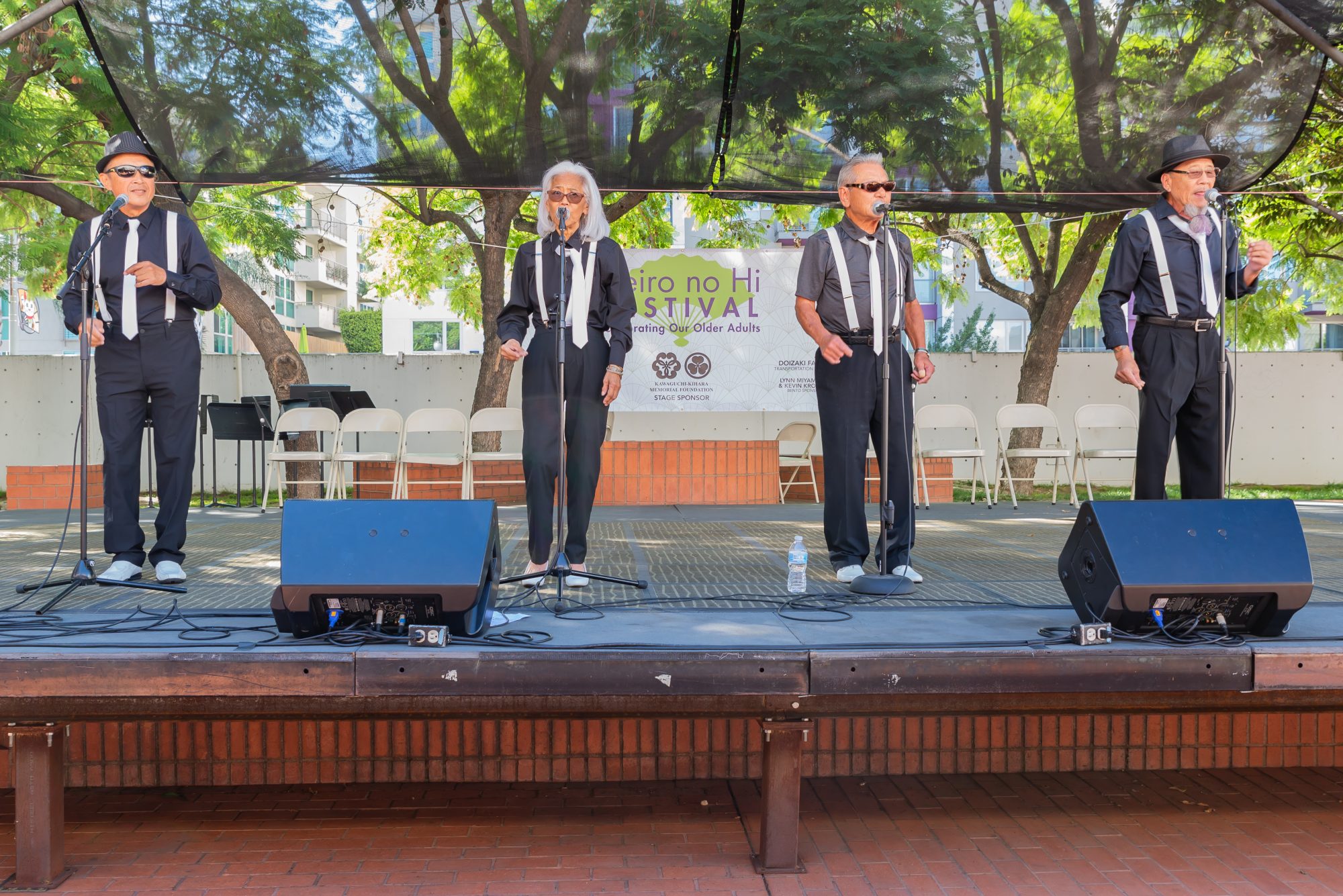 "Playing makes me feel a little younger every day," Yoshiko Becker said with a smile while holding her ukulele. As part of Sakura Garden's ukulele group, Becker along with nearly 40 other members meet once a week to rehearse and catch up.
"I love the sound and it relaxes me," she said. "It keeps me healthy to sing too." She adds that being on stage is exciting and she can't wait for the next performance.
As the day began to wrap up, many festival attendees said they hoped for another opportunity to celebrate the community's aging members.
"I really hope this is a regular thing," Gayle said while waiting for Tim's car to pick up their parents. "This was such a wonderful day."