Although our individual caregiving journeys are unique, we all share one common experience: constantly navigating through the different challenges while providing care to our loved ones. While sometimes we can predict and prepare for some of these challenges ahead of time, there are still those that surprise us along the way – such as the recent COVID-19 pandemic.
Often times, these types of challenges require us to quickly adapt our caregiving plans. Here are eight tips for how to continue providing high quality care to your loved one during this time of uncertainty.
1) Create a Plan and be Prepared. You will need to create a plan for how you can continue to provide your loved one with high quality care in the event that they test positive for the COVID-19 virus. For instance, look for a room in your house where you can isolate the individual from other healthy individuals with whom they are living (Centers for Disease Control and Prevention, 2020). This room should have an adequate flow of air and you should first sanitize all surface areas.
Similarly, even if your loved one has not tested positive for the COVID-19 virus, you will want to contact your loved one's primary care physician to request increasing the supply of medication that they can receive in order to reduce your number of trips to the pharmacy (National Alliance for Caregiving, 2020). The Centers for Disease Control and Prevention's website shares a more detailed list on how to provide care to a loved one diagnosed with the COVID-19 virus.

Finally, be aware of your loved one's Advance Care plans. Take the time to review their care directives and to ensure that all their paperwork is in – in the event of a medical emergency.
2) Practice Proper Hygiene Techniques. As a caregiver, you should follow your local public health agency's recommended guidelines for handwashing and sanitation techniques. If your loved one has dementia, Alzheimer's disease, or other cognitive impairment, consider putting up signs throughout the house reminding them of such techniques (Alzheimer's Association, 2020). Additionally, you can reinforce these behaviors by constantly modeling the proper techniques to them.
3) Contact Your Home Health Agency. If your loved one has an in-home caregiver, consider contacting their agency to learn about their protocols for ensuring their caregivers do not increase the risk of exposing your loved one to the COVID-19 virus. You can ask the caregiver to record their temperature before entering your loved one's house as well as ask them to wear a mask while inside to prevent the spread of the virus (AARP, 2020).

If your family wishes to modify the caregiver's schedule, consider who will help fulfill the caregiver's various responsibilities. Remember that you will increase your likelihood of exposing your loved one to the virus if the caregiving responsibilities are shared among a larger group of people.
4) Contact Your Loved One's Long-Term Care Facility. If your loved one is currently living in a long-term care or residential care facility, consider contacting them to understand their protocols for managing the spread of the COVID-19 virus. They might have policies in place that prevent any unnecessary visits, as well as a plan for how you can communicate with your loved one through the phone or even video calls. You should take this time to also ensure that the facility has the emergency contact information for you or any other family members that might need to be notified of updates or changes to your loved one's condition.

If you are thinking of moving your loved one back home, please consider the level of care that he or she needs on a daily basis and if you are confident in your ability to support those needs (Alzheimer's Association, 2020). Hiring in-home care might supplement these responsibilities.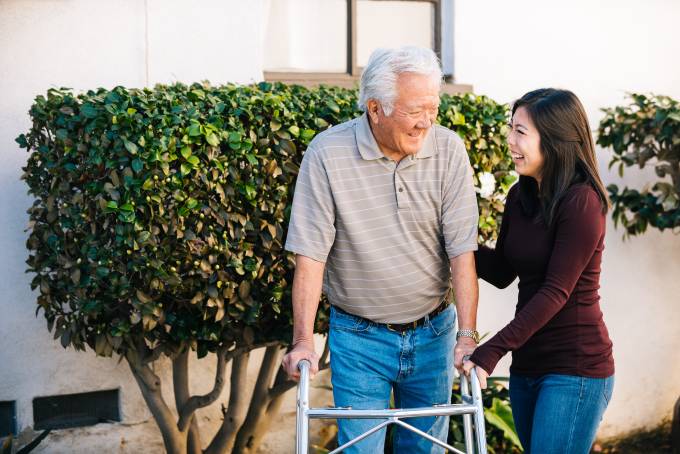 5) Provide Your Loved One with a Purpose. Use this opportunity to provide your loved one with a new sense of purpose while they are sheltering in place (Alzheimer's Association, 2020). Asking them to help with household tasks such as reorganizing their closets or teaching you their favorite recipes are great opportunities for your loved one to keep busy during this time.
6) Talk to Your Employer. If you are providing care for a loved one during the COVID-19 pandemic, you should communicate with your manager to determine how you can continue to be an effective employee while you are managing your caregiving responsibilities. In some cases, you may be entitled to additional protection if your caregiving responsibilities interfere with your job responsibilities. Please check with the California Labor & Workforce Development Agency for the most current information. The Americans with Disabilities Act and the Family & Medical Leave Act may also offer some protections. (National Alliance for Caregiving, 2020).
7) If You Test Positive. In the event that you test positive for COVID-19 and you are providing care for a loved one, please follow the recommended guidelines provided by the Centers for Disease Control and Prevention. Your loved one is most likely a part of the high risk group, so you will have to quarantine yourself and limit any exposure to them. In the event that you have not tested positive, you should create a contingency plan to have another family member take over your caregiving responsibilities.
8) Take Care of Yourself. No matter what challenges the COVID-19 pandemic provides, we all have to remember to take care of ourselves. Although the other seven tips will enhance your ability to care for your loved one, you should consider finding resources to help take care of yourself as well to ensure you do not suffer from the side effects of caregiver burnout.
Consider downloading applications such as Headspace to help integrate guided meditation into your daily routines or look into carving time out of your day to enjoy your personal hobbies. Joining an online caregiver support group is another way to receive support and validation regarding the quality of care you are providing to your loved one.

Even though you are physically distanced from your friends and family, remember that you are not alone during this vulnerable time of your caregiving journey. Investing in yourself can help you increase your confidence and ability to continue providing the best care possible.
Note on caring for a loved one with COVID-19:
If a loved one is isolated at home due to COVID-19, please consider the following best practices as referred by the Centers for Disease Control and Prevention (Coronavirus Disease 2019, 2020):
Understand your loved one's care plan issued by their health care provider. You might have to take responsibility for them to access groceries, medications, and other daily necessities.
Monitor their daily symptoms. In the event their conditions do not improve, contact their primary care provider and notify them of their situation.
Distance your loved one from others in the household who are not exhibiting symptoms. If possible, this means adjusting sleeping arrangements and designating bathrooms.
Prohibit nonessential visitors from entering the house.
Do not let pets come in contact with your loved one.
Ensure that there is a constant flow of air in common spaces.
Avoid sharing household items such as dishes, cups, towels, etc.
Clean all highly-touched surfaces regularly.
Wash laundry and linens thoroughly. Wear gloves when handling the items that have been in contact with your loved one
Published on 5/11/2020
Resources:
AARP (2020). In-home care during covid-19 crisis. Retrieved from: https://www.aarp.org/caregiving/home-care/info-2020/in-home-care-during-coronavirus.html
Alzheimer's Association (2020). Coronavirus: tips for dementia caregivers. Retrieved from: https://www.alz.org/help-support/caregiving/coronavirus-(covid-19)-tips-for-dementia-care
Centers for Disease Control and Prevention (2020). Caring for someone sick at home. Retrieved from: https://www.cdc.gov/coronavirus/2019-ncov/if-you-are-sick/care-for-someone.html
Centers for Disease Control and Prevention (2020). Interim guidance for implementing home care of people not requiring hospitalization for coronavirus disease 2019. Retrieved from: https://www.cdc.gov/coronavirus/2019-ncov/hcp/guidance-home-care.html
National Alliance for Caregiving (2020). COVID-19 resources for families. Retrieved from: https://www.caregiving.org/resources/covid-19-resources-for-caregivers/