It starts on the day of diagnosis.
A patient learns about their serious illness and is immediately met with a list of questions, appointments, and options. Beyond a treatment plan, a prescription list, and medical bills, how do patients and their families deal with the months and years following that first diagnosis?
Palliative care is a resource that works to address these uncertainties.
It's an added layer of guidance and support, focusing on relieving discomfort, pain, and distress associated in dealing with a serious illness. For anyone living with cancer, heart failure, dementia or other illnesses, palliative care can be helpful at any point of diagnosis.
And it can be provided on that first day.
Often confused with hospice, which is prescribed only for patients with six months or fewer to live, palliative care is designed with no specific time requirements. It does not depend on a prognosis and can be provided without forgoing curative treatment. Palliative care can actually support the curative treatment by addressing pain, depression, nausea, difficulty sleeping or eating, anxiety, and a number of other symptoms.
Therefore using palliative care starting on the day of diagnosis is an option worth exploring.
In the time following the decision to seek palliative care, patients and their families will work with a team of practitioners. Practitioners can include a variety of social workers, nurses, specialized doctors, spiritual counselors, and therapists. These members will listen and help patients navigate often complex medical and personal decisions.
Does this mean switching physicians? Absolutely not. The palliative care team will closely work together with the patient's current healthcare team to provide that extra layer of support.
Questions like knowing what services and options are available or what to expect during treatment can be answered through palliative care. Patients and families who are struggling to understand the benefits and challenges of treatments between surgeries, dialysis, or chemotherapy for example can also look to palliative care for explanation and clarity.
Personal support is also available. Palliative care can find ways to help cope with stress and anxiety associated with serious illnesses. Emotional and spiritual support are available as well. If requested, palliative care team members can help families in talking about the illness and find what is most important to you.
This is the extra care layer that can better match treatment goals and options. It allows patients the ability to control their care, because support is given every step of the way.
And it's helpful to start palliative care as soon as possible. A 2010 study at Massachusetts's General Hospital found that patients who received palliative care early scored higher on quality of life measures and were less likely to suffer from depression.
While research suggests that palliative care benefits patients, many families know little about it. The American Board of Medical Specialties recognized palliative medicine as a medical specialty in 2006. Since then it has grown rapidly but remains underused due to misconceptions about palliative care in the medical field.
The benefits of palliative care combined with culturally sensitive healthcare can improve patient outcomes. Now, taking palliative care a step further, communities in Southern California have access to the nation's first palliative care program focusing on Japanese American and Japanese older adults.
Iyashi Care is a joint program between Keiro and Providence Health & Services (Providence). The comprehensive and culturally sensitive support provided by Iyashi Care takes the community-based approach.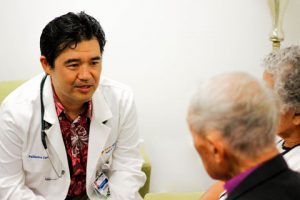 Led by an interdisciplinary palliative care team of physicians, social workers, and nurses, Iyashi Care hopes to serve more Japanese Americans and Japanese-speaking older adults with serious illnesses. Culturally sensitive health and palliative care can help address specific needs like language barriers and misunderstandings due to specific cultural values.
This unique program will complete its first year this summer. Patients and families are encouraged to call about the program's services no matter what stage of the diagnosis they are in. Because palliative care is a resource that can provide more care as needed, not less.
If possible, reach out starting on the day of diagnosis.
To learn more about Iyashi Care, call 213.873.5791 or visit keiro.org/iyashi-care.