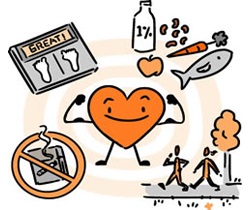 February is American Heart Month, which aims to raise awareness about heart health and heart disease. It is important to be conscious of heart health because almost half of adults in the United States have some form of cardiovascular disease. Cardiovascular or heart disease encompasses a variety of ailments including coronary heart disease, heart failure, stroke, and high blood pressure (Adler, 2019).
Heart disease is the leading cause of death in the United States (National Heart, Lung, and Blood Institute, n.d.). Overall, it is estimated that roughly 48% of American adults have some form of heart disease. This included about 77% of men and 78% of women ages 60 – 79 years old. These statistics continue to increase after age 80 with approximately 89% of men and 92% of women having some type of heart disease (American Heart Association, 2020). Lastly, among Asian American and Pacific Islander (AAPI) groups, heart disease accounted for about 21% of deaths in 2015 (CDC, 2020). Therefore, heart disease can affect a person at any age, but is more prevalent in older adults and is also based on different risk factors.
Risk Factors
Different steps can be taken to manage or even prevent heart disease. Risk factors for heart disease include certain health conditions or unhealthy habits that make heart disease more likely to develop. Some risk factors can be modified to lower the risk of heart disease while others cannot. Common risk factors include the following (National Heart, Lung, and Blood Institute, n.d.):
High blood pressure
High cholesterol
Being overweight or obese
Prediabetes or diabetes
Smoking
Not being physically active
Family history of heart disease
Age (55 years or older for women; 45 years or older for men)
Management and Prevention
Taking steps to adopt healthy habits can help manage or prevent heart disease. Even though some risk factors such as age and family medical history cannot be changed, there are several other factors that can be addressed to lower the risk of developing heart disease. Two major risk factors include high blood pressure and high cholesterol. It is important to get these numbers checked regularly and work with your primary care physician to maintain a healthy blood pressure or cholesterol range. Another lifestyle change is to manage stress. Stress can contribute to high blood pressure as well as lead to unhealthy habits such as smoking, drinking, and overeating (National Heart, Lung, and Blood Institute, n.d.). Sleep also plays a significant role in heart health. Getting quality sleep helps manage blood pressure and maintain a healthy immune system (Adler, 2019).
Two other important lifestyle modifications are healthy eating and physical activity. The American Heart Association recommends that adults exercise for at least 150 minutes per week. This should include moderate aerobic exercise, such as walking or gardening (Adler, 2019). Heart-healthy eating includes leafy green vegetables, fruits, whole grains, fat-free or low-fat dairy, and foods rich in protein. Additionally, heart healthy eating limits sodium, saturated fats, and added sugars (National Heart, Lung, and Blood Institute, n.d.). Healthy eating and exercise help people maintain a healthy weight which in turn combats the overweight, obese, and high blood pressure risk factors of heart disease. Making these modifications to address various risk factors can help avoid the development of heart disease or prevent negative health outcomes from existing heart disease diagnoses. Before making any changes to diet and activity level, be sure to consult your primary care doctor.
Heart disease is a serious public health issue, and understanding its risk factors and how to manage it is necessary for good heart health. There are a variety of risk factors that can influence the development of heart disease. While some of these causes cannot be changed, others can be addressed through healthy lifestyle changes. Managing stress, eating well, and regularly exercising can help manage or prevent heart disease.
Other Resources
American Heart Association
http://www.heart.org
1-800-AHA-USA-1 (1-800-242-8721)
Centers for Disease Control and Prevention
http://www.cdc.gov
800-CDC-INFO (800-232-4636)
National Institutes of Health
http://www.nih.gov
TTY 301-402-9612
"Love Your Heart: Take Steps to Reduce Heart Risks"
Mayo Clinic
www.mayoclinic.org
"Heart-Healthy Diet: 8 Steps To Prevent Heart Disease"