Through an innovative collaboration between Keiro and Providence, Iyashi Care offers palliative care for Japanese American and Japanese older adults with serious illnesses. Iyashi Care uses a whole-person approach to health and an individual's wellbeing. Our bilingual team of health care professionals provides guidance and support for both patients and their families as they pursue the best possible quality of life alongside treatment.
Iyashi Care Assessment
---
---
Keiro and Providence partnered in August 2017 to create a culturally-sensitive palliative care program for older adults in Our Community who are living with serious or chronic illnesses and/or debilitating symptoms. Our Iyashi Care program combines Providence's nationally-recognized leadership in palliative care with Keiro's rich history of providing health and support services to older adults in the Japanese American and Japanese community.
This unique program's team of doctors, nurses, and social workers works closely with the patient, their family/friends or caregivers, and existing health care team to provide an extra layer of support throughout the patient's course of illness. Understanding the many facets of life and wellbeing that are affected by a serious illness, the Iyashi Care team is a source of clinical expertise, support, and compassionate assurance for patients and their loved ones.
Contact us at 213.873.5791 or [email protected] for more information.
Update on How to Contact:
There are currently two ways you can inquire about Iyashi Care or enroll:
Please call the Iyashi Care call line at 213.873.5791 and leave a message. A Keiro staff member will return your call within 1-2 business days.
Please fill out this online form, and a Keiro staff member will contact you to learn more about your specific situation and answer any questions.
---
Other Pages on Iyashi Care:
---
About Iyashi Care
Iyashi (癒し) is a Japanese word that means "to heal." When older adults in Our Community are diagnosed with a serious or chronic illness or are living with debilitating symptoms, they and their families may be faced with many difficult decisions and situations. Our Iyashi Care program seeks to bring peace of mind to these older adults and their loved ones through a multifaceted approach to care that is attentive to their unique needs.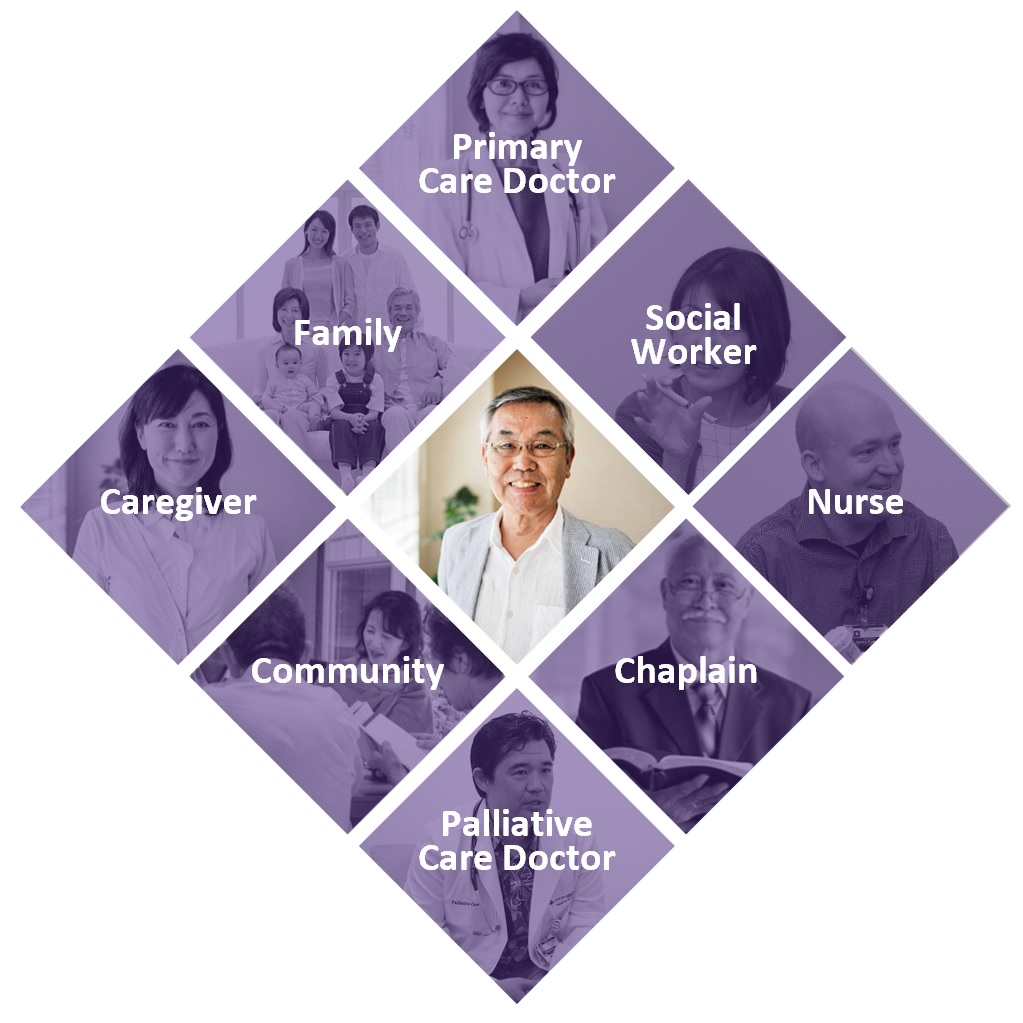 Working alongside your current health care team, the five-person Iyashi Care team includes two doctors, a nurse, a social worker, and an administrative assistant to provide assurance and guidance through any challenges that may arise through the course of an illness. The team can also provide help for families who are struggling with decision-making about complex medical issues and setting goals of care.
Iyashi Care provides additional assistance alongside the many others who support a patient's journey. The Iyashi Care team, like the diagram here, works in partnership with you, your family, and your existing doctors to find the best solutions for you.
Iyashi Care Services
Iyashi Care is a community-based program, meaning that enrolled patients will be able to receive care wherever they feel most comfortable. Since no two patients are the same, the Iyashi Care team works with the patient and their loved ones to learn about their concerns, priorities, and care preferences.
Depending on their needs, a patient may receive any of the following services in English and/or Japanese:
24/7 telephone support
Management of complex and changing symptoms
Assessment and care in one of our clinics or in your residence
Coordination with your current medical team
Help to modify your care plan based on your changing needs and conditions
Education surrounding crisis situations
Emotional and spiritual support
Home safety evaluation
Referrals to hospice if needed
Medication management
Assistance with advance planning, including advance directive and POLST forms
Iyashi Care serves Japanese American and Japanese older adults, and provides culturally-sensitive palliative care based on the individual's preferences, needs, and values.
Click here to view a video explaining Iyashi Care services: https://www.youtube.com/watch?v=P_tmnIibe8A
When Do I Need Iyashi Care?
Palliative care may be provided at any time during a person's illness, including from the time of diagnosis. It can be utilized at the same time as curative treatment.
If you are diagnosed with a serious illness that affects your quality of life (including but not limited to: dementia, Alzheimer's disease, cancer, heart conditions, respiratory diseases and/or any other life-limiting illness), please contact us to inquire about how Iyashi Care can help you (213.873.5791).
Sometimes these situations can drastically change a family's dynamics and make it difficult to have certain conversations. Our Iyashi Care team can also provide help for families who are struggling with decision-making about complex medical issues, or need help with setting goals of care.
Palliative care is not hospice care. Here is a simple summary of the relation between the two:

Cost and Enrolling in Iyashi Care
Patients who are enrolled in our Iyashi Care program will be eligible to receive ongoing consultations – in person, or by phone, video chat, etc. – free of charge. The cost of any additional services should be discussed with the Providence team and your insurance provider.
For additional information about Iyashi Care or to enroll, please contact 213.873.5791 or [email protected].
How to Enroll in Iyashi Care
Contact Keiro by calling 213.873.5791 and leave a message or fill out the intake form here.
Keiro will then send information about the individual to the Iyashi Care team for internal discussion.
The Iyashi Care team will contact the initial caller/patient by phone within a few business days for further screening. If eligible, the team will schedule an admission visit.
Why Should I Consider Iyashi Care?
Responsive to a Patient's Unique Experience and Needs
A key benefit of palliative care is that it customizes treatment to meet the needs of each person. For example, Iyashi Care can provide pain and symptom relief while a patient seeks curative treatment. Each person is unique, so every approach is tailor-made with a culturally-sensitive mindset to meet your needs.
Team-Oriented Care for Patients and Families
While your current health care team will do their best to provide you with the highest quality of care, it is not uncommon for you and your family to feel lost and unheard during the process. The Iyashi Care team's priority is to address the emotional stress that often occurs during treatment and to ensure that patients and their families fully understand their often-changing situations and feel empowered to take a more active role in the decision-making process.
Culturally-Sensitive
The Japanese cultural focus of Iyashi Care also makes it both familiar and distinct within the field of palliative care. Cultural values may influence health care decisions for patients in Our Community, whether it be having enryo instead of sharing their true feelings, or gaman if the patients feel they need to just live with painful symptoms.
The Iyashi Care team, which includes bilingual professionals in English and Japanese, recognizes these cultural values and is equipped to address them as they work to enhance the quality of life for patients and their loved ones.
Building culturally-sensitive relationships with patients goes beyond just speaking Japanese or being familiar with the culture however. The Iyashi Care team practices cultural humility, where they regard every patient and family to be unique. The team tries to understand and appreciate the specific culture of that patient and family, how they identify being Japanese or Japanese American, how they live their lives, and what is important to them.