This new program is a comprehensive educational wellness program focused on bringing awareness to, and promoting lifestyle changes that enhance the quality of life for older adults.
At Keiro, quality of life includes five elements: health/wellness, purpose, connectedness, security, and autonomy. This new educational program will focus on these elements of quality of life through interactive presentations, discussions, and guest speakers.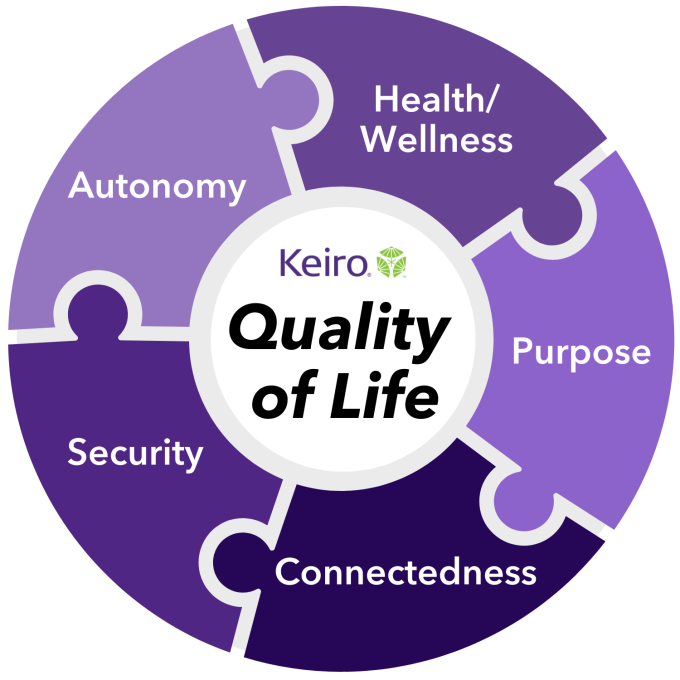 Lifelong learning is a broad concept that includes both formal and informal activities that enhance our ability to understand the world around us. Keeping ourselves active in learning and acquiring the tools and knowledge to do so contributes to the improvement of our well-being. This new educational program is designed for those who want to age confidently and are personally motivated to seek out the resources they need to do so.
We will explore different presentations and make modifications along the way; we hope you can participate and help us build this new program together!
---
What to Look Forward to
This educational program proudly offers:
Monthly themes related to quality of life
Relevant resources to supplement aging topics
Community interaction opportunities
And more!
---
Upcoming Schedule
To register for upcoming classes, click on the registration button below the class descriptions. Registration for the classes is only needed one time per month. A confirmation email will be sent upon successful registration. If you need assistance getting connected to the Zoom meetings, please contact Keiro at [email protected]. All times are in Pacific Time.
Click here to download the November schedule flyer.
What are your holiday traditions and favorite holiday treats? What have your holiday get-togethers looked like in the past and how have they changed since the pandemic? Share your thoughts […]
---
Quality of Life Worksheets and Handouts
We have put together valuable resources based on these elements to help you navigate your journey to improve your quality of life.
Click here to view all of the worksheets and handouts.
---
Quality of Life Defined
Each quality of life element is further defined below:
Health/Wellness: A person's health/wellness is defined by their physical, mental, and emotional state of being. Health/wellness includes both the presence, absence and/or risk of disease and symptoms, and the individual's perception of their health status.
Purpose: An older adult should have at least one self-defined purpose – something that brings meaning and joy to their life. Purpose can include family and friends, community engagement, hobbies, and spirituality. While it is often revisited throughout one's lifetime, a lack of purpose can contribute to a decline in wellbeing.
Connectedness: Humans are inherently social and need engagement through social networks to thrive. Connectedness – whether at an individual family, or community level – is vital to physical, mental, and emotional wellbeing. Lack of social connection, including in-person and virtually, has been shown to have significant negative impact on overall health/wellness.
Security: A sense of security is necessary for older adults to live a health and fulfilling life. Security includes financial stability; consistent housing; a reliable social network; and access to high quality, affordable services. A lack of security is even one of the previously listed areas can impede an older adult's quality of life.
Autonomy: As older adults age, autonomy, and the ability to choose how to live life the way they want should be maintained as much as possible. Although physical and/or cognitive limitations may make this difficult, lacking even a feeling of autonomy can lead to a decline in quality of life.