Written by Jack Fujimoto
When Keiro first talked about Iyashi Care, I initially dismissed it because iya could mean "dislike" and shi could mean "dying" in Japanese, which gave me some negative vibes. However, despite my initial interpretation, the concept of palliative care appealed to me as I moved from my role as a caregiver to one receiving care from health professionals.
In my "sunset" years (90+ years old), I was content to take care of my mildly cognitively-impaired wife, Grace, and my developmentally disabled daughter by taking them to the Japanese Institute of Sawtelle and Culver City Senior Center for lunch and entertainment (playing Mahjong, singing along, exercising and listening to lectures).
Since Grace no longer drives, I took her to the monthly lunch for 80+ year olds at the West Los Angeles Buddhist Temple.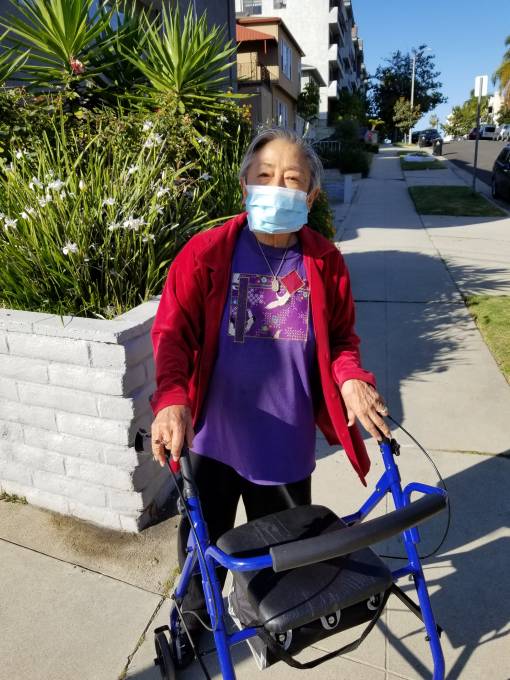 However, as my wife's condition progressed, we enrolled her into Iyashi Care for supplemental care. We consulted with the team to discuss the best care for her, and learned what was feasible for me as a caregiver to care for my wife, daughter, and myself in this situation.
The Pandemic's Impact
The impact of the stay-at-home ordinance resulted in the closure of all of our activities at the community centers and meetings with friends. Our children told us to stay put inside the house, give them a grocery list, and they would deliver what we want. Well, I still had to cook the meals. Now, that has changed. Due to my condition, I lost a lot of weight due to intake of around 30 pills a day.
I no longer provide any caregiving to my wife and daughter because of my own pulmonary condition. My condition has resulted in requiring an oxygen tank, a cardiac situation with a blood thinner, a pacemaker that requires frequent monitoring, and Veterans Affairs-sponsored auditory connections that need support. The specialists I see provide advice and prescriptions as my conditions change.
Iyashi Care Provides Balanced Care
Now, with support from the Iyashi Care team, they help review my prescriptions, my quality of life with the help of professional caregivers, and overall sense of living.
Specifically, I call Joshua (Iyashi Care's RN) to talk about medications, and Kanako (Iyashi Care's social worker) about our social needs such as safety (grab bars in shower) and future care options.
For quality of life issues, Dr. Edwin Yanami has been the most helpful. He recommended smartphone applications such as Calm, Insight Timer, and Headspace to get a good night's sleep. He also helped with improving my pulmonary function through steroids but, for sure, through oxygen tanks. Best of all has been the confidence instilled in me to recapture a way of life worth living through these "sunset" years.
---
Read more about Iyashi Care
Take the Iyashi Care Assessment Here
Other Iyashi Care Stories:
Iyashi Care for Just One Day – How Mika and Tadashi Found Peace of Mind
The Team that Listened to Me, My Mother, and Our Needs
Other Articles and Resources:
Intro to Palliative Care
Palliative Care Resources
Iyashi Care FAQ