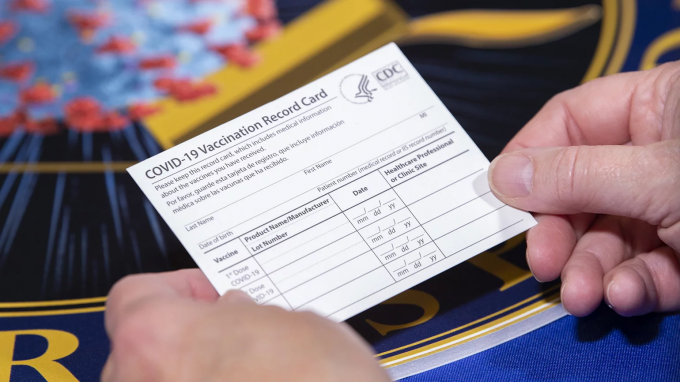 Everyone getting vaccinated will receive a "COVID-19 Vaccination Record Card" issued by the Centers for Disease Control and Prevention (CDC) showing which vaccine you received, the lot number of the vaccine, the date you were vaccinated, and location where it was administered. As more people receive the COVID-19 vaccine and restrictions change, there are a few things to know about the COVID-19 vaccine card. Below are a few frequently asked questions as well as some best practices regarding the vaccine cards.
Frequently Asked Questions
A: Contact the clinic or agency where your vaccine was administered. They can provide a duplicate card. Additionally, your vaccine information should be shared with the state's Immunization Information System (IIS). In California, this is the California Immunization Registry.
A: One reason to hold onto your vaccine card is in case of an adverse reaction. The vaccine card includes the lot number of the vaccine and can link your symptoms to the vaccine you received. Additionally, the vaccine card includes the date(s) you received the vaccine and can determine if or when you would need a booster shot in the future.
A: A vaccine passport verifies that a person has been fully immunized against COVID-19. Currently, there is no national vaccine passport, and California does not plan to create a state vaccine passport. However, as California's COVID-19 restrictions ease and change, proof of vaccination may be required at certain venues.
Dos and Don'ts
While laminating your vaccine card may be a way to keep it safe, don't do it just yet. You may need to get a COVID-19 vaccine booster in the future and you will need to record that information on your vaccine card. A better way to protect it may be with a clear plastic sleeve, like a badge ID holder.
You likely don't need to take your vaccine card with you everywhere you go. Taking the card everywhere creates more opportunities for you to lose or misplace the card. Unless you are going to an event or venue that specifically requires the physical vaccine card, it's best to leave it at home.
DON'T: Share an up-close photo of it on social media (Skiba, 2021b)
The vaccine card includes personal information like your birthdate and full name. Even revealing where you received can be key information for scammers. To protect yourself and your personal information, don't share pictures of your vaccine card online or on social media platforms.
DO: Take photos of it for your records (CDC, 2021)
As a back-up for the physical card, you can take photos of the front and back to keep on your phone. This way you can still have a version of your card with you at all times. You should also email the photos of your vaccine card to yourself as an additional backup copy.
Keiro supports the U.S. Department of Health and Human Services' We Can Do This COVID-19 education campaign in efforts to increase education and awareness about the safety and efficacy of COVID-19 vaccines.