Wearable Technology Fact Sheet
{{TOC}}
Intro
When you hear the words "wearable technology," you may imagine Fitbits and Apple Watches that have recently grown in popularity. However, wearable technology has been around for centuries and encompasses a wide variety of devices, including eyeglasses, watches, and hearing aids.
Technology is constantly advancing and these newer devices can use wireless connections to smart devices or computers to track user data and activity (Walters, 2015). Wearable technology can be used for health maintenance (weight control or physical activity monitoring) as well as disease management. Tracking your progress and seeing results is a great motivator to continue living a healthy lifestyle and being a good self-manager.
Benefits
Many people believe that using wearable technology promotes healthy behavior and can have various health benefits. Using wearable technology is now the societal norm, with the increasing number of users wanting to easily monitor their health. Older adults are also willing to use wearable technology that tracks vital signs such as heart rate and blood pressure (Walters, 2015).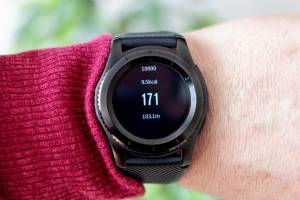 Help Manage Chronic Diseases
These tools can be especially helpful for people managing a chronic disease. In addition to sending this information to your phone or computer, some wearable medical devices used for chronic conditions such as heart disease can share information and send updates to your doctor (Phaneuf, 2020). This data sharing can allow for personalized treatments as well as better health outcomes (Sukel, 2019).
Find Ways to Keep Motivated
For some, pairing activity trackers and social support is a significant motivator to continue long-term use of these devices. Tracking and sharing activity levels can turn into healthy competition among friends and family to stay fit, increasing physical activity over time. Tracking your data and looking at it later can also help with goal setting and meeting your goals. For instance, many wearable devices are able to count your steps each day. You can keep track of your progress by increasing your steps each week and seeing the results over a longer period of time.
Potential Drawbacks
With potential benefits of using wearable technology, there are also concerns among consumers.
Loss of Privacy or Personal Information collected
One main downside is the potential for the loss of privacy or personal information being exposed due to security breaches as well as collection of information without you knowing (Walters, 2015). To address this, users should properly educate themselves about the privacy policies of their devices. Further, consumers should know what data their device and/or app may collect and if and with whom that information is shared (Walters, 2015).
Multiple devices, applications, and digital platforms
Some wearable devices may require different apps or smartphone use in order to maximize their benefits. While smart watches like the Apple Watch or Fitbit can be used without their separate applications, connecting to these apps or your smartphone can provide access to more data and your history to view trends. Users must understand and be able to navigate those different platforms to use their data and results effectively. This may be a barrier for some, but not all wearable devices require the use of apps or other digital platforms. While you do not necessarily need to download an app to use your device, you may need to download the app to view any recorded information, such as heart rate or steps taken (Skiba & Appelo, 2019).
Short battery life
Some devices may have short battery lives that require more frequent charging.
Technology does not replace health care
Wearable technology should not be used in place of professional health care advice or routine checkups (Pros and Cons, n.d.). Using wearable technology will also not suddenly make you healthier. It supplements the work you are already doing to implement or maintain positive lifestyle changes, by helping you stay on track.
Types and Trends
Watch/Bracelet-Type & Monitors
Wearable devices such as smartwatches are among the most common types of new wearable technology you may see. Fitbit activity trackers and Apple Watches can measure steps per day and calories burned (Jary, 2020). The Apple Watch checks your heart rate and can send you medical notifications. You can also set your own goals for the day to try to reach a certain number of steps or exercise. The Series 4 Apple Watch can also provide electrocardiogram readings (detecting dangerously high or low heart rate and rhythm irregularities), which may be useful for people who want to monitor various heart conditions (Saltzman, 2018). There are other devices that can also check glucose levels in people with diabetes, and warn when a hypoglycemic or hyperglycemic emergency is occurring. These devices can also notify your caregiver or loved one of occurring episodes, to keep them updated on your health (Skiba & Appelo, 2019).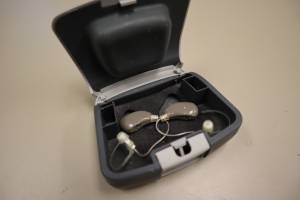 Hearing Aids
Hearing aids are also being updated and reinvented to include more high-tech features. Rechargeable hearing aids are now available, eliminating the task of trying to change small hearing aid batteries. Some hearing aids can connect to smartphones and increase the clarity of the speaker. There are also apps from hearing aid companies that allow users to adjust their hearing aid for different situations (Barbalich, 2019). For instance, if you are out at a noisy restaurant, you can use the app to automatically adjust your hearing aid to block out background noise. Newer versions of Bluetooth hearing aids allow you to directly stream sound from connected devices to the hearing aids. Some doctors are able to adjust your hearing aids remotely during telehealth visits. Over a video call from your home, your doctor can check in with you and adjust your hearing aids (Copithorne, 2016).
Personal Emergency Response Systems (PERS)
Falls account for approximately 30% of injuries among older adults each year (Draper, 2019). In the event of a fall or other medical emergency, older adults may find a Personal Emergency Response System (PERS) to be a useful tool. Life Alert is one example and has been around for many years.
If you or your loved one are uncomfortable wearing these devices, there are other options available. One example is an app called FallCall that can be integrated into Apple Watches or iPhones (Draper, 2019). Voice activation with Siri and access to a monitoring service can provide loved ones with emergency event updates (Draper, 2019). Some PERS can alert medical professionals and/or caregivers to emergency situations such as a fall. Look into the different features different PERSs offer and find one that works best for you and your loved ones.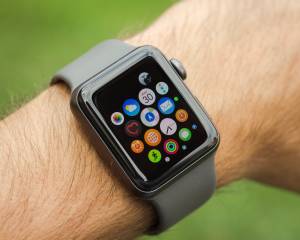 Potential Uses
Various wearable technology offer different services. Here are some potential ways you can use wearable technology to implement positive lifestyle changes and become a better self-manager:
Exercise

Track and monitor your activity levels to make sure you are getting enough exercise each day and see your progress

Sleep

Fitbits, Apple Watches, and other devices and apps can also monitor your sleep habits. Sleep deprivation has been linked to weight gain and other health issues, so these devices can help you reach the recommended eight hours of sleep per night (Jary, 2020).

Stay Connected

With all of us now practicing social distancing, we can still keep up with physical activity. Modify your exercise routine so you can do it safely and share your progress with others.

Set Alarms

Set alarms on your smartwatches to help with medication management or to remind you to exercise.

Self-Management

There are wearable devices that can assist with chronic disease self-management, such as monitoring heart rate, blood pressure, and glucose levels.
Keiro's Call to Action
Wearable technology offers a wide variety of features that can help you take more control over your health. Those who use this technology are able to get more involved in their own health care. Whether you are tracking your daily steps or watching your activity levels, using wearable devices can help promote healthy lifestyle changes, such as exercise. Keep in mind that it is up to the user to implement the lifestyle changes that may accompany wearable technology. Simply buying a device will not make your healthier. Be patient because lifestyle changes take time. In addition, since there are so many different types of wearable technology, it can be difficult to find the right device for you. Here are some tips on how to find the right device for you (Sardis, 2018):
Know what you want.

Identify what you want your device to do and what features you want it to include (i.e. battery life, size, and appearance).

Know your budget.

Some popular devices can cost hundreds of dollars. If these devices have extra features you do not need, look for cheaper alternatives. (i.e. Apple Watch compared to a Fitbit).

Shop for function.

Before you buy a device, make sure you will use it. Keep in mind that some wearable technology requires smartphone access to track data. If you do not have or use a smartphone, look for devices that do not require smartphones.
Resources
Barbalich, Andrea. (2019). Latest Hearing Aids Have High-Tech Advances. Retrieved from https://www.aarp.org/health/conditions-treatments/info-2019/hightech-advances-in-hearing-aids.html
Copithorne, D. (2016). Hearing Aids can Now be Adjusted in Real-Time Over the Internet – by Your Hearing Provider. Retrieved from https://www.hearingtracker.com/blog/hearing-aids-can-now-be-adjusted-in-real-time-over-the-internet/
Draper, S. (2019). Fall Detection Wearables in 2019. Retrieved from https://www.wearable-technologies.com/2019/07/the-5-best-fall-detection-wearables-in-2019/
Jary, S. (2020). Fitbit vs Apple Watch. Retrieved from https://www.techadvisor.co.uk/feature/wearable-tech/fitbit-vs-apple-watch-2018-3612954/
Kononova, A., Li, L., & Peng, W. (2019). The Use of Wearable Activity Trackers Among Older Adults: Focus Group Study of Tracker Perceptions, Motivators, and Barriers in the Maintenance Stage of Behavior Change. JMIR Mhealth Uhealth, 7(4). https://dx.doi.org/10.2196%2Fmhealth.9832
Lee, J., Kim, D., Ryoo, H.-Y., & Shin, B.-S. (2016, May 11). Sustainable Wearables: Wearable Technology for Enhancing the Quality of Human Life. Retrieved from https://www.mdpi.com/2071-1050/8/5/466/htm
Phaneuf, A. (2020). Latest Trends in Medical Monitoring Devices and Wearable Health Technology. Retrieved from https://www.businessinsider.com/wearable-technology-healthcare-medical-devices
Pros and Cons of Wearable Technology. Retrieved from https://edu.gcfglobal.org/en/wearables/pros-and-cons-of-wearable-technology/1/
Rieck, T. (n.d.). 10,000 steps a day: Too low? Too high? Retrieved from https://www.mayoclinic.org/healthy-lifestyle/fitness/in-depth/10000-steps/art-20317391
Saltzman, M. (2018). Caregiving Tools Get Smarter. Retrieved from https://www.aarp.org/caregiving/home-care/info-2018/wearable-technology-is-changing-wellness.html
Sardis, B. (2018). What Wearable Technologies are Important for the Elderly, and Why? Retrieved from https://techforaging.com/wearable-technology-seniors/
Skiba, K., Appelo, T. (2019). Blood Pressure, Heart and Anti-Snoring Devices Among 'Wearable' Tech at CES. Retrieved from https://www.aarp.org/home-family/personal-technology/info-2019/wearable-tech-blood-pressure-heart.html
Sukel, K. (2019). How physicians can get useable data from wearables. Retrieved from https://www.medicaleconomics.com/news/how-physicians-can-get-useable-data-wearables
Walters, N. (2015). The Promise and Pitfalls of Wearable Technology. Retrieved from https://blog.aarp.org/thinking-policy/the-promise-and-pitfalls-of-wearable-technology