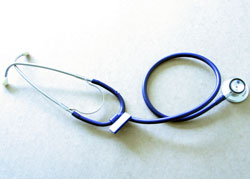 "An ounce of prevention is worth a pound of cure." Prevention is key to living long and living well according to the U.S. Department of Health and Human Services. Getting preventive screenings and immunizations are among the most important things you can do for yourself. But a recent study published in the American Journal of Public Health conducted by a group of doctors at Duke University indicates that it's "simply not possible" for family care doctors to deliver everything needed for preventive medicine — from cancer screening to lifestyle counseling — given the large number of patients they have."
The average patient requires about 25 preventive medicine services — which would take an estimated 7.4 hours out of a primary care doctor's day, leaving just 30 minutes for critical and chronic disease care.
Take time to review these guidelines for screening tests and immunizations. Use the charts on the next few pages to remind yourself of when you need to see your health care provider. The responsibility for prevention is yours!
General Screenings and Immunizations for Women